This is a sponsored review from BlogHer and Kraft.
Mexican is a favorite at our house. My parents even like it, so my mom fixes a variation of enchiladas and burritos on many occasions. Cream cheese is also a favorite and it seems that some of our favorite dishes include PHILADELPHIA Cream Cheese inside them. Cream cheese just makes anything taste better!
Have you seen this on the shelves?
PHILADELPHIA Cooking Creme. It's a new thing, a spoonable creme. There are different varieties and the Santa Fe is perfect for Mexican dishes.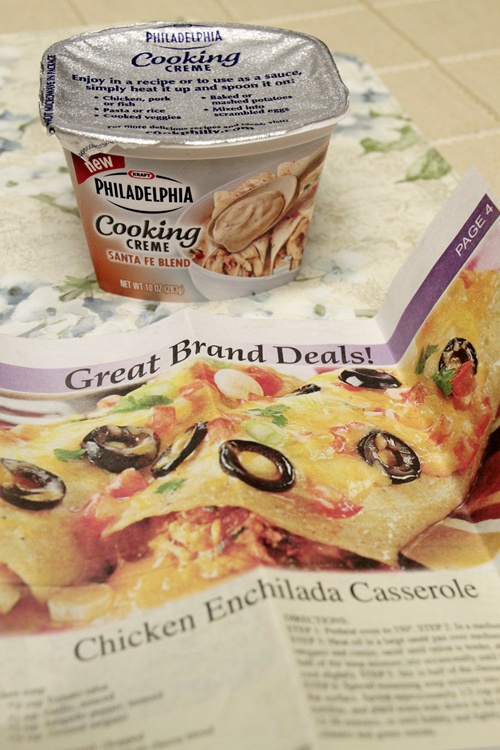 Mom had a Chicken Enchilada recipe that she mixed with the recipe on the Santa Fe container and made up a delicious batch of Chicken Enchiladas for dinner recently and we all really liked it.
This mixture goes inside the tortillas and then it's baked up with cheese on top. Yum, it's good!
Add a little salsa to give it some sass and we're in business.
I watched mom put it all together.
Baked up with cheese on top.
Finished off with black olives, fresh tomatoes, lettuce and salsa and it was a very filling and yummy meal.
I'll share this one with you in case you want to try it yourself.
Chicken Enchiladas with PHILADELPHIA Cooking Creme
1 small onion chopped
3 cups shredded cooked chicken breast
1 container PHILADELPHIA Santa Fe Cooking Creme (3/4 cup goes inside mixture & the rest spread on top)
1/2 cup sour cream
1 tsp. taco seasoning
1/4 tsp. cumin
1/2 cup salsa
1 4 oz. can diced green chiles
1/2 cup Mexican 4 cheese shredded (for top of enchiladas)
8 flour tortillas
Saute onion in tsp. oil, add cooked chicken and all other ingredients, stirring well to blend. Once blended, fill tortillas and roll up and place in 9×13 pan. Add remainder of PHILADELPHIA Santa Fe Cooking Creme on top, along with the 1/2 cup Mexican 4 cheese.
Bake at 350* until hot and cheese is melted, approx. 20 min.
That's it! Hope you'll give it a try and see how good the PHILADELPHIA Cooking Creme is in a dish like this! Great idea to have different varieties of this wonderful tasting cream cheese.
To see more recipes featuring this delicious stuff, head on over to the official Real Women of Philadelphia
Tell me which one is your favorite and the one you'd like to try!
There are lots of great recipes over there, so be sure to check them all out. You are sure to get some great new ideas for family meal planning.
There's a fun PHILADELPHIA Cream Cheese Cook-off with live streaming  going on the week of June 27th, in Savannah, GA with none other than Paula Deen herself, the Queen of cooking!
The finalists for the contest have been selected, and winners will be announced at the live event on June 30th.
Visit the Promotions & Prizes section
Don't Miss a Post, join my list!