Last year, my friend Tammy brought these cookies to my house and I loved them. Chocolate chip cookies are always a favorite of mine and I have variations on chocolate chip/oatmeal cookies that I've made for years.  I decided to try a batch of these this year and they really are delicious.
I made 2 batches and the second one was better than the first. I can't say I'm an experienced baker and it's trial and error for me sometimes, but these are really good!  I see by looking them up online that the recipe came from Epicurious, so I'm just going to link you over there to print the recipe, Chocolate Chunk Oatmeal Cookies with Dried Cherries and Pecans.  
I gathered all my supplies and got started.  So these are sort of healthy right, since they have oatmeal?!   I don't bake all the time, since I try not to have sweets around here all that much, but it's fun to bake for Christmas.  It's been tasty to have these treats around this year.  Here are a couple things I did differently.  Instead of dried cherries, I used dried cranberries and instead of bittersweet chocolate, I used semi-sweet chips.  And I used light brown sugar instead of dark, just because I happened to pick up light instead of dark.  Ok, that's out of the way. I'll also tell you what I did wrong on the first batch and fixed on the 2nd batch.
Toasting the pecans.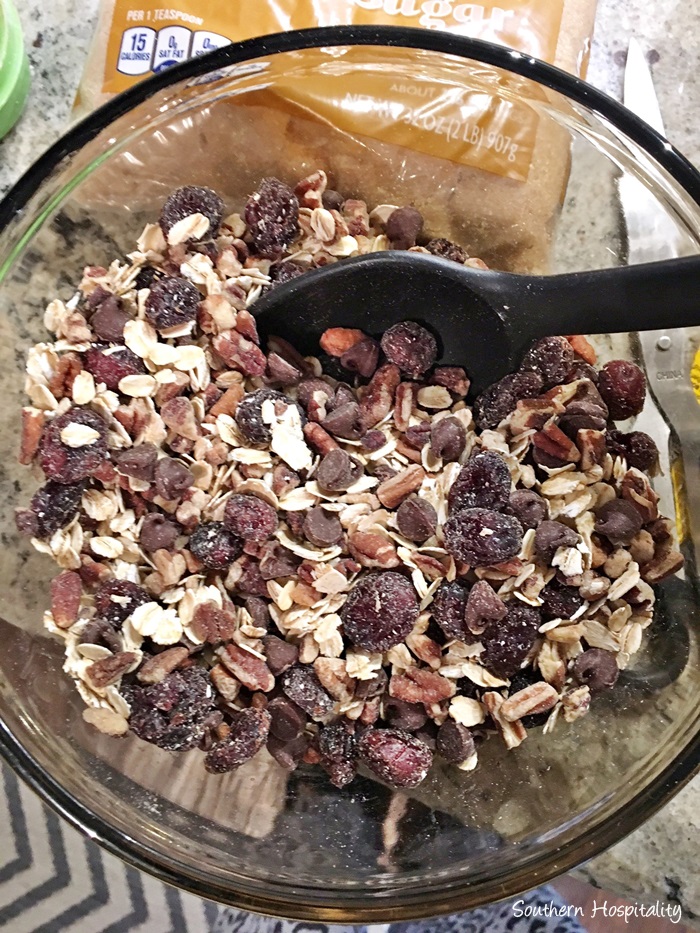 Mixing together the pecans, oatmeal, dried cranberries and chocolate chips.
Mixing up the wet ingredients.  Here's where I messed up on the first batch.  Instead of 1  and 1/2 sticks of softened butter, I used 2 whole sticks.  Forgot to check that part and just threw both sticks in the bowl.  So, my batter was a little more sticky than it should have been.  I didn't form equal balls with the batter, but formed it with a large spoon and dropped it on my baking sheet.
It looked like this when it went in the oven.  The recipe gives directions on how long to bake the cookies from switching the racks, to baking them an extra few minutes.  If you want chewier cookies, bake less than what they say in the directions.
My first batch of batter that wasn't as stiff yielded flatter cookies and I shouldn't have baked them so long.  They were delicious, just more crispy than most oatmeal chunky cookies should be.
Here's what they looked like.  We ate them all and nothing went to waste, but I decided to do another batch.  These could have been baked abut 3 or 4 minutes less for more chewy cookies, so be sure and watch if you don't want them to get too brown and crispy.  The recipe warns you of this, so just take note.  They look  like they might not be done but will set up after you take them out of the oven and they cool.
The second batch was much thicker and chunkier and these are really tasty cookies with the dried cranberries added in with pecans.
I love how they taste and will definitely be making these again. They make 16 large cookies, so if you like smaller ones, just adjust how you put them on the pan and bake a little less for chewy middles.  That's a fun new recipe I just tried that I thought you might enjoy too!  Happy baking!
I'm taking the weekend off to enjoy Christmas with my family and friends, so I'll leave you with this post for now.  I'll be back next week after Christmas and on Tuesday, I'll be hosting my annual Top Projects of 2016 party that I've been doing for years, where I look back at the year and see what was accomplished around  my house and other bloggers link up too.  It's a fun way to look back on the year and be proud of what we've done, as well as looking forward to the new year.  I'm excited to see what 2017 holds!
Merry Christmas, my friends!  Enjoy this Christmas to the max and make the most special memories ever! 
Don't Miss a Post, join my list!