What gets you excited when you are starting a new decorating project?
For me, it's all about fabrics, paint colors and adding those special touches to a room for the finishing touches.
So, where do you start when putting together a room.  I always tell folks to use fabric as your inspiration starting point.  You can't go wrong with that plan and it will send you down the right path to a beautiful room.
Paint color choices come next, once you've got your fabrics figured out.  Those fabrics will set the tone for your space and there are tons of paint colors to choose from that will highlight your fabric choices so well.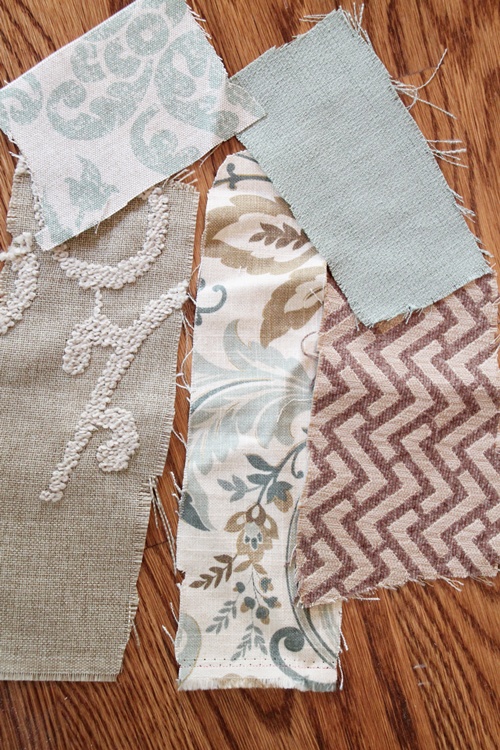 Recently, when my sister and I tackled her master suite renovation, we started with fabrics.  So, when you are looking for a change, the fabric store is a great place to start.  This will kick-start that perfect paint color.  And oh how paint color on the wall can change things up so much!
Finding the right fabrics is the first step for me in putting a room together and then you can pull your paint colors out of those fabrics, just like we did with these 2 colors for my sister's master suite.  We choose Windsor Greige for the bedroom walls.
And Comfort Gray for the bathroom walls.  Here's my sister's finished space, if you missed it.
Finding that perfect paint chip is sometimes daunting.  I have painted samples and repainted samples on many occasions searching for that elusive perfect color, but I hope this will help you with that task.
I've partnered with
My Colortopia
to introduce  all of you to a fun little online quiz that hopefully will provide you with color schemes that fit your personality and lifestyle. Something that will take the fear out of choosing paint color schemes.
If you haven't heard about My Colortopia yet, click on over and take a look around.  Some of my blog friends are over there writing about color and paint and lots of fun topics, so I know you'll enjoy it too.
My Colortopia provides inspiration, tools, and relatable advice from the Colortopia Team to help readers build confidence throughout the painting process. This enables them to select colors, buy paint, get the paint on the walls and be really proud of and satisfied with the results.
The best feeling is seeing a room change right before your eyes, by choosing the right fabrics, paint colors and accessories.  Paint is the quickest and easiest way to change a room too.  If you can do nothing else, choose paint!
Paint creates a mood, sets the tone, and gives an overall feel to a room.  I hope the ideas you will get from this fun quiz will give you some ammunition next time you are facing a color scheme challenge in your own space.
I have partnered with Glidden/Akzo Nobel Paints to write this post, but the thoughts and opinions expressed are my own.