Rugs are such a fun topic of conversation and I don't talk about them often enough. I love rugs for creating a cozy layer on the floor and adding color and texture to a space. I've never been one to spend thousands of dollars on a rug (never had it to spend!) and I just couldn't imagine spending that much, but I know that some people do that. You can definitely spend a fortune on rugs, but I don't think you have to. I change out my decor and move on to other things about every 10 years or so, so it would break my heart if I had spent that much on a rug and then grew tired of it. I'll spend a few hundred, but not thousands. That's just way over my budget and comfort level.
So, today let's talk about rugs. I'm going to share some of mine and talk about why I chose what I did for each space. I'm not an expert on the subject, but I love rugs and think they are the crowning touch on a room. They really add so much to a space!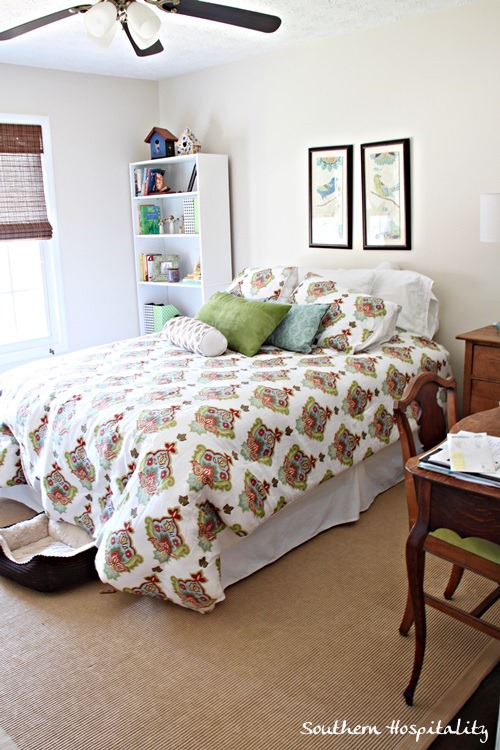 Why talk about rugs today?  Here's the culprit that started it all.
I mentioned that I got a new rug in the den and I'm going to share that with you too.  I partnered with Rugs USA on that rug and I'll show you 3 other rugs that I've purchased from Rugs USA over the years. They have good prices and I've bought several from them and loved them all.
Here's what got the ball rolling on the new rug.  This is my roommate Rhonda's room. It worked with her things so we just used it in here when she moved in.  This rug that was in her room I bought back in 2009 or 10, I think.  It was in my old living room in Birmingham. I can't remember where I got it, but it was online and it had one of those rubber backings on it.  See what happened all these years later?  Careful with the rubber backing rugs.  It turned to powder and some spots even stuck to the floor.
You should have seen us moving her bed so that we could get the rug out, all this mess vacuumed up and the new rug added underneath. There's a leg in the middle of the bed that we had to move to be able to pull the old rug out.  Using 2 paint cans on either side, we managed to lift the bed up enough so that the old rug could come out.
It was a mess getting this cleaned up, but most of it vacuumed up and the rest we scraped and use Bona cleaner on the floor.  Thank goodness it didn't damage the floor!
Then, the rug that was in the den came up to her room and looks great in here!  This rug is from Rugs USA too and is a hooked rug and soft underfoot.  I prefer wool rugs and most of mine are wool, but this one is not.
It really looks nice in her room and I'm happy that we got it switched out and the old one went in the trash!
Cody thinks it's a cozy spot too! This rug is actually hooked and made of Polyester, but feels remarkably soft like wool.  I like hooked rugs and wool tufted rugs. This brand is NuLoom and this one is called Radiante Hearts and it's still available on their website.
Back to the den, the new rug is really pretty and cozy on the new floors.  I love it and the deep turquoise color is perfect in here.  It has a bit of gray floral design on the rug and this one is wool tufted. You can find this rug here at Rugs USA.  Shout out to Rugs USA!  I appreciate them working with me on this one and allowing me to choose a new rug.
I like how it grounds the space with my mostly neutral sofas. And the bookcases pick up this color too, as well as a bit of it in the drapes.
This black and white houndstooth is another purchase from Rugs USA.  It's wool hooked and very soft and cozy too and the brand is NuLoom, but I don't see this one on the website now. I know I bought it on one of their sales, for less than $200 and it's a 5×7.
In my dining room, I chose a seagrass rug and love how simple it is but it adds texture to the space.  With the linen chairs and cotton drapes, it's a nice touch in here. This one came from Overstock, a Safaviah seagrass rug  (affiliate link) and is 8×8′ square which fits my small dining room perfectly.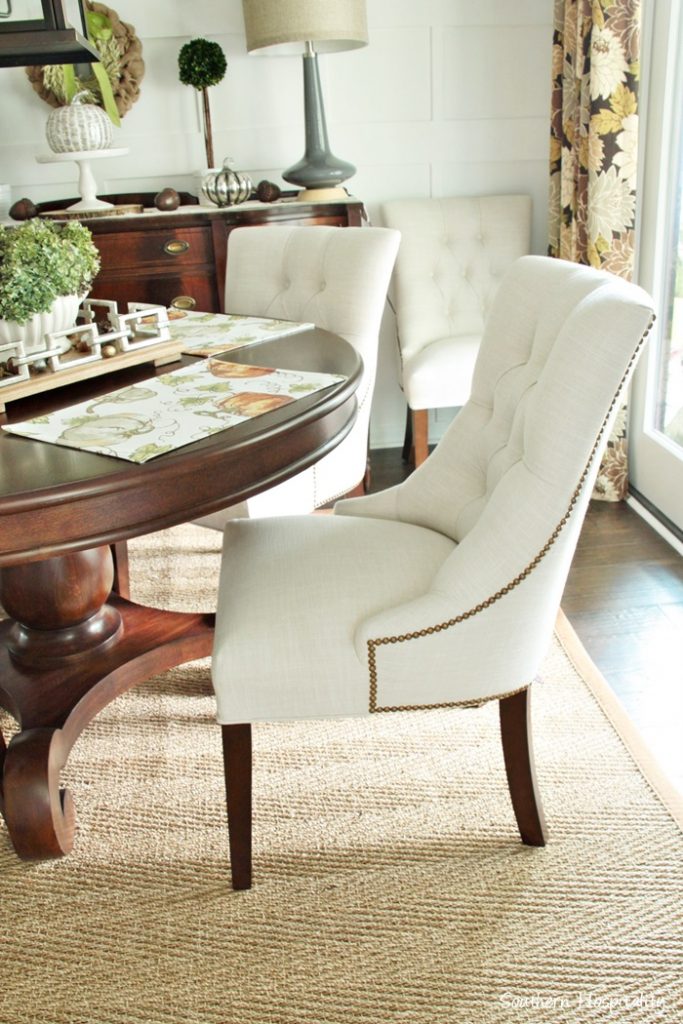 I've really enjoyed seagrass and it vacuums up well and I have never had any problems with spills on it.  With choosing what size rug to get, I like for my chairs to stay on the rug in a dining room and not have the legs off at all.  This still gives room to pull the chairs out and for them to stay on the rug.  I have a wood border of floors showing about 2′ all around the room.
My living room rug is from Shaw Floors and I've enjoyed this one as well. It's a turquoise and cream zebra pattern rug from their HGTV Home collection, but it may not be available anymore. I think these rugs have been discontinued since I got mine. Tips on getting the right size rug.  My experience has been that it's best to have at least the front legs of your furniture sitting on the rug.  This one is a 8×10′ so fits this space nicely.  Smaller rugs can look skimpy if they don't fill the space.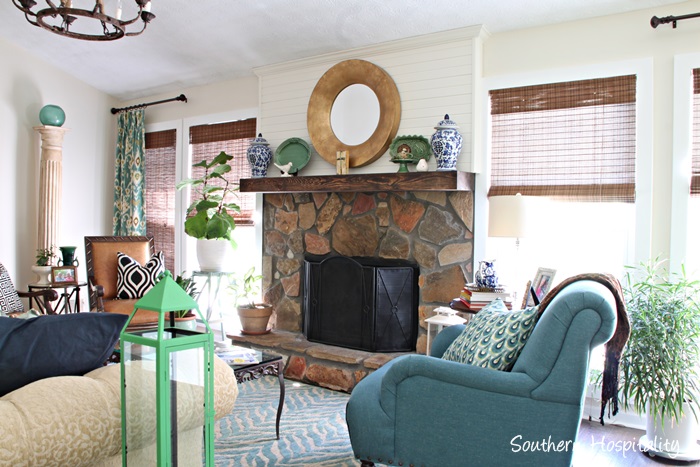 And it works very nicely with my living room furniture and accessories.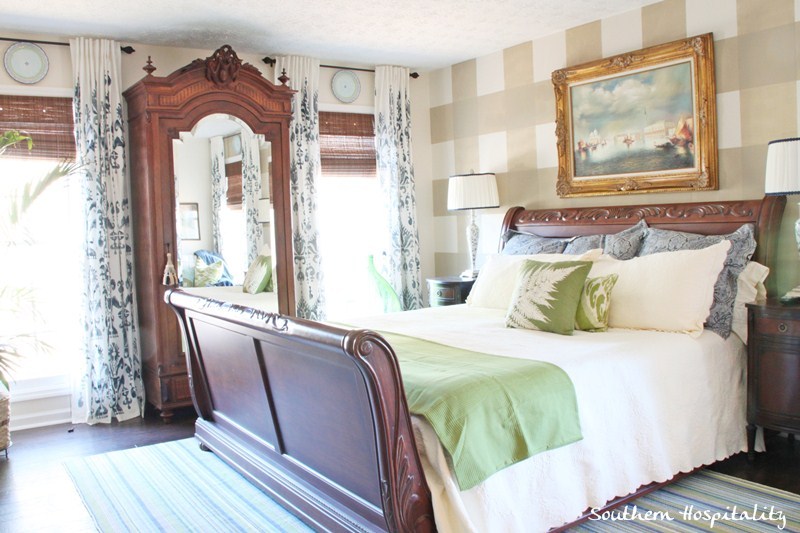 For my bedroom, I chose a pretty striped Dash and Albert rug (affiliate link).  I love layering pretty rugs over hardwood floors and in a bedroom it makes for softness underfoot as well.  I make sure to have the rug pulled out from under the bed so a good amount of it shows.
I just love the flat weave cotton rugs like this and it's a nice addition to my bedroom on the hardwood floors.  These colors are so peaceful! I do have a rug pad under this one, since it's thin.
In my kitchen, I had seen this chevron indoor/outdoor runner from Ballard Designs in a showhouse and loved it with the floors and white cabinets, so that's what I got for my own kitchen.
It vacuums up really well and I haven't had any problems with spills on it either and have had it 4 years. Indoor/outdoor rugs are workhorses.
And the last rug that I purchased from Rugs USA is this wool gray and white trellis pattern in my laundry room. They regularly have great rug sales and I got this one really cheap on one of those sales.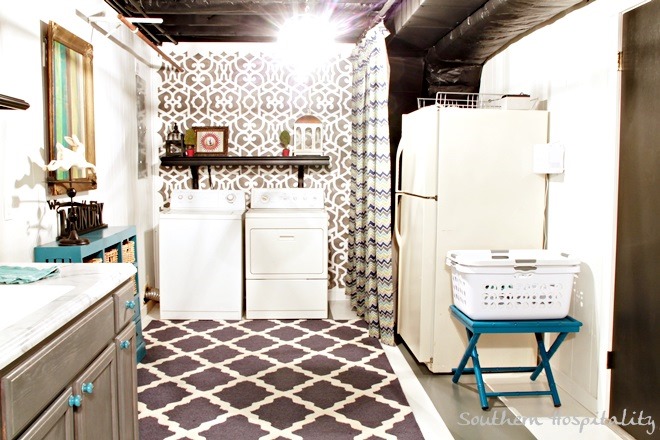 It's nice to walk on in here on top of the concrete floor, to cozy things up.
So, that's a look at my rugs and my thoughts on buying rugs and how much they add to a space.  I love the softness they offer on hardwoods and other areas and they really ground a seating area too.  I can't imagine not having rugs around the house!
I've seen those popular Oriental rugs coming back around again lately on many blogs and those were all the rage about 15 or 20 years ago.  Mostly blues and reds were the dominant colors.  I like some of those rugs, but have never bought any of them and I really don't know that much about antique hand knotted rugs, but they can be pricey.
What are your favorite kinds of rugs and do you go for expensive or fairly inexpensive rugs?  I'd love to hear your thoughts too!
Don't Miss a Post, join my list!