Both my sister and I have always had a love for Christmas and we bring out all the bling for this special Holiday.  If you think that I have a lot of Christmas decor, wait til you get a load of my sister's house.  She has me beat.  By a few miles.  This is by far her favorite time of the year and she definitely pulls out all the stops and when you walk into her house, it's like Christmas has exploded.   So, get ready to be inspired, even if you don't have the energy to do all of this.  I don't do quite this much either, but it's all beautiful to look at.
I've been getting all my pics ready to share too, so I'll be bringing it on from my house real soon too just in time for the Christmas home tour I'll be hosting next Thursday, December 10th.  Hope you're going to join me! 🙂
Coming in the front door, she has garland cascading down the staircase and lights everywhere.  I think I counted 4  big trees and that's not counting all the tabletop versions.   You can see 2 right here from the front door.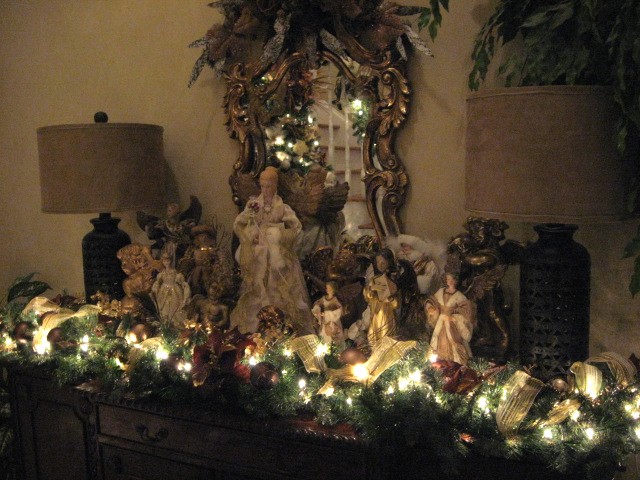 This is the foyer table all decked out in lights and Christmas cheer.
And moving into the livingroom and diningroom, her new hutch was a perfect spot for the Christmas village this year.
I love this bowl of sparkly balls.
And the village….so pretty.  She has a ton of pieces for this village and it has changed and evolved over the years, but I really like it here on the hutch.
Don't you?
Carolers on another piece.
And I love the lime green and red tree in here too.  You know I love these colors.
This mirrored console is a new piece that she has added to the diningroom and I love it too.
My niece, Lauren's tree is here in the living room and she has a collection of Radko and Radko copies on this one.  So pretty!  If I was going to start over with collecting ornaments, I might just go for the Radko look.
Those delicate and colorful blown glass ornaments are so tempting.
Moving into the familyroom, the fireplace is all aglow.  Check out the new rug she added in this room.
And the view from the catwalk above.
Another console table holds more lighted garland and sparkly things.
Love the Saturday Evening Post Santa Claus, he is adorable.
The mantel all pretty and sparkly.
And the big tree in here has all Santas hanging from it.
Garland hanging from the entertainment center.
With more Santas on the shelves.
Moving to the kitchen, the bakers rack is all decked out too.  Nothing is overlooked at my sister's house.  She has been collecting all these things for years.
The candy tree in the kitchen window.
Cute train set.
And her new backsplash that got installed recently.
Moving upstairs to their master bedroom, which by the way is about the biggest bedroom I've ever seen.  They have their own sitting room with an entertainment center and seating area.   And of course, a tabletop tree in here which faces the street.
And we can't leave out the mantel in their bedroom too, it's lit up and pretty.  So, that's my sister's house!  Hope you enjoyed all the festivities.  They love to entertain and really share all the beauty with all their friends every year.  It feels so welcoming when you walk in the house.
Buster says Merry Christmas to all and to all a good night!
Don't Miss a Post, join my list!