Merry Christmas! It's my birthday today and I'm also in a Christmas home tour with a group of other bloggers so welcome to you! Thanks for stopping by, I'm so glad you're here. I've been busy working on decorating our house for Christmas and it's been a busy season so far. You'll find classic Christmas traditional decorating ideas at my house, so thanks for stopping by.
With cleaning out our parents' house, it's extra busy and we are glad that it's almost behind us. It feels so good to be finished with decorating. My plan is to enjoy the whole month of December.
If you're new here, welcome! So nice to have you stop by. I'm a long time blogger and I'm coming up on my 15th blogging anniversary in just a couple of months, so I've been at it a long time. It's been such a fun ride and I wouldn't trade it for anything.
Please go to the very end of the post to see all the other tours, you will want to visit them all! So much talent in blogland. If you're coming by from Our Southern Home, welcome from my friend Christy's home She's a fellow Southern girl and has a gorgeous classic Southern home. I know you enjoyed her tour! Big thanks for Marty from A Stroll Thru Life for organizing and hosting this tour!
I shared my Christmas porch last week, but in the meantime I got this gorgeous wreath from Lynch Creek Farms. They gift me one every year and I just love it.
This is the Farmhouse wreath and it really is beautiful with my classic red and green on the porch.
This is me with my sweet girl, Daisy! This is her first Christmas and we are having so much fun with her. She's very curious about all this Christmas decorating stuff and may have pulled a felt ornament off the tree already. She's a mess!
My style is based on classic traditional design, but I love to mix it up with some modern things too. I'd say that Grandmillennial describes me pretty well these days and I love color! You won't find a neutral room in my house.
Come on in!
I love Christmas so much and really enjoy making our home festive for the holidays. I don't go out and buy all new stuff, but reuse and move around what I have. I try to mix things up every year for a fresh look.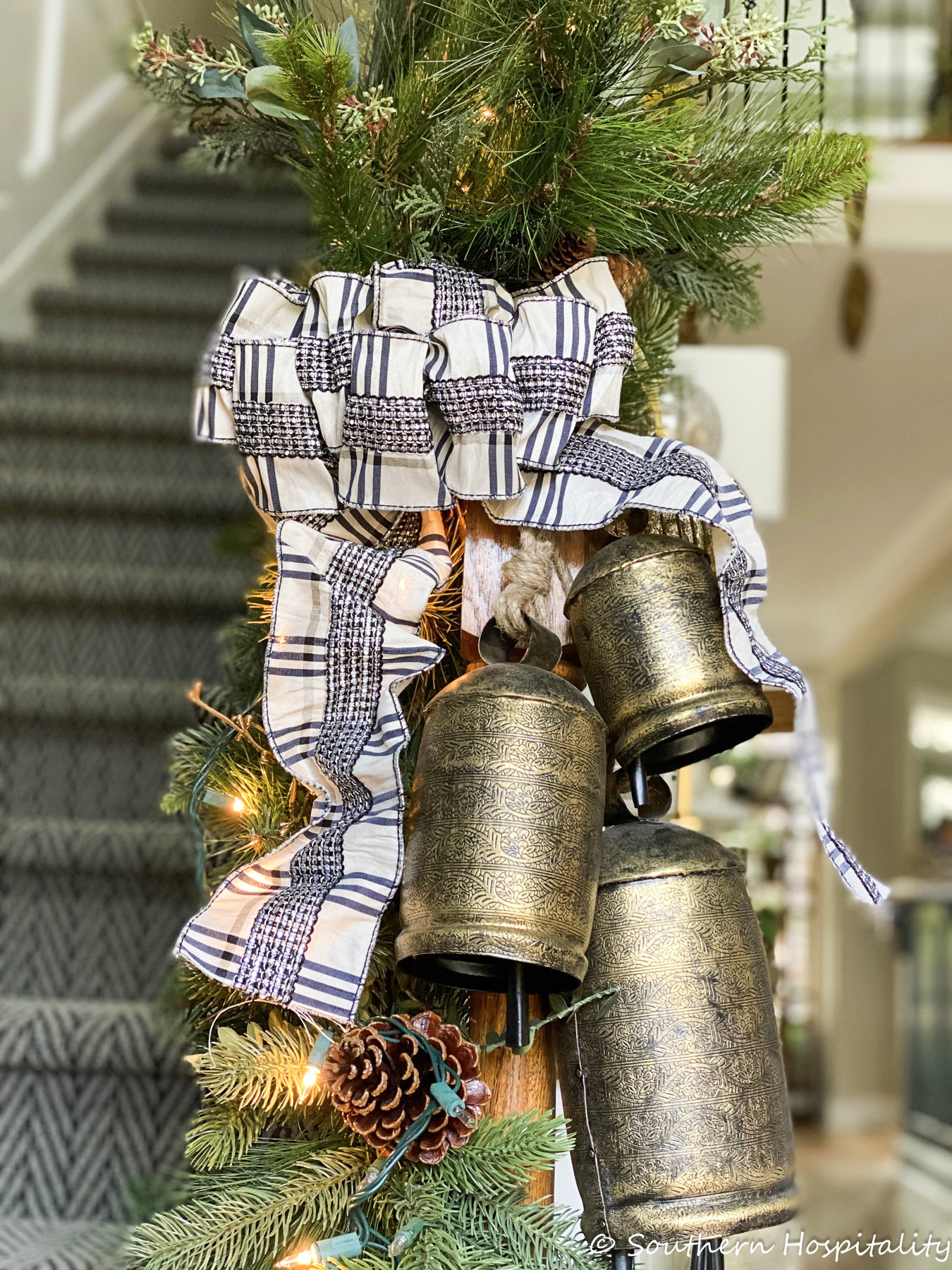 I always do faux garland on the staircase and love it all lit up at night. These bells and a big bow make it extra special. These bells are from Amazon a few years ago, but here's a bell set very similar if you're interested.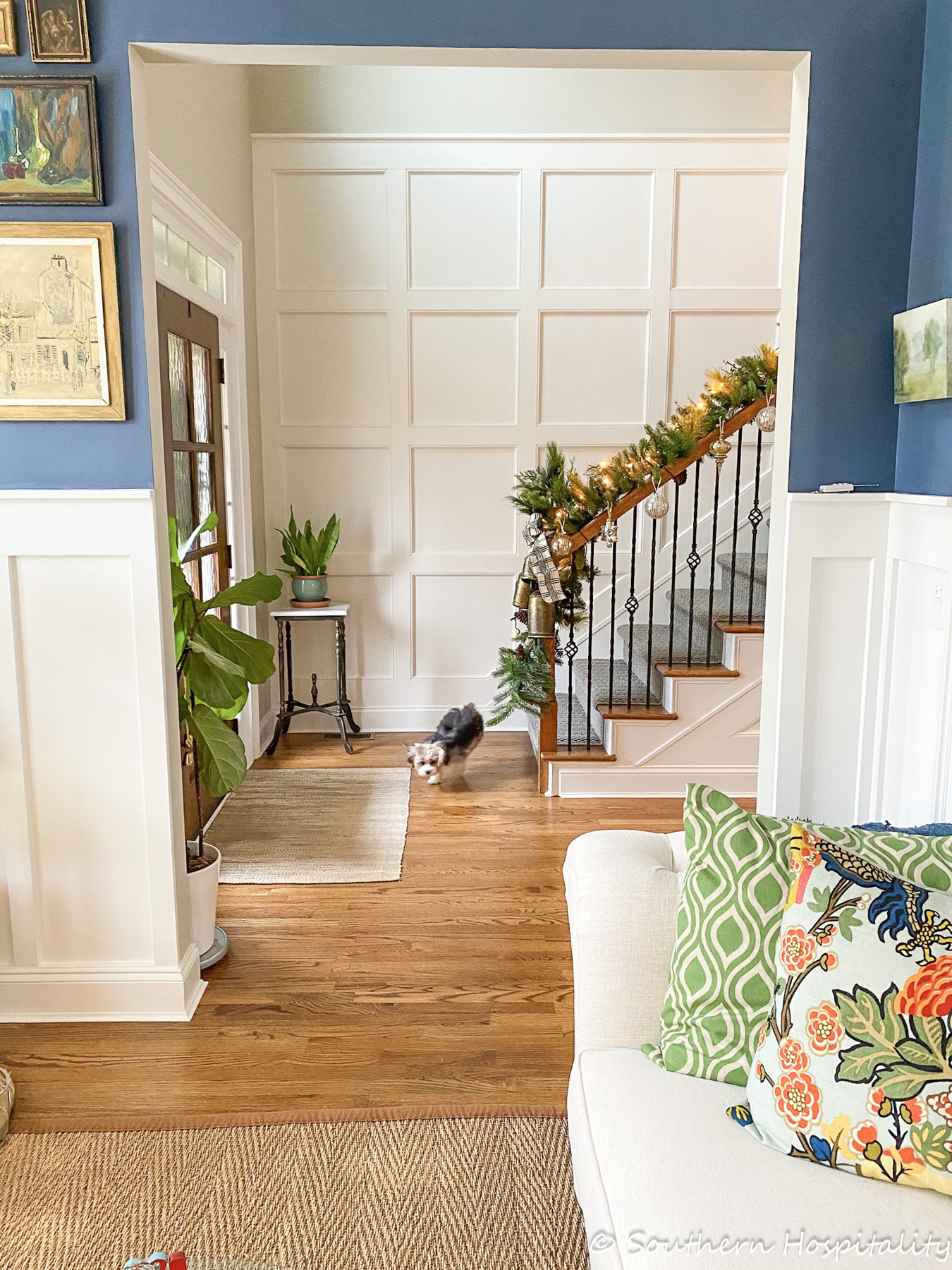 There's Daisy again, running down the stairs. Mark did that wall of box molding last year right before Christmas and it's so nice to have that finished and enjoying it this year.
I use these same beautiful glass ornaments on the garland every year and it's a great place to show them off.
This little gold vintage tree is in the corner of the dining room and it's a fave too. I collected some vintage ornaments (a mix of vintage and newer) metallics to add on the tree and it's so fun.
My foyer table always gets changed out for the seasons and it's my place to play with vignettes. Of course, Christmas is very special and I try to make it pretty and festive every year.
I've had this snowy twig tree for a few years and enjoy moving it around the house. This year it landed here on the foyer table and is perfect for adorning with my white and silver metallic ornaments. I love mercury glass and have a pretty good collection of that too.
I love bringing out this sign every year, Have Yourself a Merry Little Christmas. That says it all!
My sister gave me this light up silver house and I had collected a few white houses from Target that last few years and I love how they all look together.
A mix of houses, candle votives in mercury glass makes it really sparkle!
Cake stands are a great way to display small vignettes. I hardly ever make cakes, but I sure like these white cakestands. I add those twinkle lights around the house too for extra light and sparkle.
It feels like a little village all lit up for the night.
It's one of the first things you see when you come in our front door.
Down that hallway is our family room, where we spend a lot of time. It's off our kitchen, so we use this room every day. I always decorate the mantel for Christmas of course. I added a couple of new Christmas pillows and a pretty plaid sherpa throw on the sofa, which will be fun for the holidays.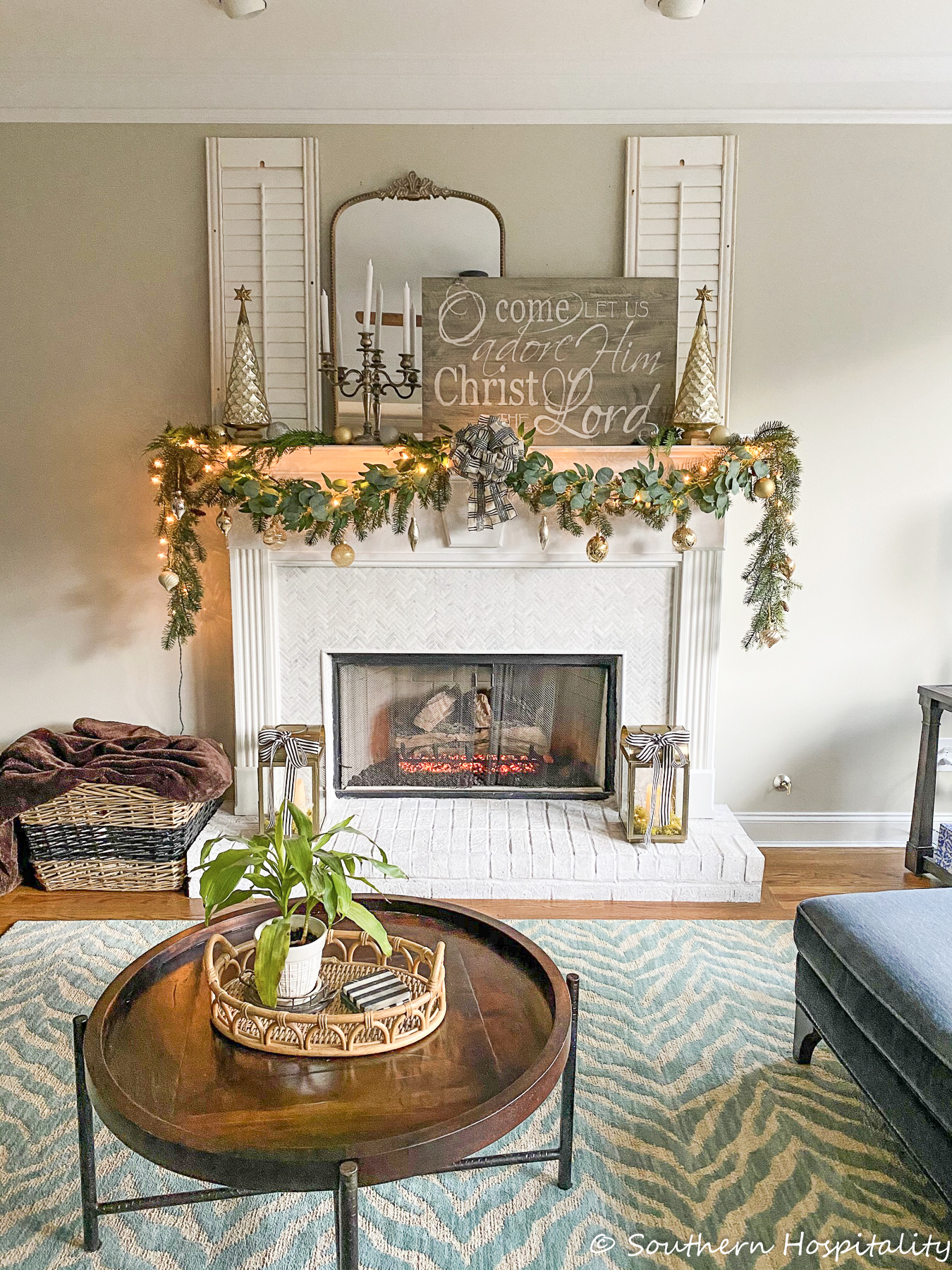 I've really enjoyed keeping it simple with this pair of old shutters and a gold mirror I got a year or so ago. It's fun to change it up with the seasons but leave those things as a backdrop.
O Come Let Us Adore Him says it all, the reason for celebrating Christmas.
Those mercury glass trees I found at Homegoods a few years ago and love them. I just love the metallic shimmer of mercury glass and it looks great in candlelight. I drape two types of garland, a faux cedar and also a eucalyptus that I found on Amazon,but it's no longer available. I also add some fresh cedar cut from our yard.
I bought this wired ribbon a few years ago and made a new bow for the mantel this year.
A thrift find candelabra adds a lot to it too and I add some extra ornaments along the top for extra bling.
I have a lot of beautiful glass ornaments so decided to hang them around as many places as I could this year. Adding ornaments to garland makes it so pretty!
This is the room we use the most. I had to clear out the extra clutter just to take these pics. I'm sure we're not the only ones with extra clutter are we?
The kitchen adjoins the family room.
Mark collects these blow mold Santas and he loves it when I put them in the window. Daisy had a little barking fit when I put them up, but I think she's used to them now.
I love adding a red Christmas pillow and throw on this blue chair, adds a lot of Christmas cheer. I love this antique French cupboard I have had for years. It adds extra storage to the kitchen and adding those shelves above gave me a place to decorate for seasons as well.
This are was supposed to be a breakfast space, but it's really too small for that so I opted for a sort of keeping room with chair and I love sitting here and having my coffee in the morning.
More of those sparkly ornaments I hung from the chandelier in here.
I have a lot of red and green ornaments and don't have room for all of them, but I always add some pretty ones here on these shelves for Christmas cheer.
I had one nutcracker that I've had for many years, added a new one last year and this one this year. I love this chef nutcracker. I found it at JC Penney, but it sold out too. He's holding a platter of cookies in one hand and a rolling pin in the other hand. I adore his tartan plaid outfit.
I may have to add a new nutcracker every year and display them here.
Mark got out his mom's old ceramic Christmas tree last year and we both loved it, so it's become a tradition now. I love adding a few little people around the base, like a mini Christmas village. I use to have a bunch of those Christmas village houses that I used for years, but I finally sold them all a few years ago. This is my box of little people that I kept and I love adding them around the base.
Our kitchen is small, but a workhorse kitchen.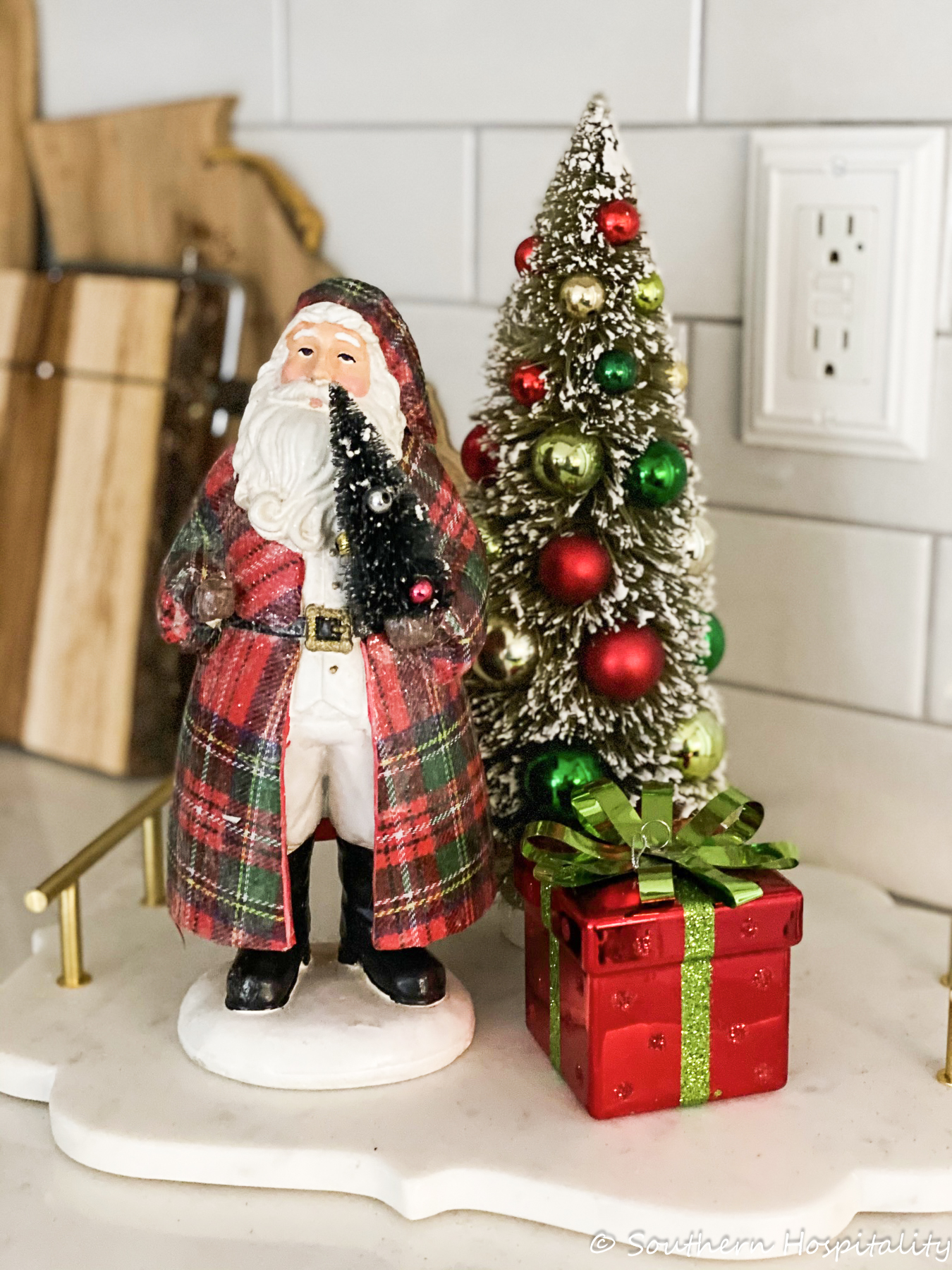 I don't have a lot of counter space, so I only added this one little vignette in there. I found that Santa last year in Milledgeville and loved him.
That's our Christmas house for this year and I also have a tour coming up Wednesday, so hope you'll come back and see the Christmas tree and dining room this year. It's so colorful and pretty. We use our Shiny Brites that we grew up with on the tree and it's one colorful fun tree.
Thanks for stopping by and please go and visit Rachael at This is Our Bliss next on the tour. You will love visiting all of these ladies, they each are unique with beautiful styles and I know they have gone all out for Christmas too! I also would love it if you'd subscribe to my blog so you can follow along every day! 
Monday Dec 6th
A Stroll Thru Life – Up To Date Interiors – Our Southern Home – Southern Hospitality
This Is Our Bliss – Southern State of Mind – Inspiration For Moms
Tuesday December 7th
Making it in the Mountains – Decor to Adore – Pink Peppermint Design – Thrifty and Chic
Cuckoo4Design – White Arrows Home – Hymns and Verses
Wednesday December 8th
StoneGable – Whispering Pines Homestead – Worthing Court – Grace In My Space
DIY Beautify – Remodelando la Casa – LeCultivateur
Thursday December 9th
Designing Vibes – The Stonybrook House – A Pretty Life – Calypso in the Country
Clean and Scentsible – 11 Magnolia Lane – Chalking Up Success
Friday December 10th
Fox Hollow Cottage – Follow The Yellow Brick Home – Casa Watkins Living – Quarters One
Noting Grace – CitrineLiving – County Road 407
Don't Miss a Post, join my list!