Hi, friends, I'm partnering again this year with Tree Classics and a few of my blogger friends for a blog hop this week. I'll be sharing today and you can see my other friends from yesterday and again tomorrow for more Christmas inspiration with wreaths and garlands.
It's been so fun to decorate our new house for the Christmas season and I have a cozy front porch to decorate now which is a little different than my old one, so that's been fun to come up with ideas on making that porch very welcoming and festive.
Be sure and stop by and visit Kelly and Traci from their wreaths and garlands sharing yesterday and then tomorrow Kim and Vanessa will be sharing theirs.  I can't wait to see what they do with their wreaths and garlands. Wreaths and garlands go together like peanut butter and jelly this time of year, don't they?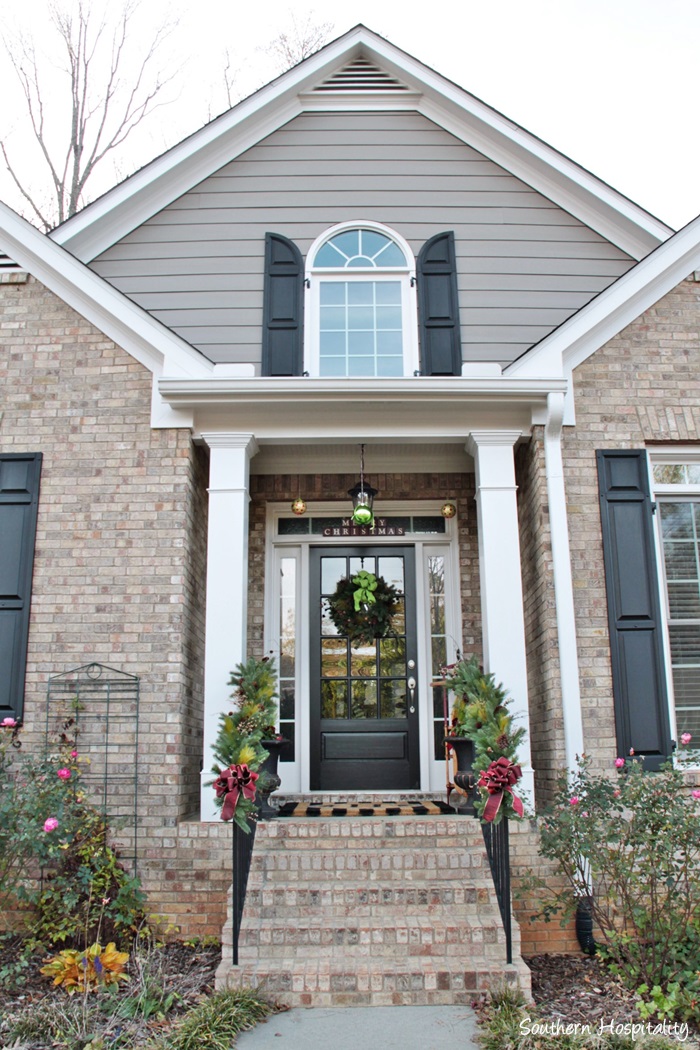 Welcome to our new Home for the Holidays!
Growing up, I can still remember how excited I was when we begged my mom to pull out the Christmas decorations from the closet and out they came for my sister and I to help decorate the tree.  We had a simple Christmas with a real tree and nothing at all fancy in our decorations for the season. But, I still remember the feeling I had as a child as the tree was adorned with all those pretty ornaments, the lights came on and there was a feeling of Christmas in the house. That's the way I want my own house to feel as we enter into this season of Christmas with all the blessings that have come our way. I decorate way more than my mama ever did, but she definitely captured the specialness of Christmas and added that layer of love into our Holiday decorating every single year growing up.
And that's priceless!
So, with that being said, welcome!
Our new front porch is really fun to decorate and I'm just thankful that we have an actual porch with a ceiling to keep people dry if it's raining. That's always one of my pet peeves about a house, if it doesn't have a porch for keeping things and people dry.  It's a small porch, but it's a porch!  So welcome to you all!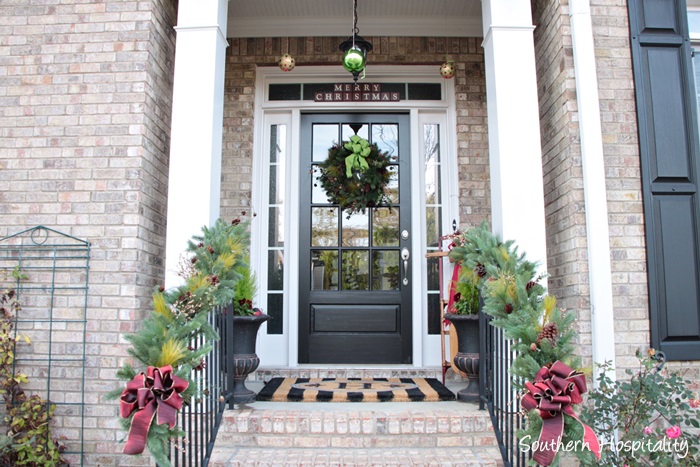 I kept it simple by adding Tree Classics Classic Frasier Fir wreath and garlands to the front porch. This one is really my fave from them, with its realistic mix of greenery and pinecones and sprays of gold berries. These garlands and wreaths are so easy to use.  Just take them out of the box, fluff and decorate.  With all the pretty foliage, they didn't need anything but a bow!
Just because I know someone will ask, our new front door mat is from Frontgate. They have lots of oversized front door mats.
With battery powered lights I can put them out and then light them when needed with the push of a button.  I added simple cranberry and gold ribbon bows to the ends of the stair railing for a fun and festive touch.
Both sides got the same garland and I simply anchored it to our black iron railing and added bows.  Simple and easy!  You can see the mix of pretty greenery in this pic.
On the front porch, I've added another fun touch. This one is almost an antique.  I told you that Mark is a huge sentimental dearheart and Christmas is no exception.  In fact, he's all out gushy over Christmas and loves this Holiday like no other.  I'll have to tell you a cute and funny story about Christmas, but I'll wait until I get to another part of our Christmas decor for that.
Back to this sled.  He's had this cute thing since he was about 9 years old, he said.  I spotted it and said I wanted to use it in our Christmas decorating, so he said yes, as long as we keep a good eye on it and don't let it disappear.  We hope that wouldn't happen, but you never know.  I added a pretty red bow and a sprig of faux berries to it an it's such a cute adornment on the front porch.
Not wanting to leave out these black urns, I dressed them for Christmas too.  I added lime green cypress trees from my local nursery to each urn, added a deep burgandy pansy and set in some pretty deep red glass balls to really give them a Holiday look.
These should grow in well during the Winter months and survive into Spring.
Merry Christmas blocks that I've had for a long time were placed above the front door to greet our guests as they come in the door.  I loved that little touch too!
The Classic Frasier Fir wreath that's prelit adds a really nice touch to our glass front door. All I did was add a pretty green ribbon for texture and color and that's it. It's already adorned with all those pretties so doens't need a lot more. I used suction cup holders to hang my wreaths on glass.
I also added some oversized plastic ornaments from some hooks on the ceiling for a little extra bling.
They add just a little sparkle at night and with the lights on and lights inside welcoming people in, our house is feeling mighty festive right now.
I can't wait to have some people over this year and celebrate this wonderful time of the year.  Between family and friends, we hope they all feel welcome as we extend our home for the holidays this year. It's so exciting for us to celebrate our first Christmas in our new house.  The first of many!  It's been fun to get things all spruced up and festive for this year's festivities!  I'll have lots more to share in the coming weeks, thanks as always for stopping by!
Note: This post is sponsored by Tree Classics.  
SaveSave
SaveSave
SaveSaveSaveSaveSaveSaveSaveSaveSaveSaveSaveSave
SaveSave
SaveSaveSaveSaveSaveSave
SaveSave
SaveSave
Don't Miss a Post, join my list!