Festive neutral Christmas mantel with ideas on using traditional colors of red and green in the kitchen.
Merry Christmas! Hard to believe that December 1st is here and the Christmas season is upon us. I do love Christmas, but it is a lot of work to get decorated and festive, isn't it? I'm glad mine is all done now. I'm in another tour today with a great group of ladies and we are sharing our mantels and kitchen spaces. If you're stopping by from Tamara at Citrine Living, welcome! Tamara's home is just beautiful in those shades of blues.
Thanks for stopping by today for the tour of my family room and mantel. I don't do a lot in the family room, but the fireplace always gets the holiday treatment.
I got Daisy to pose in her bed while I took pics.
This year's mantel is white houses and garland draped around my sign that I've had for years. I just keep reinventing it in new ways.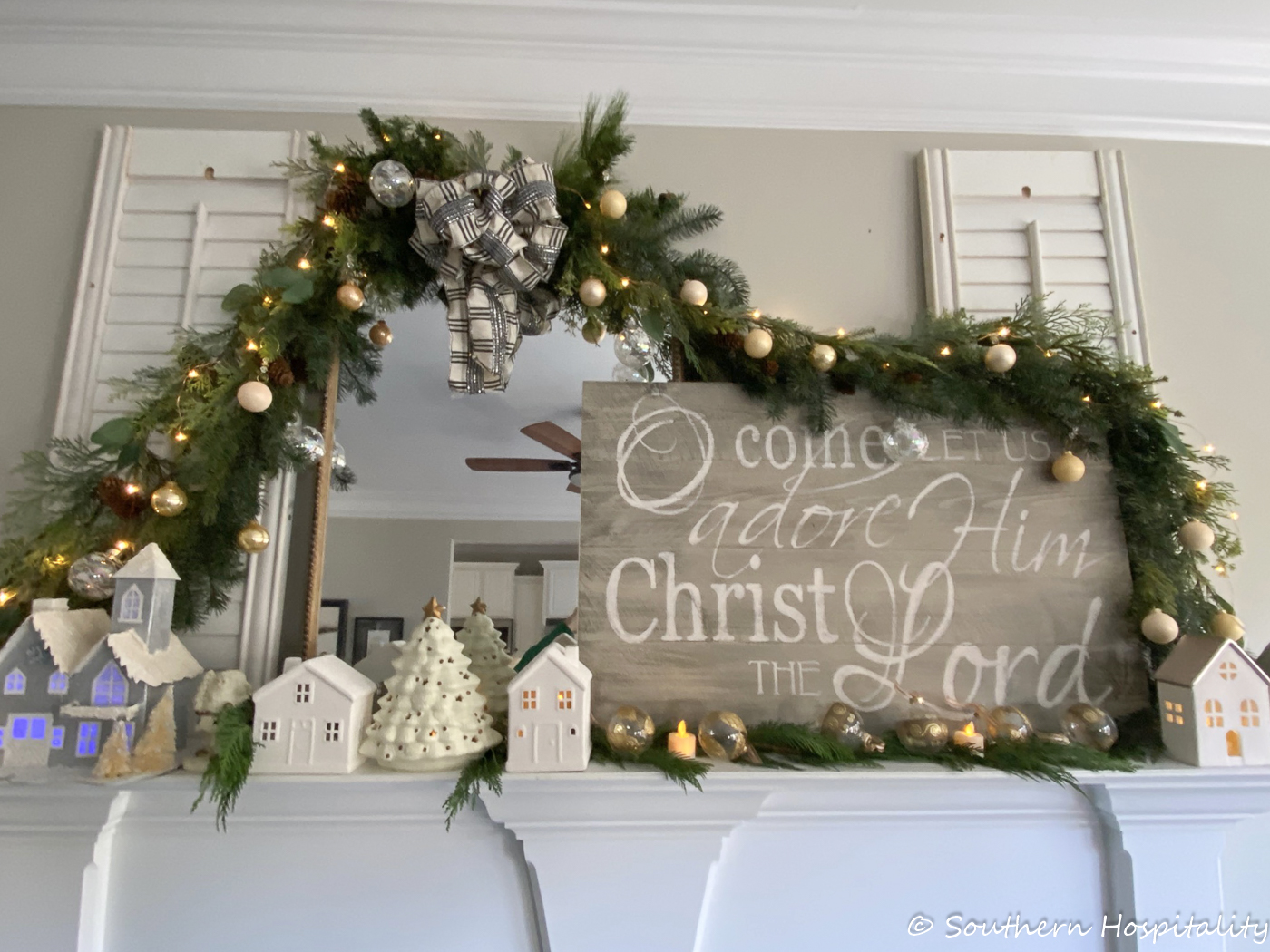 The houses and twinkle lights look so pretty at night.
Both of the garlands are faux and I add real greenery on the mantel. Adding some pretty and sparkly ornaments on the garland really makes them pretty.
Here's a pic of our family room from last year, since I didn't clean it up to take pics this year.
Just across the family room is our kitchen and keeping room area. I sit in this chair every morning and drink my coffee.
This antique French cupboard is fun to decorate and with the added shelves above, gives me a chance to bring out my long time red and green Christmas decor.
I have a lot so festooned the light fixture with hanging ornaments and garland to make it extra pretty too.
I just add my nutcrackers and lots of green and red to make it instant Christmas.
I love the nutcrackers and they add a lot to the display. Most of these things I've had for years.
I just try to move them around a bit from year to year, but still love them.
Our kitchen is small, but works hard for us.
I add this cute vintage tree that belonged to Mark's mom here on the bar and love adding little village people around the bottom with fake snow.
You can see through the kitchen all the way to the living room and I love all the lights and festiveness going on.
This little tree is a happy spot!
I don't add much to my kitchen counters since they get used daily, but I can't resist adding this vintage looking Santa and a tree and present to the marble tray.
It is a hard working kitchen on the daily.
And that's a peek at our mantel and kitchen area this year for the holidays. We enjoy all the lights of the season very much and I hope you all have a wonderful Christmas season this year. We plan to celebrate with all of our family and friends.
Don't miss the next stop on the tour, my friend Cindy Hattersley. I know you'll enjoy seeing what all she is up to in her new home. She has a wonderful style! And don't miss the rest of the tours this week. You can see the topics on each day, so please do yourself a favor and go and click on each blog. You will be inspired!

Monday, November 28th (Front Porch/Outdoor Spaces)
Evolution of Style | Maison de Cinq | Home by Heidi | Southern Hospitality | Cindy Hattersley Design

Tuesday, November 29th (Entries/Dining Rooms)
Hello Lovely | A Stroll Thru Life | County Road 407 | Southern Heather | Classic Casual Home | Most Lovely Things
Wednesday, November 30th (Living Rooms/Dens)
Northern California Style | Thrifty Decor Chick | Summer Adams | Make Mine a Spritzer | Sincerely Marie Designs | Postcards from the Ridge

Thursday, December 1st (Mantels/Kitchens/Laundry Rooms)
Southern Hospitality | Cindy Hattersley Design | Home with a Twist | Sincerely Marie Designs | Citrine Living

Friday, December 2nd (Bedrooms)
Dimples and Tangles | This is Our Bliss | Shine Your Light | Sincerely Marie Designs
Don't Miss a Post, join my list!