Hi, friends! It's the most wonderful time of the year once again and I have decked our halls this year for Christmas celebrating. I'm so excited to welcome you to our home by showing off the front porch decor and sharing how I'm adding Christmas cheer right on our front porch and coming up the stairs. We will probably have some friends and family over again this year and it's so nice to have a welcoming front porch.
I'm also joining another great group of bloggers who are also sharing their porches decorated for Christmas today and each day will be a different area decked out for Christmas, so please go and visit them. If you're visiting from Sara at Sincerely Sara D, I know you enjoyed her home so much. She has wonderful style! Thanks so much to the Christy and Amy with 11 Magnolia Lane and Jenny with  Evolution of Style for hosting this fun tour!
It looks a little dreary the day I took this pic, but the front porch is happy and festive, so let's get a little closer. Mark and I have lived in this house over 2 years now and this is our 3rd Christmas in this house. It's hard to believe that, time sure flies! We've done so much in our house and have more projects in the wings as well.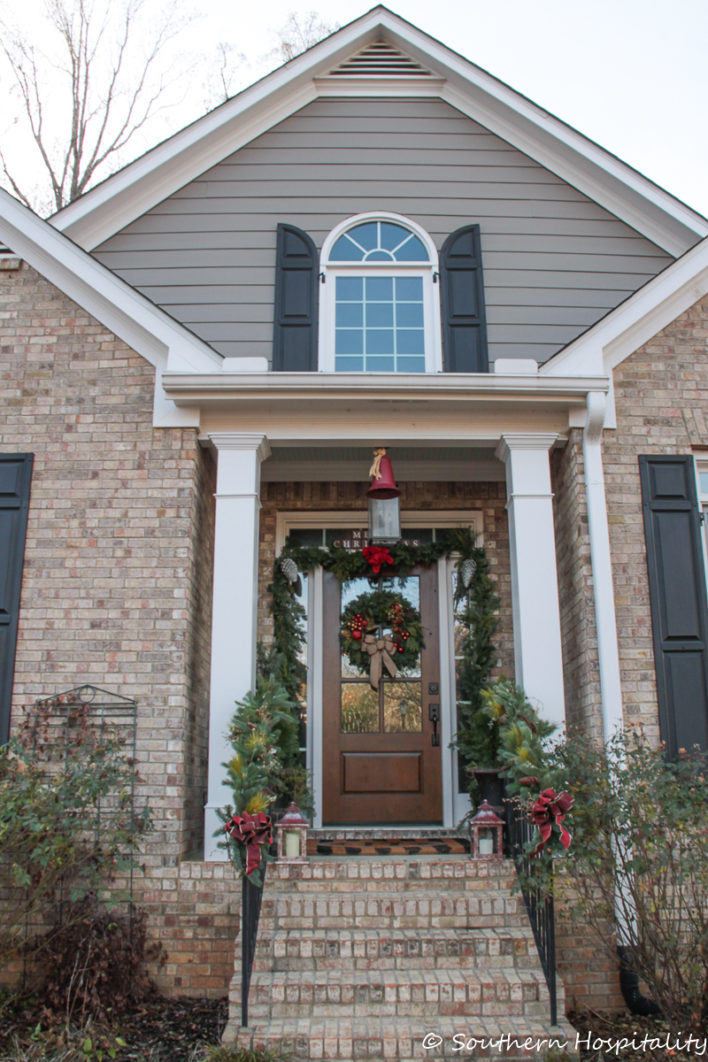 We have a smallish front porch, but I want to make it as festive as possible, so added a few well chosen pieces filled with nostalgia to welcome in the season.
One of this year's projects was getting a new front door and we absolutely love this one. It's Knotty Alder and really classes up our front porch even more now with the wavy glass and solid wood. Garland is from previous years and from Tree Classics. I love the red lanterns, past season from Tractor Supply and they add a pop of color.
Notice the fresh garland and wreath on the front door? I'm so happy to be working with Lynch Creek Farm (they gifted me the wreath and garland) again this year and getting a fresh wreath and garland, which smells SO good! I love their products and do not hesitate to recommend them for Christmas wreaths. You can't beat their style.
In fact, stay tuned because I've got a great WREATH giveaway with Lynch Creek Farm at the bottom of the post. One of YOU will win this gorgeous wreath I chose. It's absolutely stunning!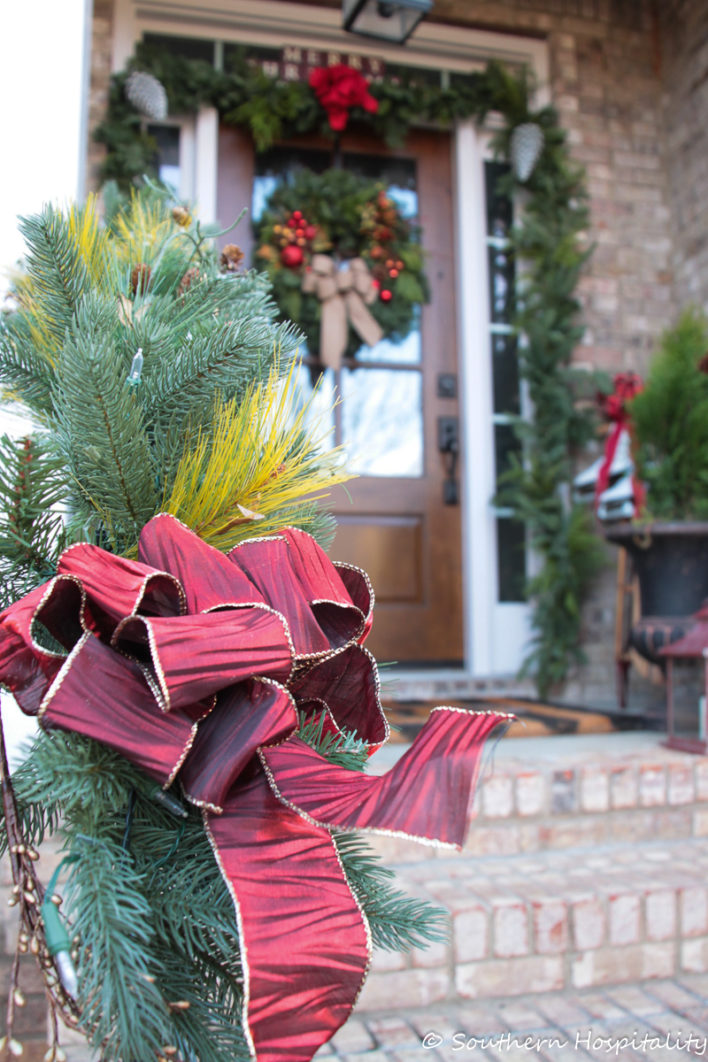 I go with traditional cranberry red colors out here and it makes the garland pop.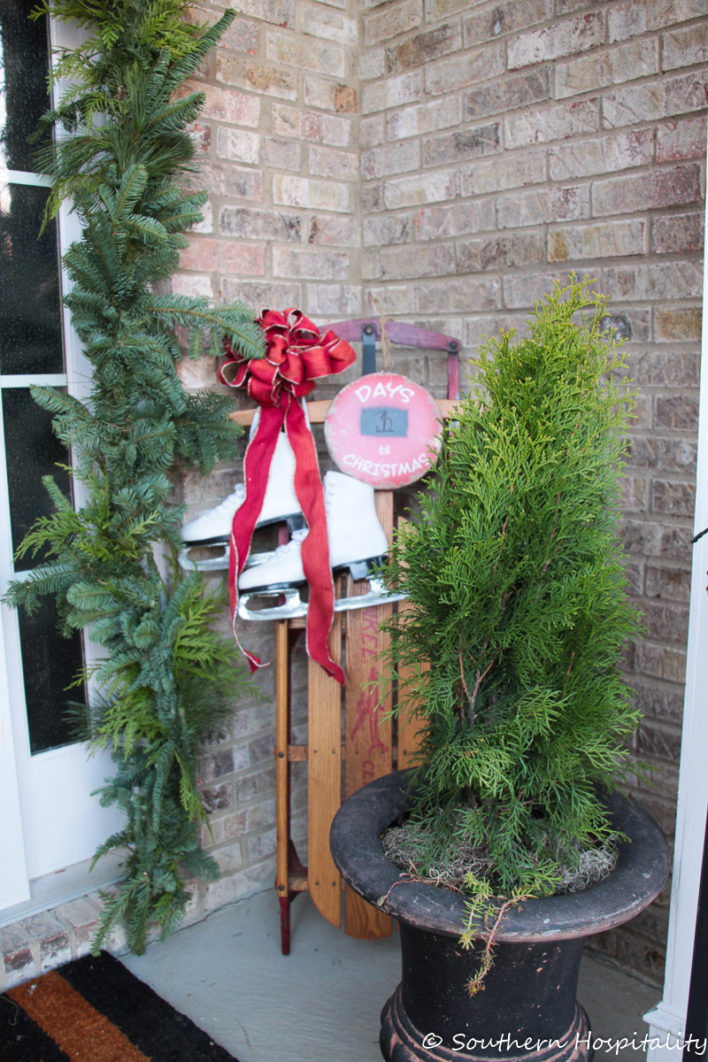 On the porch, I added Mark's boyhood sled that he's had all these years and it adds such a nostalgic feel to the front porch. This year I picked up a pair of ice skates from an antique store to really set the mood. I added fresh cedar bushes to my black planters for extra greenery.
Here's that gorgeous wreath! It's filled with berries and dried/faux fruits, so pretty and festive. I couldn't resist the colors and texture of this wreath. It's brand new this year and called Country Harvest. It says this one is sold out, but I hope they get more in so that one of you get this too.
It really makes our front door pop even more and the fresh garland really accents our door as well. I love fresh garland for the smell and texture. You can't beat it for Christmas decorating. This is the only fresh greens I decorate with except for a few sprays on the mantel and elsewhere.
I love the nostalgic feel of our porch and the reds added are so warm and welcoming.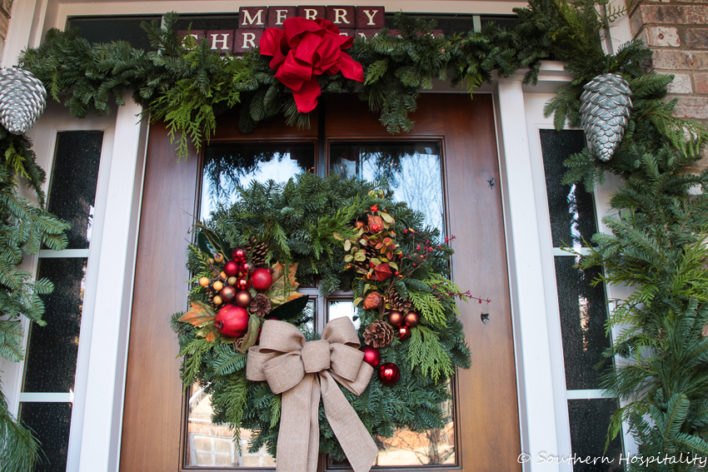 The wreath is the icing on the cake!
It totally shows off on our new door and feels so good.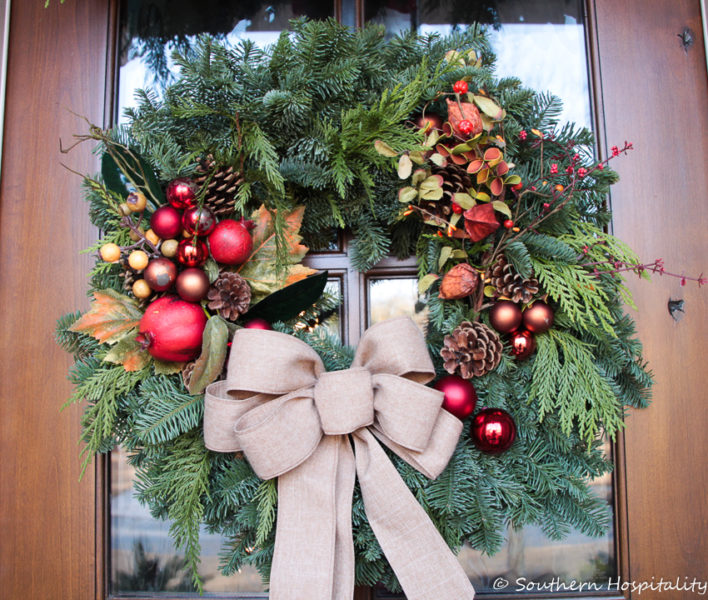 If you'd like to win a wreath of your own for YOUR front door, just leave a comment on this post telling me your favorite wreath at Lynch Creek Farm. But note that this Country Harvest wreath is the one I'm giving away! Leave your email address on the Rafflecopter widget below AND leave a comment on this post to win! That's all you have to do. I can't wait for one of you to get this wreath too!
Next on the blog hop is Cyndy from The Creativity Exchange. I know you'll enjoy her beautiful porch, her home is absolutely stunning! Don't forget to visit all the other girls below to see their porches too. I know you'll be inspired for your own Christmas decorating!
Monday, December 2nd (Front Porch/Outdoor Spaces)
Cyndy at The Creativity Exchange | Julie at Less-Than-Perfect Life of Bliss | Annie at Most Lovely Things | Heather at Southern State of Mind | Sara at Sincerely Sara D | Rhoda at Southern Hospitality
Tuesday, December 3rd (Entries/Dining Rooms)
Amy at 11 Magnolia Lane | Tammy at Pink Peppermint Design | Tam at Citrine Living | Cindy at Rough Luxe Lifestyle | Heidi at Home by Heidi | Deb at Seeking Lavender Lane
Wednesday, December 4th (Living Rooms/Dens)
Marty at A Stroll Thru Life | Heather at Setting for Four | Jen at Stylehouse Interiors | Rachael at This is Our Bliss | Amanda at Dixie Delights | Paige at The Pink Clutch
Thursday, December 5th (Kitchens, Laundry Rooms, Misc Spaces)
Summer at Summer Adams | Heather at Setting for Four | Andrea at Life on Cedar Lane | Emily at Eleven Gables | Laura at Duke Manor Farm | Amy at 11 Magnolia Lane
Friday, December 6th (Bedrooms)
Christy at 11 Magnolia Lane | Jenny at Evolution of Style | Heather at The Heathered Nest | Shand at Quarters One | Amanda at Sincerely Marie Designs | Christy at Our Southern Home
Don't Miss a Post, join my list!