I've shared our little town of Acworth, GA with you before, but it really shines during the Christmas season, so I thought I'd share again. It's always so fun to drive around town after the 3 big trees go up in town and all the light poles get adorned with lighted wreaths, holly, presents and more. It's such a small town feel and we love it.
Mark and I both have fond memories of going to visit our families during the holidays when we were little and traveling through little towns and looking up out of the backseat where we were sleeping to see the nostalgic Christmas decorations lining the streets of all the little towns we traveled through. What fun times! Acworth has that feel too.
We always have Santa come to town and take pics with the kids and we went that night, but had dinner reservations before Santa got there, so we missed him. There were plenty of people out and about this year since last year all the festivities were cancelled. It's so nice to have things mostly back to normal.
Lots of families out and about in town. Our downtown has all the buildings lined in white lights all the time.
Our newish pedestrian bridge announcing that you're in Acworth gets extra attention as well with light up snowflakes and a color show of red and green lights.
The black iron fence lining downtown has lighted garland swagged along Main Street.
Henry's Cajun restaurant is a popular destination and we love going there too.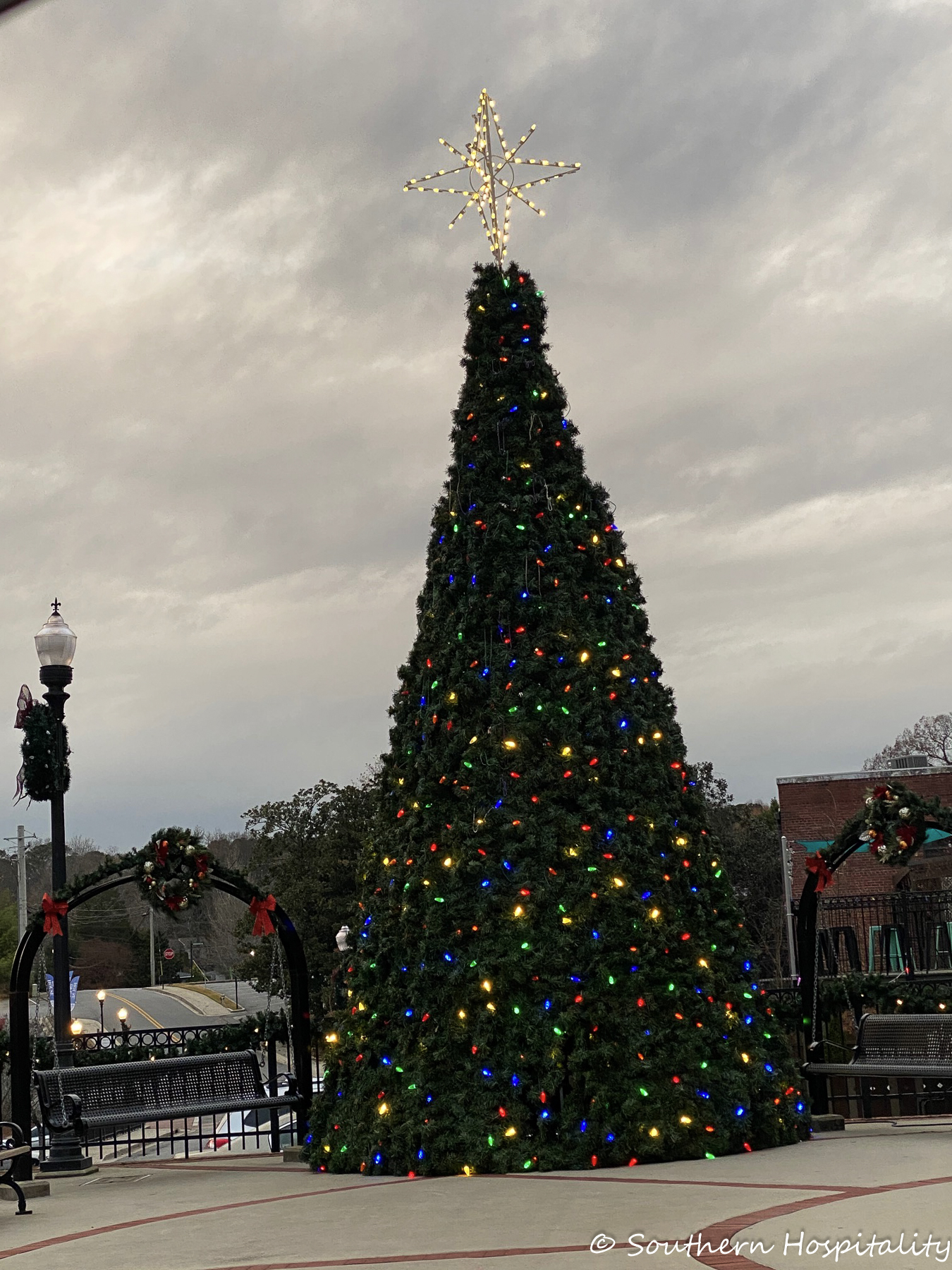 This is one of the large city trees in Acworth, on the back street behind Main Street. It's always fun to see this tree light up for the season.
I love dusk and driving through our little town, it has such a great feel when the sun is going down and all the lights come on.
Wreaths and snowflakes on the pedestrian bridge.
We love the poinsettias and other neon lights added to the lightpoles around town. That nostalgic feel again.
Another large tree is in the park at Logan Farm. This is a fave place that I walk with my friends and it's a well used park.
More lights coming down from Main Street to the park.
Our downtown is so charming.
Another look at the pedestrian bridge from a different angle.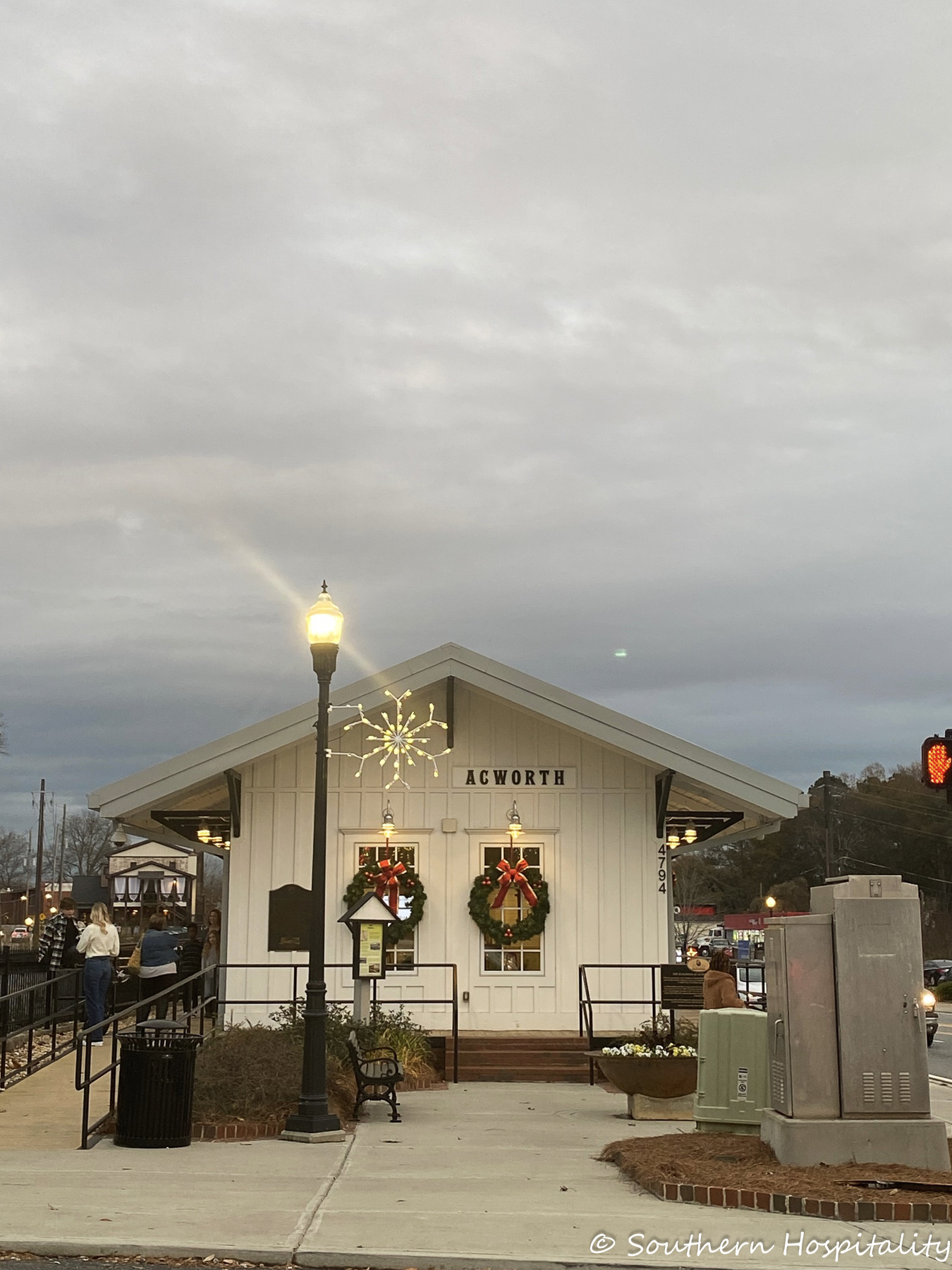 The History Center is another neal building that was newly constructed along with the pedestrian bridge. It holds a lot of information about the history of Acworth in an interactive display.
Main Street sees a lot of activity with shops and restaurants.
The weekends are usually packed with lots of people supporting our downtown. Some of our fave restaurants is Fusco's Italian and also Fusco's Pizza next door. Both are great!
There's a small park on Main Street that hosts the festival of trees. I caught these pics before it was finished being lit up, but it's a really cute park.
Lights are draped and trees are lit up too for a fun Christmas display.
Charm abounds in Acworth.
Historic Acworth Christian Church got a major facelift last year and it's looking beautiful.
I figured I would share our house all lit up for Christmas too. We love going to see Christmas lights during the holiday season, don't you? There's a new walk through light display at Dallas Landing, which is right behind our neighborhood on the lake and we are planning to go there this week when Lauren and Renee come home. That will be fun to see, it's new this year.
Our very favorite light show in the area is called Lights of Joy and it's on Ben King Road in Kennesaw. I just looked up their website so I could find out more information and was so surprised to see they've been doing lights since 1988. I had no idea! Of course, it really took off the last 10 years I think. We've been going at least 5 or 6 years and it's bigger than ever. Come along! The Taylor family lives here and they do this light show because they want to spread joy. They certainly do that!
It's just amazing to see this in person and my pics do not do it justice, but enjoy what I managed to capture.
It's just magnificent and magical when you're walking around listening to the music and taking in all these lights.
I read that they start the installation in August. Mark and I were wondering if they take everything down every year and start over each Christmas and apparently, they do. It's stunning!
I'm pretty sure this tall tree with the purple orbs is the elm tree he was talking about that required the lift. It's my very favorite tree on the property.
This is their driveway and they open it up and let people walk all the way around the circular driveway in front of their house.
There's that tall elm tree again. I just love it.
I tried to get it from different angles to show the scope of how tall it is.
Lights of Joy, they definitely bring so much joy to the community.
So beautiful and I hope you enjoyed going on a tour with us this year. It's not Christmas without getting out and seeing some lights of the season. Please enjoy this next week with your families and take time to make new memories. That's what we plan on doing!
Lauren and her family will be here today and will stay with us for a week. We will pick up Mom and Dad and bring them to our house for Christmas morning and that will be nice. We are looking forward to more family memories together for as long as we have mom and dad with us. They are both doing so well. Dad has settled in so nicely since my last update and is doing so good. He's actually raving about Dogwood Forest now and when we talk about them being there, he thinks it's so nice, the food is great, he is so content to be there. He said we couldn't have found a better place for them to live. Mom sees him every day and he's happy to see her and also happy to go back to his area in memory care for his meals and activities. It's so great to see that! I'll do more updates later, but wanted to mention that. It's a happy and blessed Christmas for us. Their house is under contract to sell and we hope to have it sold and closed in January.
Don't Miss a Post, join my list!