Once again, I decorated the sideboard in my dining room, adding some Christmas sparkle and cheer in there. I love to plug in the lighted garland and it just makes the house feel warm and cozy this time of year.  This is all stuff I've had forever, so you've probably seen it all before if you've been reading my blog for awhile. I enjoy the neutral metallics in this room since it's mostly neutral too.  Adding some sparkly and glitz makes it all the more festive!
This year I have my new drapes hung in the dining room and they look lovely.
I  kept it simple in here.
A faux garland with lights that I've had forever, sprinkled with mercury glass in bronze.
I kept my soup tureens and used them as props in my Christmas sideboard.
Nothing here is new, I just keep using the same things I've had for years.  But, I enjoy them every single year. I love the sparkly birds.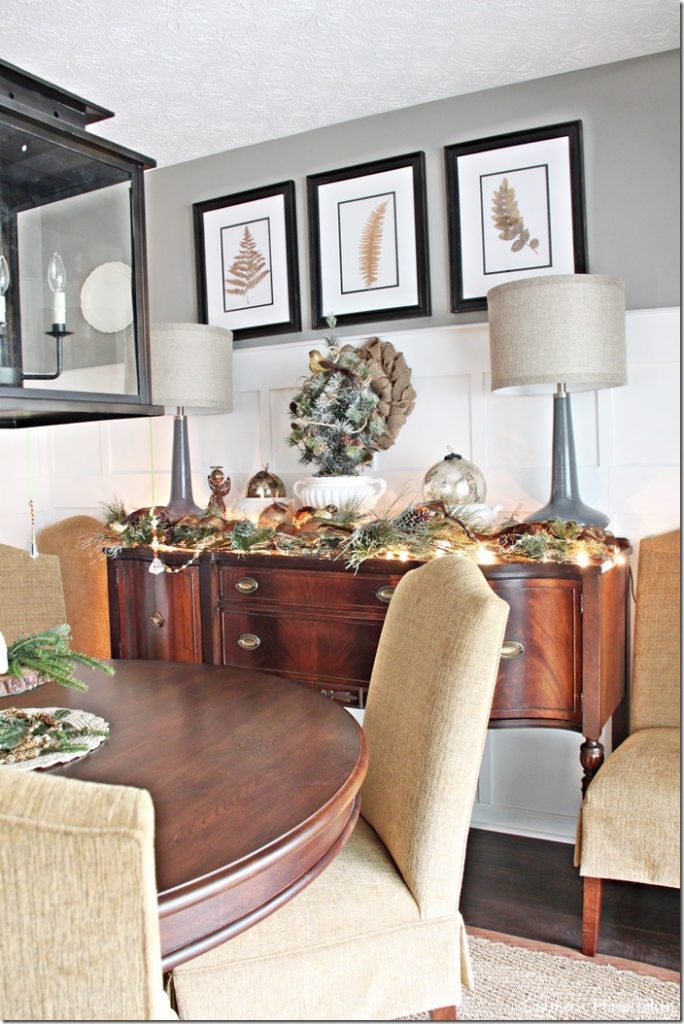 It is subtle in chocolate, bronze, and shimmer.
I have several of these glass-like hanging ornaments that I bought a Big Lots years ago. They add a lot of sparkle when hanging.
Looking back to the living room.
I've had these 3 grapevine stars forever too and still love their simple look.
I hung them from my curtain rod in the dining room.  That gold pinecone wreath is hanging on a clear suction cup wreath hanger. You can find them at lots of places, but I got mine at Lowes. They are great for hanging wreaths on mirrors and glass.
It's pretty simple in here but I love turning on the lights.
A cute deer centerpiece on a slice of wood from World Market.  He's sitting on an old cake stand.
I've had Mr. sparkly deer for at least 10 years now and he is so cute, sitting on a bed of fresh greens.
Looking back to the tree in the living room.
My corner cabinet gets a bronze metallic cone filled with faux berries and real greens.  I added some red cactus that I used in my porch centerpiece to an old planter I have. Love it!
China cabinet that I repurposed years ago from an antiques store.
That's the dining room, simple and elegant, just the way I love it.  I'll be back tomorrow with the kitchen and a recap of all my Christmas décor this year.  I don't go too crazy, but it's just enough and festive enough to make me feel the Christmas spirit.
Thank you all for your comments in yesterday's posts. I felt the need to talk about that and I know many of you feel the same way.   In no way am I saying that we bloggers shouldn't show our homes and how we decorate for Christmas. It's all about balance and perspective and being content with what we have.
Let's celebrate the real meaning of Christmas!
Don't forget, I'm participating this week with many talented bloggers in showing our Christmas homes. Here's today's lineup:
Don't Miss a Post, join my list!