Last week, I had two back to back trips and I'll be sharing both of them with you.
Today, I'm recapping my trip to Panama City Beach, where I had the pleasure of staying on the beach for a couple of days and hanging out with some of my blog friends who I've known for a few years.  We were invited there by the Panama City Beach tourism group and they put together this shopping press trip for a few bloggers to experience the beach and highlight the coastal decor shops that are plentiful there.
Just as a disclosure, this trip was paid for and our flights, lodging and meals were comped for us to share this shopping experience.  
I've mentioned this before, but my Daddy grew up in Panama City from the time he was 12 years old to adulthood, so I've gone to Panama City my entire life to visit my Grandma who is long gone.  Mom and Dad would take us to the beach many times in the summer to swim in the ocean and play in the sand, although they didn't love the beach themselves.  Maybe those trips are what created the beach lovers that my sister and I are today.  The beach is still as gorgeous as ever, that sugar white sand and that blue green water that rivals any beach in the world.
When I told my dad I was going to Panama City Beach, he remembers that when he was very young and living there that beach property across the street from the beach was going for $14 an acre.  We all gasp at that now and of course, he wishes he could have bought some of that property then, but even $14 was hard to scrape up back then, he said.
But, today we're going to explore a few of the coastal decor shops that are in Panama City Beach.  We shopped several of them in the 2 days we were there and it was very fun.
My first day there, I had lunch with a dear college friend of mine, Cheryl, who grew up there and lives there.  We hadn't seen each other in so many years.  We've kept in touch some via Facebook, but it's been well over 30 years since we've seen each other in person.  It was so great to see her and catch up on everything and we picked up right where we left off.  We hope to get together in Atlanta again soon!
The high-rise condos are very prevalent on the beach now as growth took over in the last few decades.  There are thousands of rooms available now on Panama City Beach and it's an affordable place to spend vacation time.   I stayed in Tidewater, high up on one of the upper floors and that first pic was the view from my balcony.
The weather was just spectacular with the temps in the daytime close to 80º and not very cool at night, so made for a very enjoyable couple of days.  We had time to walk on the beach and enjoy the weather too.
Tidewater from the beach. It's a huge place!
Sunsets are just glorious on the beach!
Our first night there, we had dinner at Schooner's on the beach, Thomas Drive, which I had been to before. It's a beachy place that is perfect for dinner when you want that beach atmosphere.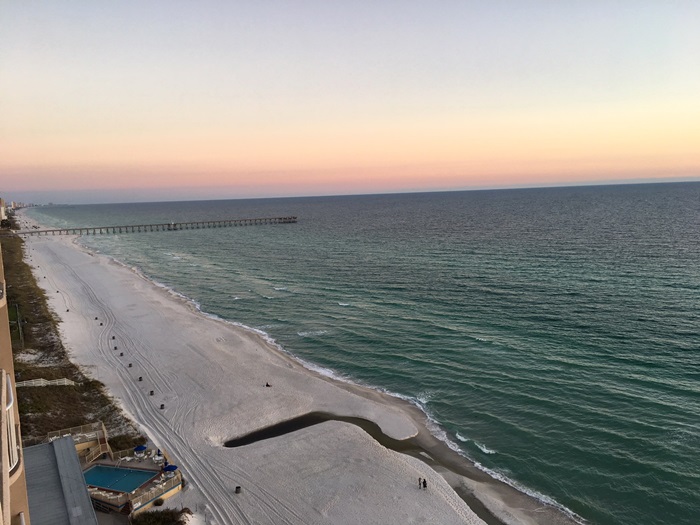 We also took in some great places to eat, so I'll share those with you too.  First stop for breakfast was Andy's Flour Power and wow, was it delicious!  The owner, Andy is from New York and knows how to throw down some breakfast.
I had an omelet filled with veggies and meat and it was truly one of the best omelets I've ever had.
Andy brought out French toast for us all to try and it was incredible too.  I give Andy's a big A+ for breakfast fare, so if you get down there, try it out.
We visited several shops in one day, starting with The Shadow Box.  This shop is on Thomas Drive and the owner Terrah was very welcoming to all of us. It was fun to browse and all the shops have a definite coastal vibe which is a popular decorating style now. This shop had antiques, shabby chic designs, vintage furnishings and repurposed things.
Many of the shops were getting ready for Christmas already, which we bloggers are doing as well.
Next stop, Pieces on the Beach, also on Thomas Drive.  With over 5,500 s.f. and 28 vendors it's a fun antique store with lots to see and look at.
This shop is where I found a really pretty bamboo mirror I just couldn't pass up.  I'm waiting for the shop owner to call me back with shipping costs, but I should have it soon!  I just love it so much. That's Diane and Janet in the mirror, two of my over 50 blogging buddies!  We had fun catching up with each other.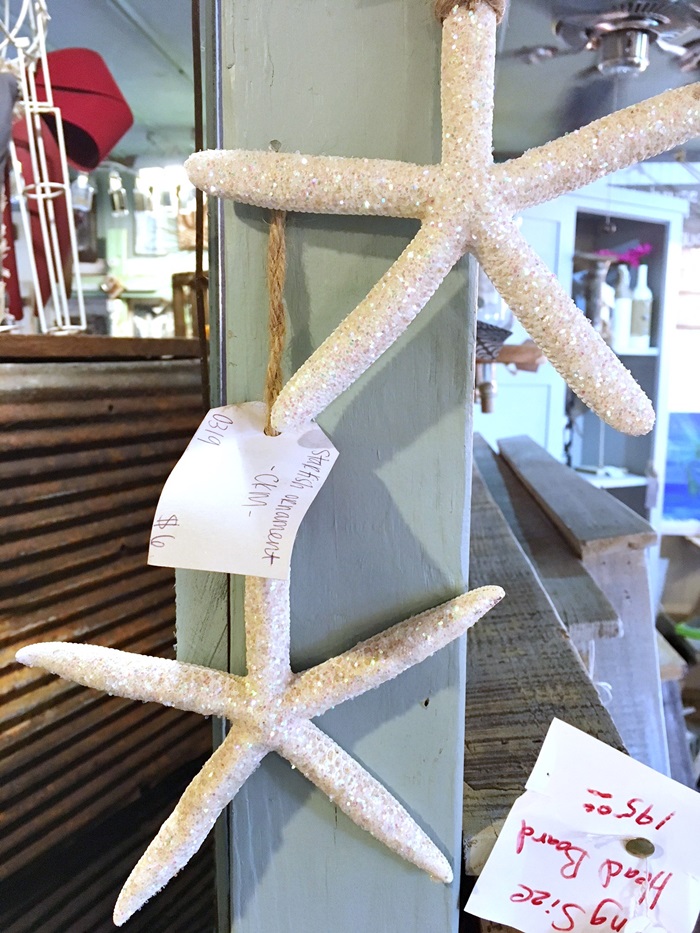 Each shop had a lot of pretty shells, since we were in Florida, you are going to see those all around.  I brought home a few of those too, I'll show you later.
Another stop took us to Beach Bums Decor, a shop full of shabby chic and coastal style furniture and reclaimed items.
As another fun treat, we took a boat ride over to Shell Island and had lunch on the boat. It was a picture perfect blue sky day and the trip over and back was so enjoyable.
We passed St. Andrews State park, a national park that is popular and left in its natural state with nothing but beautiful beaches and dunes.  I've been there many times and it's a great place to enjoy the beach.
Panama City Beach also has lots of dolphins in the water and we saw many of them from our boat.  They were swimming and chasing fish, so fun to watch.
The water is so clear and pretty here on the Gulf and it always makes me so happy to see it again.
Shell Island is known for shells and we walked the beach and looked for some of them. I really didn't need more shells since I have a huge collection already so I didn't bring more home from the beach.  I did, however, buy some exotic ones that I'll show you.
Isn't that scenery just gorgeous?
Truly a beautiful and unspoiled beach.
Spotted from the boat.
And another gorgeous sunset that night before dinner.
We had dinner at Firefly the second night and it was really good fresh seafood.  More upscale, but delicious.
For breakfast the next morning, we went by Thomas' Donuts, a well known spot that I had not been to before, but it was delicious. The donuts were so fresh and scrumptious.  And they had breakfast biscuits too that were so good.
Dinah's was our first stop on the second day and she had some gorgeous things inside.  Dinah's is on Panama City Beach Pkwy with coastal furniture, and unique gifts, including local art.
I thought these oyster shell trees were pretty cute!
Coastal Cottage Home decor was our next stop.  This shop had lots of furniture, accessories in coastal style living.
And of course, lots of shells!
The Beach House Market is a shabby chic home decor shop with lamps, shells artwork and much more.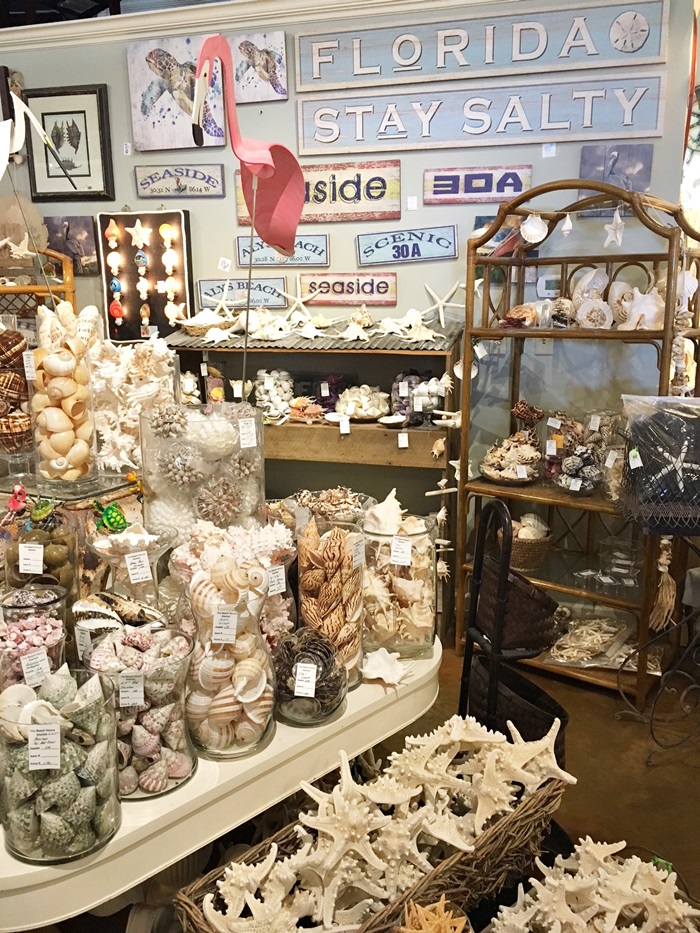 This is where I spotted some seashells I had to take home with me. I'm sure they are from another country, but I just loved the black and white shells and they will find a spot somewhere in my house, probably displayed in a bowl somewhere.
Our last stop of the day was 13 Hub Lane, a really pretty home decor store with new furnishings, art, and accessories.  It also has a coastal feel with really nice designs. Many of the shops welcomed us with refreshments and that was nice as well.
I loved a lot of the artwork at 13 Hub Lane and found out they have a shop here in Roswell, GA, so I'll definitely have to check it out when I'm over that way.
Lunching by the beach is a wonderful thing and we got plenty of beach watching time in while we were there.  I hope you enjoyed this little trip to Panama City Beach with me. It was a fast 2 days, but I had a lot of fun seeing some of my blog friends and catching up with them.  What a nice break from the wintery weather we have had in Georgia lately.  A beach trip in October is a lovely place, so if you've never considered October or November on the beach, it truly is gorgeous!
If you get down there, I hope you'll check out some of these shops. It was fun browsing them all and we had a nice time at the beach!  Thanks to Panama City Beach for inviting me!
SaveSave
SaveSaveSaveSave
SaveSave
SaveSave
Don't Miss a Post, join my list!