One question that is asked frequently in decorating is this:   How do you make a house flow?
That is, how do you create a home that goes from room to room seamlessly? Especially with an open floor plan?


One of the best ways to do that is to pick one paint strip and use 3 or 4 colors from that strip throughout the main areas of your home. If you have a really open floor plan with not a lot of areas to create a stopping point, then it's definitely best to pick ONE color and stick with it.  Or at least 2 colors on the same strip.  Having one background color can create an interesting backdrop for all of your furniture and accessories and help create that flow that we all are looking for.
The colors above represent the colors in my home. You can see that I'm not afraid of color and using it all over.  I would have a hard time just picking one favorite color. 🙂
Top row (L to R): Whole Wheat, Believable Buff, Antique White, Blonde, Magellan, Wedgewood Gray, Colony Green, Olive 4, Rainwashed, Grasscloth.
(Whole wheat in the foyer looking into Antique White in the Dining room)
These are NOT the exact paint swatches, I gave up on finding the true colors and went for a close approximation from chips at Sherwin Williams online and they are as accurate as I could find, but this gives a good idea of the colors I have.   I think they are all pretty colors and work well together.  Now, you may not be as brave with color and that is fine.  That's where using colors on one strip can come in handy.  There is certainly nothing wrong with sticking to shades of color all on one strip.  Then, you can bring in accents of 3 or 4 other colors to finish off a room. This may not be the way designers do it, but it's what has worked for me.
I've used Whole Wheat in the main areas (foyer, living room and hallways) and Believeable Buff downstairs in the den, with Antique White in the dining room and upstairs guest bath. Those are all from the same Sherwin Williams color strip.  And my trimwork is all a glossy white all over the house for a nice contrast.
I'm certainly not an expert on this and don't claim to be, but I have learned a few things over the years from decorating my own home. I've got several different colors going on in my house, but I think for the most part it does flow pretty well, since many of my rooms are not open to the others.
One other tip that I've always heard is to choose 3 or 4 main colors to decorate with and use those in alternating doses throughout your home.  I have a thread of gold running through my house and it shows up in most of my rooms.  On the walls, as an accent color in another room, and just sprinkled around my house.
If I had to name my main colors, they would be gold, green, blue (dark and light), some red in small doses, and black for impact and grounding. I do think that old notion of having a bit of black in every room is a good idea and definitely works.
Here's a Coastal Living idea house that shows how color flow can work well in an open floor plan:
In this small footprint home, using a few colors that flow together are really important.  You can see that a neutral sofa creates a backdrop for the other accent colors of eggplant and coral.  A coral orange chair and plum pillows echo the stairwell and room beyond.  Using one or 2 main colors in one room and then using those same colors as accents in another room will set this idea in play.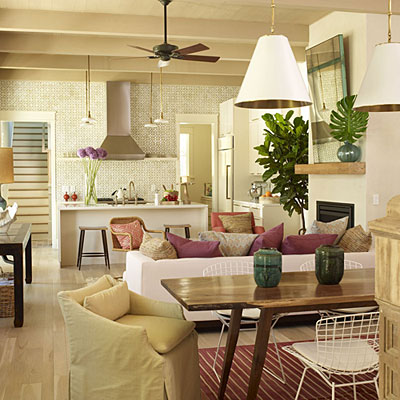 Notice the neutral furnishings for the most part, as well as the neutral paint color looking towards the kitchen, which is also open to the living area.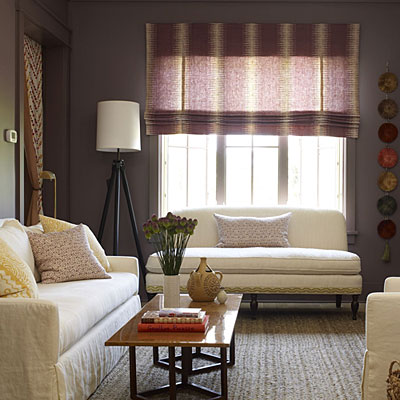 Here in the den, the plum/eggplant color is used primarily as the main color and walls and trim are all painted out in the same hue.  Again furniture is neutral.
In the guestroom, more neutrals with a little bit of aqua/gray blue is brought in as an accent in the fabric on the bed.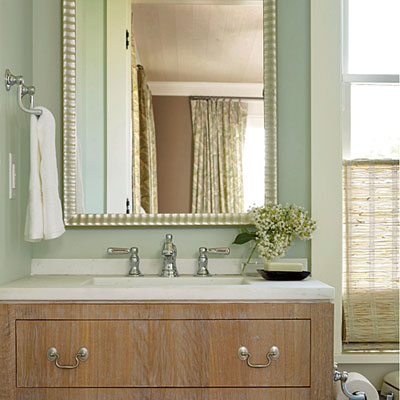 And that same soft aqua gray flows into the adjoining bathroom, creating a seamless space.
I love seeing this in action and of course, the Coastal Living idea house has been professionally decorated.
So, what can we take away from this exercise?
Use 3 main colors throughout your house (maybe 4).  Each room can primarily be one of those colors and use the other colors as accents, varying each room and bringing out a different color in each room.
This is also a good way to move accessories around your house, if many spaces share the same colors, it would stand to reason that your accent accessories could also be moved easily from room to room.
Use black as an accent all around your house for grounding.  It does work!
Use colors that YOU love and are comfortable with.  This will ensure that your house feels and and flows well to YOU.
I personally think that rooms that are off alone and not open to other rooms can be painted a little differently than other spaces without things being off, but again, you may want even those spaces to flow somewhat with the rest of the house.  I try not to use anything in my house that is jarring with another area.  But, that being said, I do have a lot of different colors going.
I hope this gives you some ideas on creating flow.  You all gave me some great topics to tackle last month and this was one of them.  I certainly don't claim to know it all, but it's something I can research and present some of my thoughts and what I find for the benefit of all of us to learn from. One thing for sure, I'm constantly learning myself.
Are you happy with the color flow in your house?
If not, what do you think is missing?  Feel free to chime in with your thoughts on color flow.  This could be an interesting conversation!
******************************
You can find me over at Melissa's, 320 Sycamore, today where I'll be sharing some of my favorite things.  Just in case you're interested!
*******************************

The giveaway winner for the Larson-Juhl custom framing is: Judy, with a Meek Perspective.  Congrats, Judy!  I'll email you for details.

Judy @ A Meek Perspective November 10, 2010 at 10:04 am
I like the Ferrosa Frame at 2 1/4 " in Black. I would love to frame some Black & White photos from my son's Senior Portrait session. There are several great one's with him by his jeep. He'd love to have it!
Judy
Don't Miss a Post, join my list!