This post is sponsored by Sleep Number®.
With the fast paced world we live in, it's so hard to escape from the noise that's all around us these days. I know as a blogger, it's so hard for me to "shut it down" and block out all the distractions that blogging and reading all the rabbit trails on the internet can cause for all of us.  We've got so much activity going on 24/7 that it can be hard to close it out and get focused on our health and well being.  Sleep is a big part of that well being for all of us and if we don't get enough sleep, it can affect every area of our lives.
I'm back today to talk about getting better sleep. That seems to be a topic that most of us can relate to and as we get older, sleep can sometimes be elusive.  It's amazing how some nights I can sleep so well and others, not so much.  You know that feeling of tossing and turning?  Yep, it happens to all of us at some point or another.  So, what do we do to get better sleep?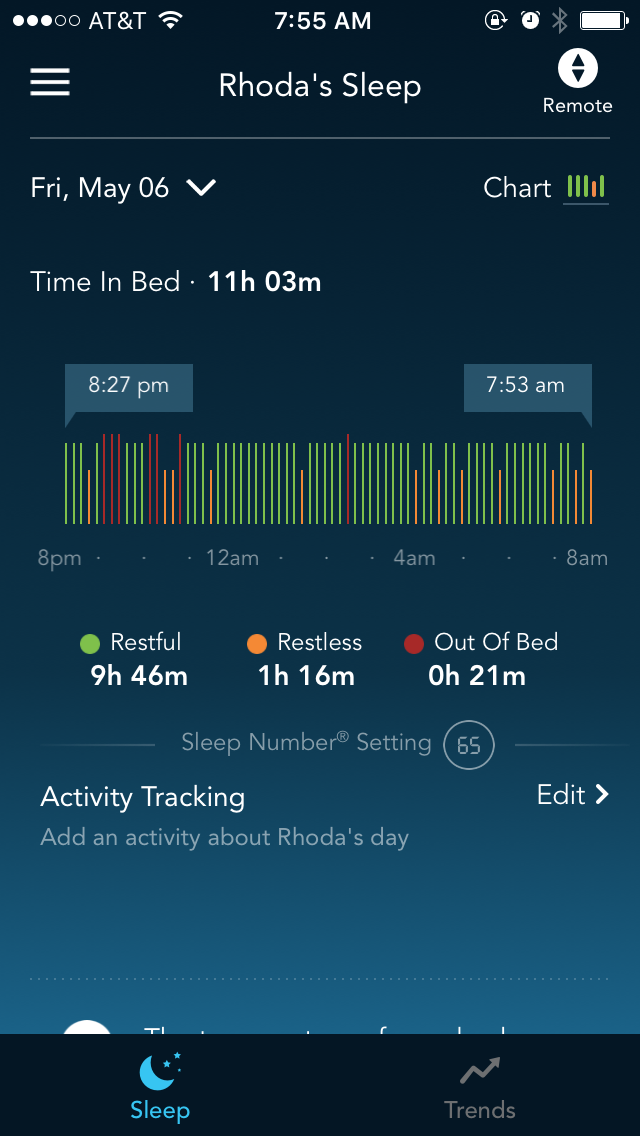 I recently was set up with SleepIQ from Sleep Number® technology and it tracks my sleep schedule.  It's pretty neat to open my phone and check out my sleep patterns for the week.  Now, you have to keep in mind that it tracks the time I spend in bed, watching TV and all and doesn't know exactly when I go to sleep.  But, it does show restless times during the night and the times I get up.  You can see I was up and down between 10 pm and 11 pm, which is my normal winding down time.  I was up once during the night and had a few restless moments during the night.  It's kind of interesting to see the patterns and to see how I'm doing over the weeks and months with the SleepIQ technology.
I'm really trying to do the things I know that will help me sleep better, so let's talk about some of those things today.
Here are a few thing that can help with your sleep cycle and allow you to get a better night's sleep and to support your body's natural sleep rhythm.
Go to bed and get up around the same time each day.  Our bodies naturally have an internal clock that will wake us up after a certain time period.  If you go to bed at the same time every night, your body will adjust to that and will let you get the sleep you crave.  I've read that if you are getting enough sleep every night, you should wake up naturally and not have to use an alarm clock.  I don't use an alarm anymore, because I don't clock in to an office every day and I usually wake up around the same time each morning.
I wish I slept like a baby still, but unfortunately those days are over.  I usually wake up once at night and have to get up to potty, but otherwise, normally go back to sleep pretty fast.  There are nights though that I just can't seem to fall asleep and stay asleep all night.
Avoid sleeping in on weekends.  Now, this one is hard if you get up early every day and go to an office or somewhere else to work. Who doesn't enjoy sleeping longer on the weekends? I certainly did when I used to have to get up earlier and head out the door.
Watch how much light you expose yourself to if you want better sleep.  If your room is dark, you'll sleep much better than if light is coming in.  If you wake up and expose yourself to sunlight (hello, open blinds to greet the morning!), that will help you wake up faster.  I do this every morning in my bedroom. If you can close your blinds and block out more light, you'll be better off at night.
Avoiding the computer, phone screen, and TV will help your body to get drowsy and fall asleep easier.  This is my biggest downfall.  If I could turn off all electronics devices about an hour before bedtime, I'm sure that would allow me to fall asleep faster and easier.  See that little gadget up there?  My iPhone 6s is my friend and nemesis. I just can't seem to stay off it!  As a blogger, we are called to our phones constantly to see what's new and happening out in the internet world.
This is the one I struggle with the most, how about you?
Getting regular exercise is another good way to sleep better and to feel less sleepy during the day. There's something about working our bodies that then allows us to drift off to sleep easier.  Be careful with vigorous exercise too close to bedtime though, as that can keep you awake.  You want to tire out your body and then drift off to sleep and regular exercise will do that.  Even walking just 10 minutes a day can contribute to better sleep.
I do have a regular exercise plan that I do most weeks and try to do something at least 4 times a week.
Avoid caffeine, alcohol, and big meals before bedtime for optimal sleep.  You know how it feels when you have a very full tummy? Not always a good feeling when you're trying to sleep and have eaten too much.  Same with caffeine, that can keep you awake hours after consuming.
One of the best and most relaxing things I do before bedtime is reading.  Reading has always been a love of mine and lying down with a good book is a sure-fire way to get me sleepy and ready for a restful night's sleep.  It usually works every time for me.
My chiropractor gave me a natural supplement to take that I took years ago and now I'm taking again, called 5 HTP.  It has tryptophan in it, which is a natural sleep inducer and it seems to work for me (most of the time).  I hardly ever sleep all night without waking up, that would be nice, but it just doesn't happen. But, most of the time I can fall back asleep pretty easily and sleep another few hours before I wake up again.  And most of the time, I feel pretty rested in the morning, ready to take on the day.
In case you aren't sleeping like a baby, like our sweet baby Iris, maybe you can commit to better sleep along with me.
How about you?  What is your biggest secret for getting a good night.  I'll be partnering with Sleep Number® this year to talk about sleep, getting better sleep and what that means for me. I'm committing to better sleep by trying to adhere to some of the things that I know to do and do them better, like shutting down the computer and phone at least an hour before bedtime.  I know to do it and need to do it better!
How can you commit to better sleep with me?
Don't Miss a Post, join my list!