Last year, my patio had just been finished in April and I planted my huge white planters with beautiful flowers, so this year I was ready to get started on that once again. Planting flowers is something that I love to do for the summer months and it's fun to get them started in April and they have a chance to really explode with growth and blooms.
I was contacted by a new company called EcoScraps® showing me their innovative gardening products.  Since I love to plant flowers every year and was getting ready to replant for this spring, I looked at their website and really liked what I saw.  Two college students noticed how much food was being wasted when they went out to eat and decided to do something about it….by turning it into gardening products. 
Since 2010, EcoScraps has been working to be a part of the solution by reusing this waste and keeping it out of the landfills. They want to educate and make sustainability something that's part of mainstream America.
I would agree that this is a good idea.  My dad has composted forever by throwing their vegetable and fruit scraps out in his garden and under his trees.  It really does work!
I'm not a total tree hugger, but I do think we can do a better job here in the US of recycling waste products and EcoScraps has made great headway into that endeavor.
Did you know that in the US, we waste 40% of the food produced?  It's enough to fill the Rose Bowl every day.  Think about that for a minute!  I know how guilty I am of wasting food.  I can't count the number of times that I've let lettuce and other produce go to waste by not having the time to prepare it before it goes bad.
Bagged salad is one of the top foods wasted, so consider buying bagged lettuce only on days that you actually plan to use it all.  Raising my hand here. I'm completely guilty of this one!

Here's another staggering statistic for you.
Between 2011 and 2015, EcoScraps recycled 75 million lbs of food waste. Something else to ponder! They are matching that number in 2016 with projected recycling of another 75 million lbs of food waste, this time in just 12 months.
The amazing part of this is that recycling 15 million lbs of food waste is equivalent to keeping 500,000 cars off the road for an entire day.  An entire day!!
OK, so why not support a company who does all of this?
I purchased a couple of bags of EcoScraps potting soil for my new planters and got to work planting.
Out came the old spent flowers from last summer.  Here's what happens when you put foam packing peanuts in the bottom of a big planter and fill it up with dirt and plant it.  The roots will completely go to the bottom of the container and wrap themselves all over those peanuts until they are barely detectable.  I threw this ball of roots away and started over with nice fresh dirt.
I added all my plants to each planter and will be having fun watching them all grow again for this summer season.  It's nice to get them all potted up before it gets too hot and they have a chance to fill out and grow well.
They anchor my new patio that I'm really going to enjoy this year.  I got the patio all cleaned up for the year and ready to relax.  I stored all the cushions for the patio on the screened porch this year and covered all with old sheets.  It worked out great and they were all safe and sound.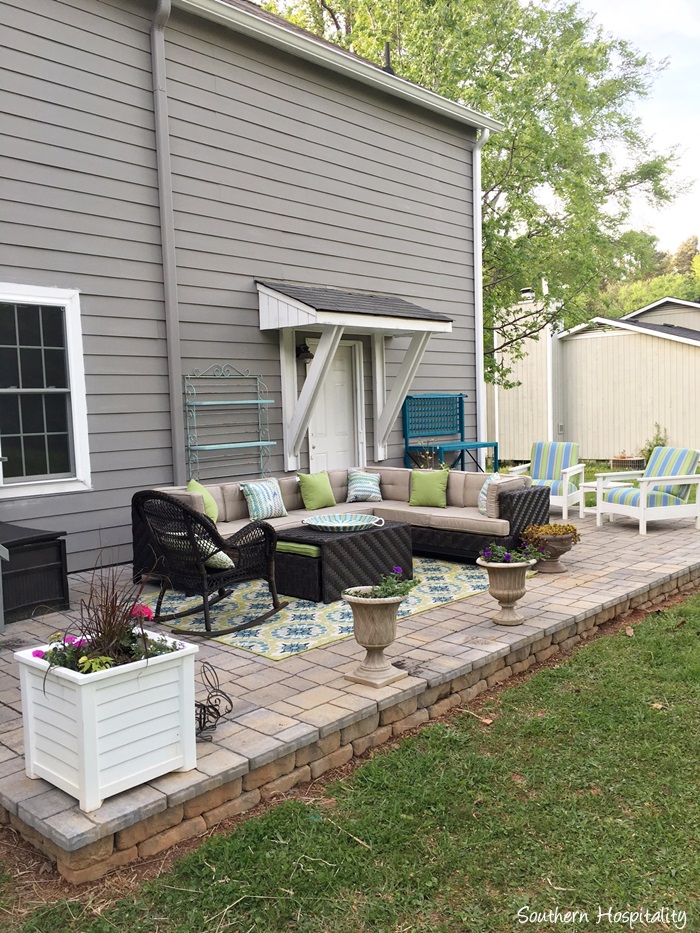 I covered the vinyl sofa with my tarp, just to keep it covered and protected from debris for the winter.  I then took off the tarp, hosed it all down with the hose to get off any pollen that had gotten in there and then let it all dry really well, before bringing out all the cushions.
I rolled up the rug and stored it on the screened porch too and that worked out well for protecting it through the winter.  It's an outdoor rug so holds up well to water.
I'm leaving it all uncovered for now since no rain is projected for a few days, but when the rain sets in again, I'll get the tarp back out and cover everything again.  It's not so bad to do that and I want to protect it all for as long as possible.
In the meantime, I'll be watching these beauties grow and bloom and that's the start of summer for me!  Potting up some new planters is a great way to kick off the fun season of summer.
EcoScraps has a cute video that shows the process of how they recycle food scraps and turn it into potting soil, so check that out for more information.
You can find EcoScraps products at your local Lowes.  If they don't have it in stock, order it online and then pick up at your local store. That's what I did!  It's no more expensive than regular potting soil and I like that we are helping to recycle and reuse waste products.
GREAT news for my readers!  EcoScraps is giving away a $50 Lowes gift card, so that you can pick up bags of EcoScraps for yourself to try out!  
Enter to win by signing up on Rafflecopter and leaving a comment here.  What do you think about the EcoScraps concept and are you going to be planting any plants this year?  Planting veggies or flowers?  
One winner will receive a $50 Lowes gift card!  
Note:  This post is sponsored by EcoScraps. 
Don't Miss a Post, join my list!