I've got a fun post for you today! If you are not getting out much and haven't been antiquing for awhile, you'll love browsing with me from the comfort of your home. But if you're in the Atlanta area, take special note, because you're going to want to visit in person.
I was recently invited to a blogger/influencer event at Cotton Mill Exchange in Canton, GA. I had heard about this newly opened retail 48,000 s.f. antiques space, but had not ventured there before so took the opportunity to check it out for myself and wow, it didn't not disappoint. It's a great antique establishment with so much to offer. From antique furniture, so loads of accessories, gift ideas and more, Cotton Mill Exchange has it all under one roof.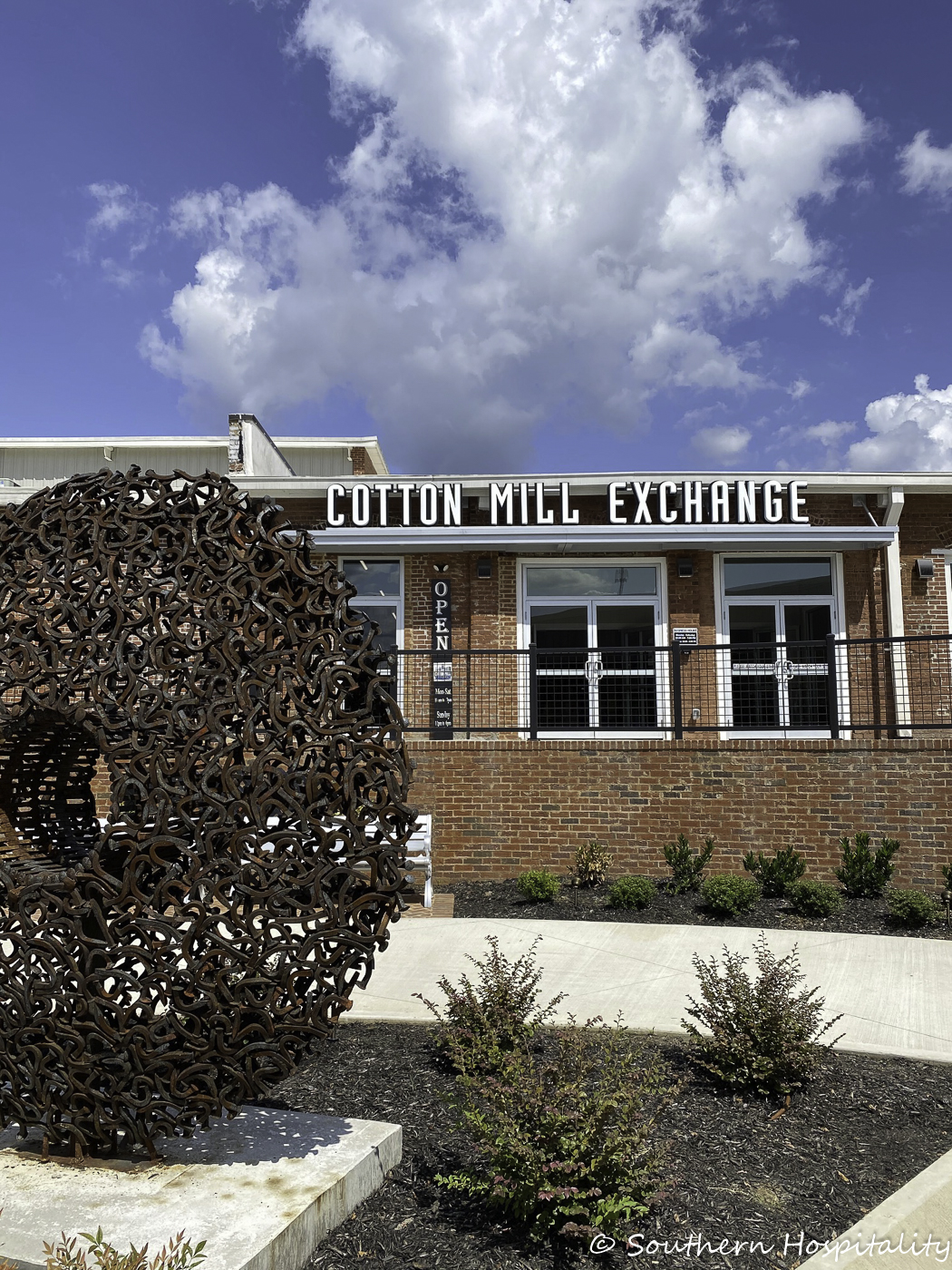 The old building really is an old cotton mill and has the perfect ambience for housing antique booths filled with treasures. We received 2 big bags of goodies from so many of the vendors there and that was such a treat too. I'll be using a few things in my Fall decor that were included in the bag. There was so much in there and I won't try to name all of them, but they were so generous to give us all these goodies to take home.
As soon as I got there, I met the owners Steve and Lori Sinatra, who have been in the antiques business for 10 years and they opened the Cotton Mill Exchange earlier this year. I was so impressed with all they've done with this place! I was going to be out of town when they had the event the next week so they invited me to come early and check it all out.
When you walk in the door, you instantly take in the history of the old cotton mill, as well as the patina of the floors and brick walls. The perfect location for an antiques mall. With 3 large "rooms" to browse you'll easily spend at least 2 hours or more browsing and looking at everything.
There are so many vendors and too  many for me to mention and remember, but I really loved Artful Interiors. She had several spaces at Cotton Mill and this blue space was my fave.
I'm not going to try to call out all the merchants, but there are so many and you will love getting to know this place. I met several of them that day and saw so many friendly faces.
The largest room in the Cotton Mill, you'll be in this one awhile.
All the merchants had out their Fall decor so you will definitely be in the mood for Fall after you see all these pics.
I saw so many great gift ideas, like these pottery pieces. Aren't these pretty?
I got the cutest brass bunny from Stephanie at the Apple Seed in my bag of goodies. Can't wait to use it in my Spring decor. Her story is so cute, that sign is from her mom's old antiques business when she was growing up and now she's carrying on The Apple Seed.
Now that's a unique chenille cow head, isn't it?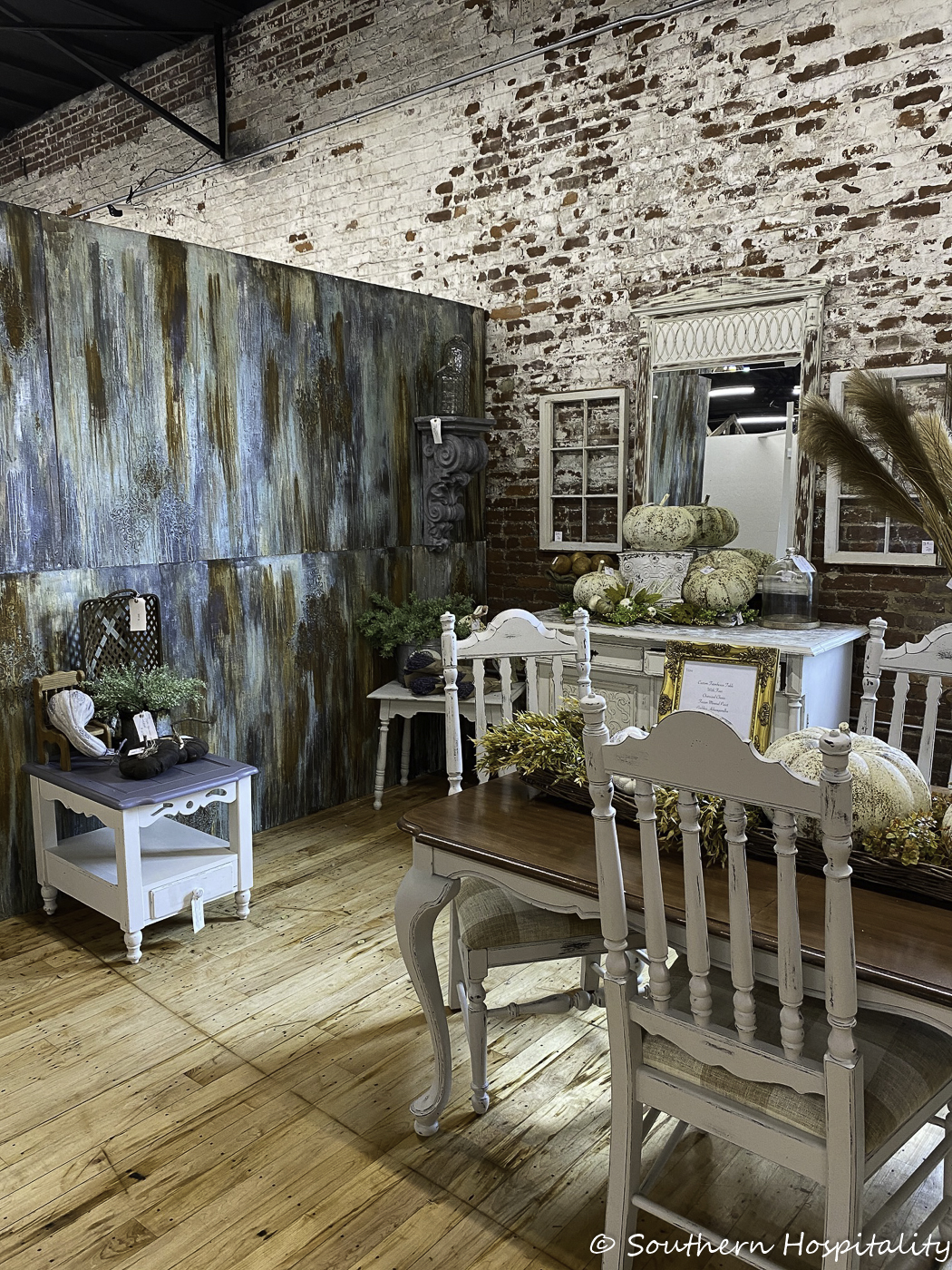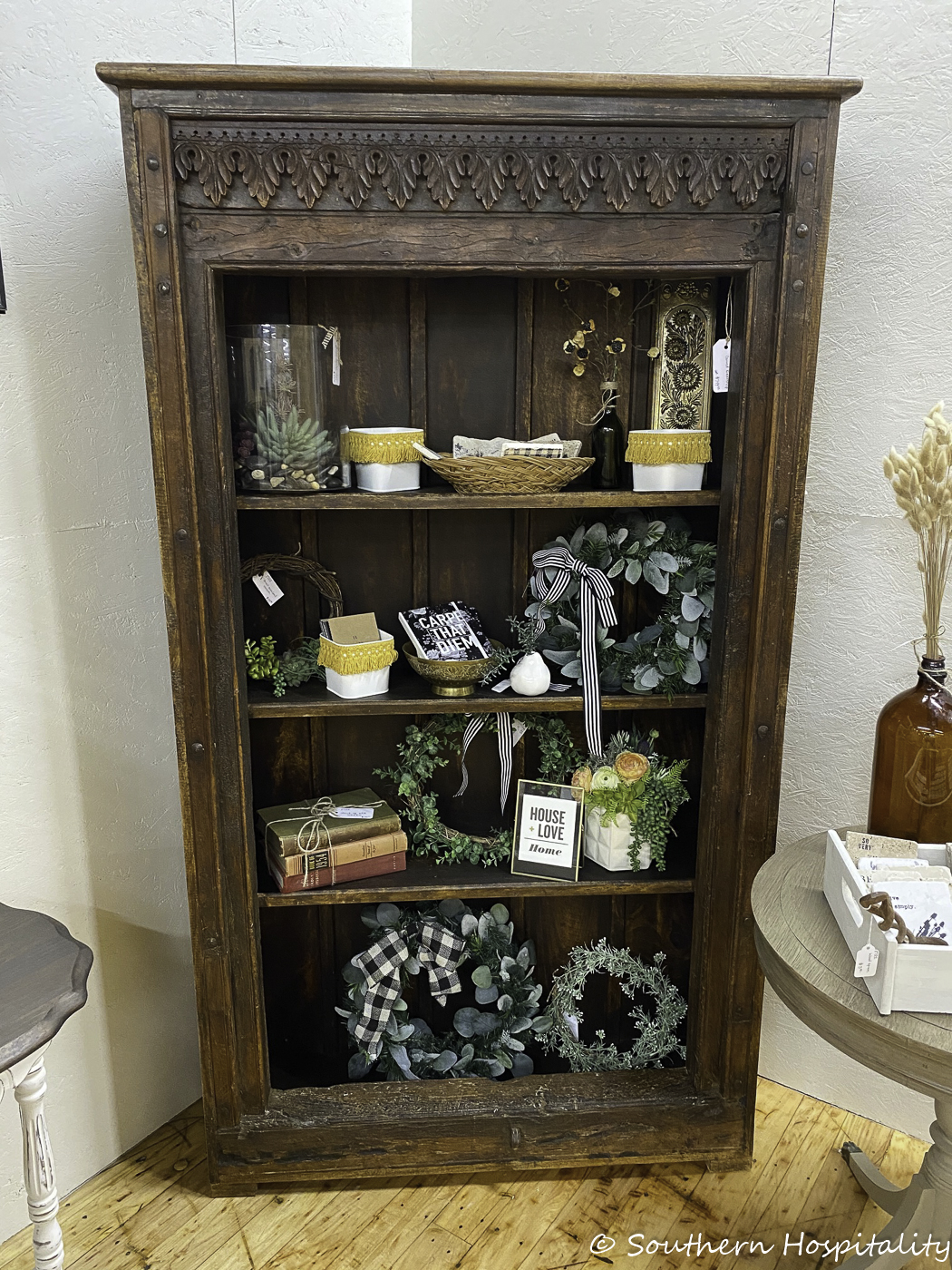 I only picked up a couple of things and got 2 of these little wreaths that I'll use somewhere. I also picked up a bag of small white faux pumpkins that made their way into my Fall decor.
I met the Fusion Mineral vendor, Gaynelle and she sent me home with some more Fusion samples to try out. I've already used it on that white console piece in the bedroom, so if you're in the market, you can find it at the Cotton Mill.
They even have stains too which I didn't know.
Another treat that day was finally meeting Wendy with Life on the Shady Grove on Instagram. We were both going to be out of town for the big event and both came early to preview. She lives on the other side of Atlanta from me and it was so fun to finally meet her. She's so sweet and petite and was there with her daughter in law and granddaughter. She's so cute!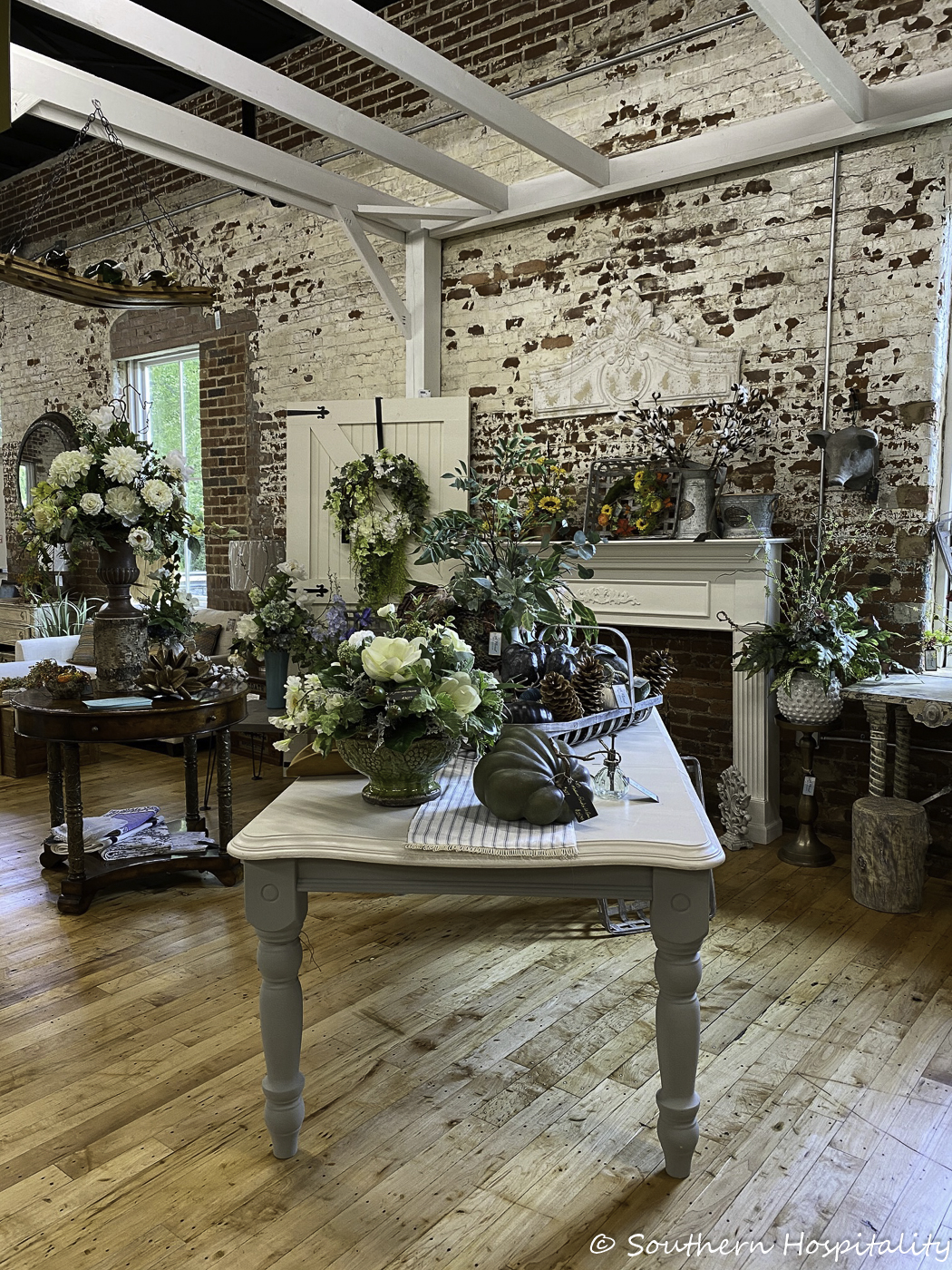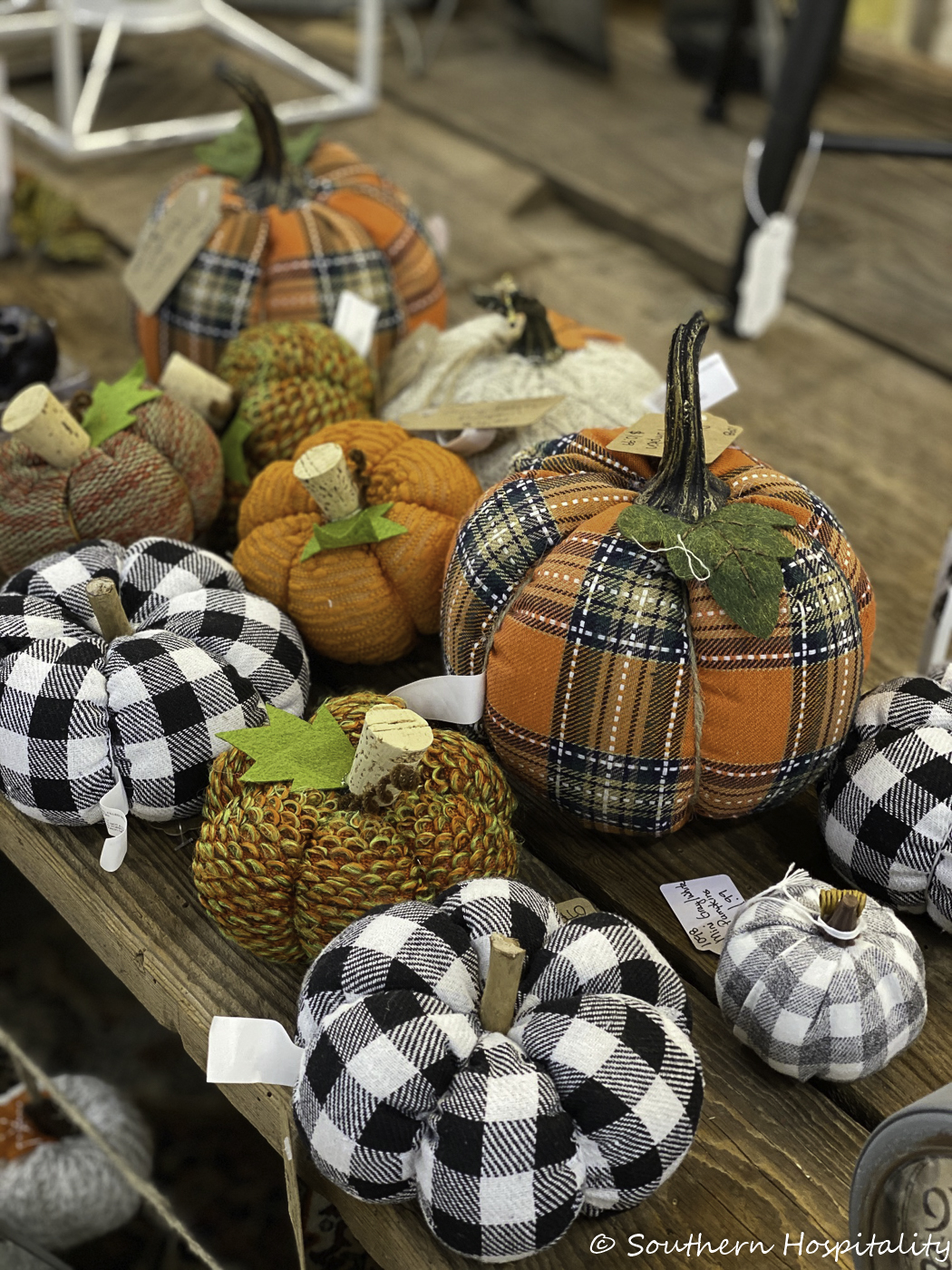 These cutting boards were so unique.
Steve told me that he and Lori offer design services and new furniture in this section of the Cotton Mill.
The old brick walls were a perfect backdrop for all the beautiful things.
I know you'd love this place if you are in Atlanta. I had never been up there, but there is also a brewery next door, chairs and tables on the lawn and a big screen TV. I heard they have food trucks and live music on the weekends, so I'm definitely taking Mark back there for a date night out. They will be opening more shops and restaurants on the street too. it's a very cool place, so I hope you'll check it out if you're in the area or visiting. It's such a lovely place to browse and shop for so many things.
Don't Miss a Post, join my list!