With the addition of that cool rustic reclaimed wood entertainment center I bought at Homegoods, the den is really coming along now, so here are a few update pics to show you.  I'm still working on the other half of the room and there are things in the corner and stashed away in the front half of the room that are still there.
It will be awhile before this room is completely done, but we do enjoy watching TV in here, my roommate and I.  At least this half of the room is really presentable.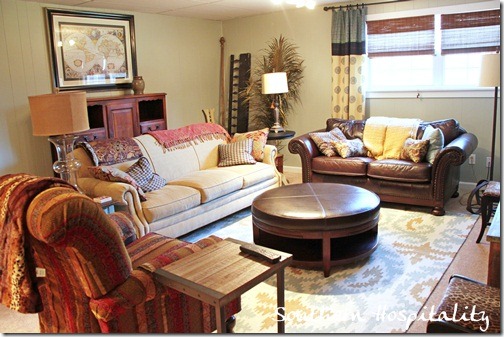 It's a cozy space at night and if it gets too chilly, I have a little space heater that warms up this space.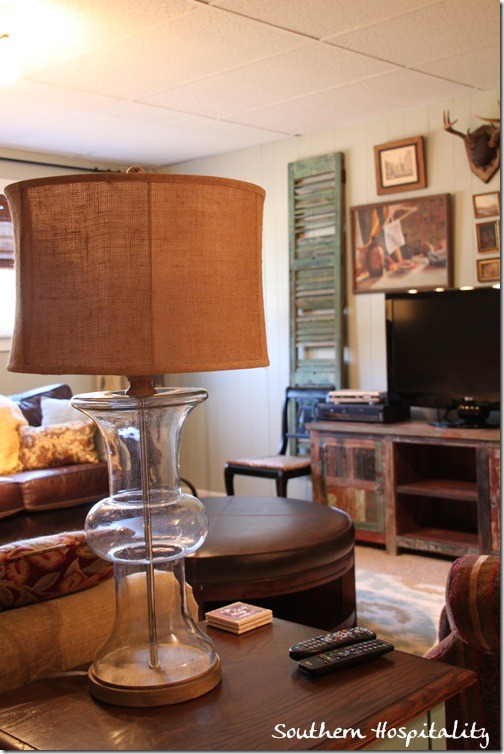 I love how the new glass lamp fits right into my room and the burlap shade adds more texture.  This room is a mix of old and new, just the way I like it.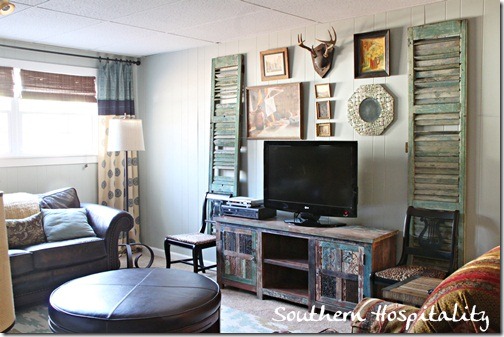 Did you spot my gallery wall in the lamp giveaway post? 
I used some of my old prints and things collected from yardsales for a gallery wall over the TV.  Those antique shutters were found in Birmingham at an antique shop and I love how they flank this piece.
Fills up the wall with interesting things to look at.  Those harp-back chairs (from yardsales, naturally) I painted black a few years ago and added the leopard fabric and they fit in here just fine too.  I'll be drilling a hole in that open space under the TV to run the cable box through and those boxes will be a little more hidden. Just haven't done it yet.
My dad's comment when he saw that reclaimed wood piece:  "did you find that on the side of the road somewhere?".  That man, he's a stitch.
Looking back towards the stairs going up to the living room.  The door on the left goes down to the double garage.  Lots of stairs in this house, but so far it's OK.
My grandma's sewing machine is a family piece that I won't get rid of and it serves as a little entry piece when coming in from the garage and fills up this little wall well.  I had all the accessories already, the lamp, mirror, vase, and shells.  Chair was a Homegoods find.
Those bird prints, my sister gave me. She had ordered something from an online company and got an extra set of these prints, so passed them onto me.  I like them here with this grouping.
Update:  My sister got these bird prints from Daily Steal, a site that offers daily deals, so you might not be able to find it again.
One day, I'll get around to fixing up this corner!  It's still a bit of a mess, but it's out of the way and I can live with it for awhile longer. Eventually, I'd love to do built in Billy bookcases from Ikea, so that's on my list of projects to consider.  We're about ready to start the screened porch soon, so I'll be outside for the most part this year, sprucing this place up.  This corner can wait til later.
Once I finish my laundry room and porch, I'll be using some of these accessories in both spaces too, so no need to get rid of it all now.  I do think I'll have a yardsale in  April though, to get rid of a few things.
So stay tuned for that!  I might be joining some of my local blog friends for a big one, we've talked about that and if we pull it off, it will be pretty fantastic!
Don't Miss a Post, join my list!