Travel is in my blood and I dearly love to see new places in this beautiful world of ours.  The Carnival cruise on the Breeze was so much fun! Really, a once in a lifetime experience and I'm so glad I got to partake in such a lovely trip.  I took one of my girlfriends with me, Beth, from Orlando.  We have traveled together before and always have a good time together.
Both of us flew to Miami the morning of the cruise to meet up and get on board.  Flight delays because of weather caused Beth to arrive later in the day, but she finally made it and we caught the bus from the airport to the port to board the ship and be ready to sail at 4 pm that day.
In this post, I'm going to share packing tips and what it's like to check into a cruise ship and board, as well as pictures of the ship and some of the amenities on board.  An overall view of what to expect on a cruise ship. I've got lots to share and will break this cruise down in parts.  It's packed full of fun!
Note that I took these pictures with my iPhone, as I didn't want the hassle of taking my big camera.  It worked well for the most part.
When I buy a new big rolling suitcase, it will be one like this.  This is a Ricardo brand, so I'll be shopping for one similar. I borrowed my roommate's big red suitcase and it was a good one for a trip like this.  I managed to pack everything into this suitcase, all of my clothes and shoes. This suitcase has 2 compartments, a smaller one on top and that's where I packed my shoes, with the larger one holding all my clothes.  I managed to squeak by with just under 50 lbs.
Packing Tips:  
Here's what I took:
5 dresses: (2 for formal nights) We wore dresses most nights to dinner and 2 nights a little more dressy for "formal" night. Formal night has lessened over the years and most folks are more casual, but some dressed up more.
3 pants: I took 3 pairs of jeans, white, blue, and black.  These can be mixed around with different tops for more dressed up or casual.
3 shorts:  With going on excursions for most stops, you'll want to be casual and comfortable for walking and the sun.  It was in the mid-80's where we were and very good weather the entire trip.  It was nice to enjoy the sunshine, since Atlanta had some nasty weather while I was gone.
Workout clothes:  I took tennis shoes and workout clothes for working out.  We did work out one day in the gym.
Tops to mix and match:  I took several different tops and didn't wear them all.  I wanted a variety of tops, some casual and some more dressy to mix up.  With the shorts, I took very casual summer tops and then some that could be worn for lunch on the ship.  I'd say I took a total of 10 tops, some sleeveless and some longer or 3/4 length sleeves.
Jackets:  It does get chilly on the ship, especially in the air conditioned dining rooms and theaters, so you'll want to take jackets with you.  It's also chilly on the deck at night and we tended not to go out on the deck after we were dressed for dinner.  I took a white jacket and 2 long sleeve lightweight sweaters to mix up with all my outfits, one black and one aqua.
Swimsuits:  I took 2 swimsuits and 2 cover ups for pool sitting and lounging.  I had the best time sitting in lounge chairs and reading books and napping.
Shoes:  With the suitcase I took, I had a great opportunity to take plenty of shoes, so I did that.  I took 3 pairs of heels, 3 flip-flops, flats for walking, one pair of sandals and my tennis shoes.  I think I wore every single pair, but one.
Jewelry:  I tried to pare down on the jewelry and only took turquoise jewelry, which goes with a lot of my clothing and also gold pieces, so those could be worn multiple times.
I didn't overpack on this trip and felt that I took just the right amount and type of clothing.  You'll want to think things through on where you'll be during the day and what all you might need to wear, but don't over analyze.  You'll be in bathing suits pretty often too, along with coverups.
On check in to the ship, you'll get a photo taken for Bon Voyage!  It was chilly in Atlanta when I left, so I wore skinny jeans, a short sleeved white sweater and a cardigan for a little warmth.  And it was actually milder in Miami when we left so it wasn't too hot.
When you check in, you'll get a card to use on the ship.  This account holds money, so that all you need the entire time, is to show this card and they will put everything on your room account.  It's nice to only keep up with one card. You can also order excursion packages on your room TV and those tickets will be delivered to your room and taken out of your account as well.  Makes it easy to keep up with everything and you can see the balance every day to see where your account stands.
Every day, the room stewards leave a brochure for the day, with all the activities and information from the ship on here.  It's got all the show times and any particulars you'll need for that day and we went over this daily to see what we wanted to do and participate in.  The shows were particularly fun and we did them every night!
It's so exciting walking up to the ship for the first time and seeing the magnitude and size of these things.  It's been since 2003 since I took my last cruise and the thrill and excitement never ends.  I'm definitely a cruise lover!
We got onboard about an hour from sailing time, of 4 pm and enjoyed the views of Miami and the docks.  Lots of ships board from here and it's a busy place, back and forth from the airport.
Once inside, we began checking out the ship and it is one beautiful ship, I have to say.  It's fun to see the changes in ships over the years and they have gotten more and more glamorous every decade.  A ship is a big floating island of fun and beauty.  This is the atrium area and what hangs above the floor below where elevators go up and down, a beautiful soaring sky inside the ship.
Outside on the Lido decks, there are 3 floors that go up and up to so many activities.  The kids area has a huge water park with slides and it was a busy place for kids.  We thought about going down one of the slides, but never did actually do it.  Since we were in ports for 4 days straight, we just didn't take the time the other days to actually try out the slide. I think the appeal of reading in the cabana lounges took over and won out over my childlike enthusiasm about actually trying the slide.
The kids area got lots of use and there are plenty of kids on board with activities to keep them occupied and happy. Those slides looked like a kid's paradise.
The Lido deck is the gathering place with a big screen TV showing movies and night and any other activities that need to be shared around the ship.  The have lots of deck chairs, where sun bathing can take place and waiters abound, bringing drinks to passengers.  The wait staff is truly exceptional and we had such wonderful experiences with all of them. They know how to take care of passengers and made us feel special for the week.
There's basketball and putt putt golf on board, as well as a spa, fitness center and more. We didn't try out any other sports activities, except the fitness center one day when we walked on the treadmill.
Plenty of activities to keep all ages busy and occupied.
One of my very favorite things to do was sit on the Serenity deck, for adults only, and veg out in a beach cabana. I could position this to get a little sun or no sun, reading my book, and enjoying a nap and breeze on deck. That is pure heaven to me!
On the Lido deck, this was the central meeting area during the daytime, with outdoor eating areas and bars to serve drinks all day long.
We sailed away at 4 pm from Miami, getting this cruise underway.  It was so fun to enjoy this view and start our vacation. Beth and I had a great time, saying Bon Voyage with everyone else on the decks waving goodbye to Miami for a week.
Let me introduce you to Mike, our Cruise Director.  I've only been on 2 cruises in my life, but Mike has to be the most hands-on, fully engaged Cruise Director I have ever seen. Beth is a longtime cruiser and has been on close to 20 cruises and she said that he was the best she has ever seen at making people feel welcomed. He was everywhere on the ship, from introducing the shows at night, to doing activities in the theater with passengers, to greeting passengers on and off the ships when we had excursions in ports.  He was so enthusiastic and energetic and it was contagious.  He's from England and it was fun to hear his accent. He made sure people got involved and had fun on this cruise. They aren't called the Fun ships for nothing!
Back in our stateroom, we explored our home for a week, with twin beds, a sofa and actually quite spacious bathroom.  Let me tell you a bit more about the cabin stewards.  Our guy was named Made and he was excellent.  We had a couple of issues and every time we asked him about something, it was done pronto!  For example, the first night, our balcony door whistled in the wind and there was a whining noise all night from that door.  We asked him about it the next day and it was fixed immediately.  The bathroom door also squeaked, which made being quiet very hard to do, so when we mentioned that, it was also fixed immediately.  The staff is on it!  He was readily available with extra towels or lotion and had a smile on his face the whole time.
This cozy bathroom was really very efficient and never felt too cramped or damp.  The shower was a nice size and had great water pressure.  Every day, the beds are made, bathrooms straightened and dried and fresh towels appear in the bathroom.  Great steward service at every turn.
We were fortunate to get a balcony stateroom and enjoyed this view from the docks as we were leaving.  We utilized that balcony several times during the cruise, sitting out there and enjoying the views, sound of the water, and the ocean breeze.
There are so many activities going on during a cruise and if you want to do something, you can find it at any time or if you want to do nothing, there's that too. Mike, the Cruise Director, made sure everyone enjoyed their time at sea.
On the first formal night, we managed to get a picture with our Cruise Director chap, Mike.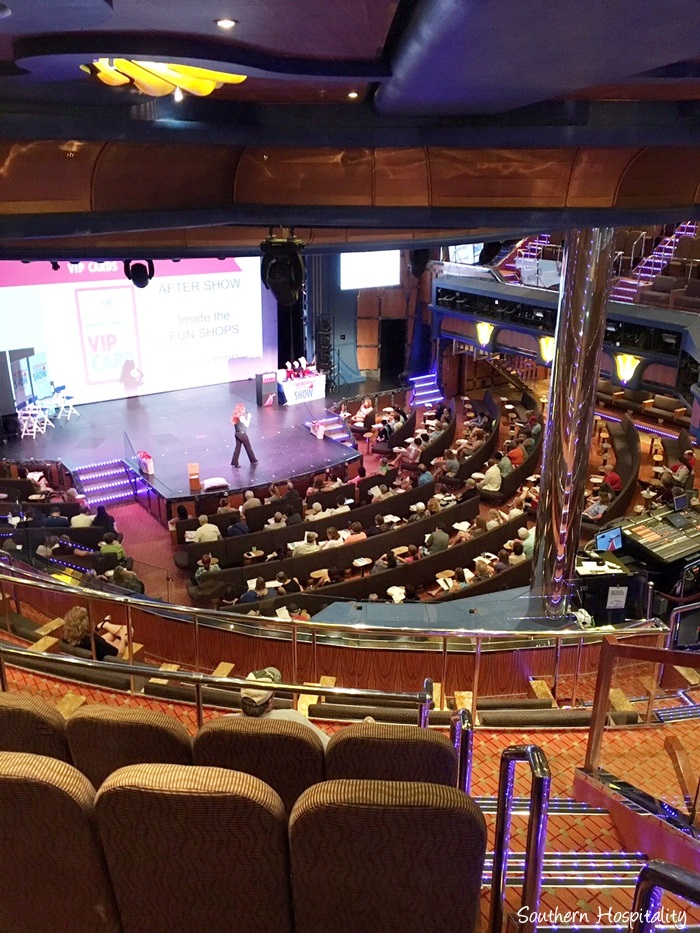 The Ovation Theater was a hot spot during the cruise, with 2 shows nightly and lots of fun activities going on, including bingo for those who like that.  We loved the shows and made sure we hit them every single night.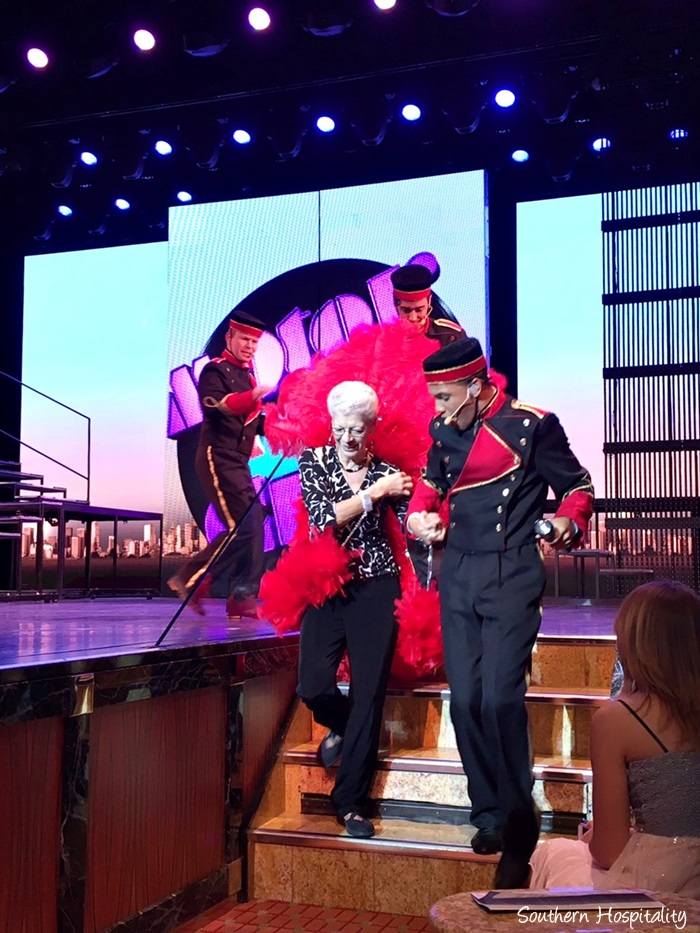 Audience participation is highly encouraged throughout the cruise.
Mike got the kids involved several times too, getting them up on stage from the audience.  One of the funniest shows was a Love and Marriage Q&A, and 3 couples from the audience were up on stage, sort of like the old Newlywed game. We laughed and laughed.
I'm not going to get into all the food in this post, but rest assured, we ate well during the cruise.  One of our favorite stops the first day was Guy's Hamburgers (Guy Fieri from The Food Network) and we made the most of this Lido deck restaurant and ate our share of them over the course of the week. They were delicious, with toppings available to make them even more tasty.
Carnival Cruises are the only place you'll find Guy's Burger joint and it was a hot spot for sure. We loved it. The hand cut fries are delicious!  This is just a little teaser on the types of food you'll see on a cruise. I'll share lots more about that later on too!
On sea days, the pools are popular spots to hang out.  I actually never got in the pools, but enjoyed the ocean breeze from a cabana or chaise lounge.
Sharing a bit of the Carnival Breeze decor, I loved this lighting in the atrium at night.  They keep these ships in first class condition and it's always clean and tidy with so many crew members on board.
The Dive in theater on the Lido deck was a great place for watching movies at night. We didn't make any of these as we were usually in a show.
Each night at dinner, we enjoyed some superb food and a little entertainment from the wait staff too. Everyone is so friendly and welcoming and the dining room was so enjoyable at night.
Beth and I had a friendly waiter named Cesar and was such fun to be around, always making sure we were taken care of.  He always greeted us with a smile and made sure we were taken care of.  If we wanted something extra, it was there.   I'll talk more about the food and restaurants later.
Our first day at sea on Sunday, Beth and I enjoyed a spa day and both had massages.  What a treat that was!
This wonderful gal named Abigail (from England) did my hot stone massage and it was so relaxing and nice.  I don't often get massages, so this was an extra special treat for me.
We talked about working out, but actually only made it to the fitness center one time and walked on the treadmill for about 40 minutes.  Even though we ate like crazy, we were doing a lot of walking and took the stairs many times instead of waiting on elevators, so I think all of that activity helped a lot.
Beth caught a few glorious sunrises in the early morning hours.  I am not an early bird, so only saw sunrise once.
She would go up on deck and enjoy hot chocolate and this view during the early morning hours while I was still sleeping.
One morning she caught this display of towel animals, which the stewards leave in our rooms each night. A menagerie of towel animals enjoyed on the Lido deck was a fun sight to see.
Early morning sunrise.
The sunsets were breathtaking as well.  There's nothing like the sunshine and ocean breezes from a cruise ship.  Truly a remarkable experience.
We so enjoyed this wonderful trip and will never forget the experience of a lifetime!  If you haven't gone on a cruise, I would highly recommend it.  I know there are some people who do not like the idea of being on a cruise ship for days, but I'm one who loves it and enjoys all that goes with it.  You can do as much or as little as you'd like and eat like royalty for a week. What's not to like about that?
I'll be back later to share all our excursions and talk more about the food on board the Breeze.   There is so much to do and see on a cruise that you can never be bored.  We certainly were not!
This post was created for Away We Go with Carnival, the destination for getting in the getaway state of mind. Head on over.
Don't Miss a Post, join my list!