This post is sponsored by Knockety. All opinions are my very own.
Front doors are a huge part of curb appeal and make the best statement to our guests the minute they walk up to the door, don't they?
When Mark and I moved into our house over 2 years ago, we discussed one day replacing the front door. There wasn't anything drastically wrong with it. It's a wooden door but it's now 14 years old and had some wear and tear going on especially at the bottom edge where the veneer was peeling a bit. We wanted an all wood door in a stain with decorative glass.Glass front doors are really nice and let in so much light, so that was a must for us. I want all the light I can get in our house!
A new front door was on our wish list!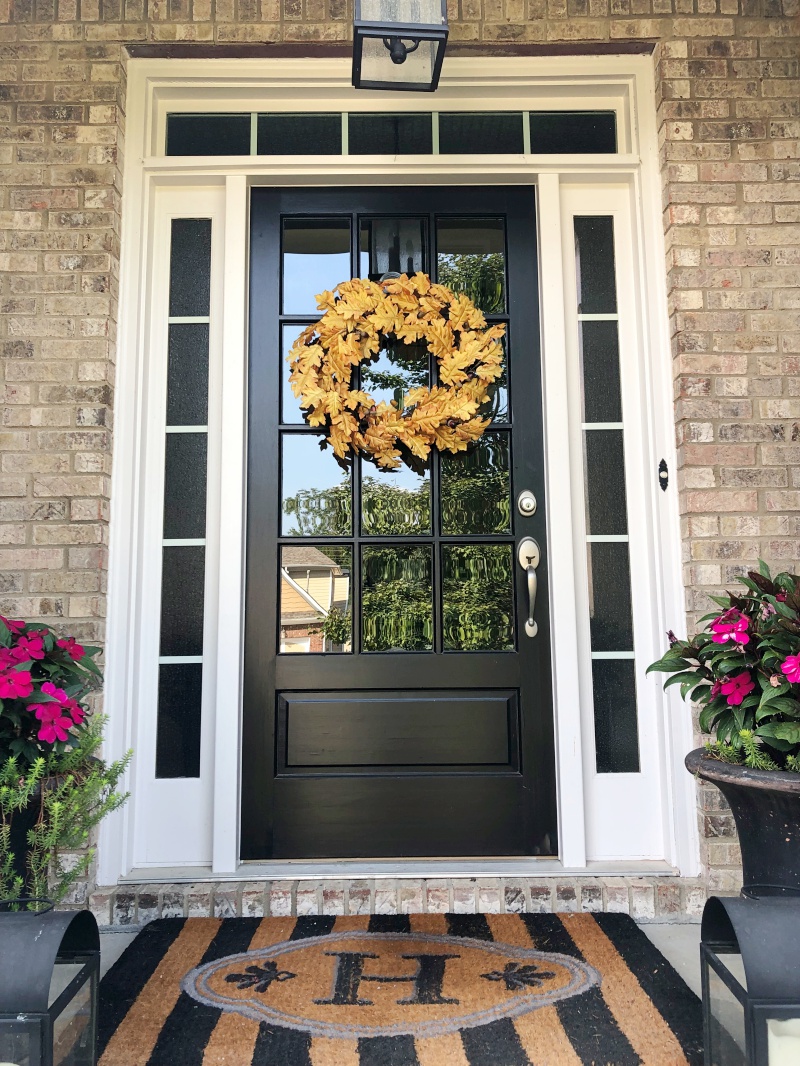 Our black painted wooden front door has served us well since we moved in, but when I got an email from Knockety in my inbox asking me if we were interested in getting a new front door, well I couldn't say yes fast enough. I had never heard of Knockety, but they are located in Houston, TX and their online store offers premium doors and hardware by GlassCraft at great prices. GlassCraft was founded in 1977 and is one of the largest door manufacturers in the country.
Let me share our process of getting a new door installed at our house! It was so easy. We did hire someone to install the door, since Mark has heard horror stories of front door installs going wrong. We were glad to pay someone to install it and everything went off without a hitch. I can share our installer's name at the bottom of the post if you're interested. I got his name from our local Home Depot and he did a great job.
I began the conversations with Knockety after we decided on which door we wanted to get. That link takes you to the Divided Light doors and that's the ones we looked at. We went back and forth between real wood and fiberglass, but ultimately decided on real wood. You just can't go wrong with real wood, but I know fiberglass doors look SO real now and they wear and last so well too, so that would also be a great option.
Their representative that I was emailing with sent me explicit instructions on how to measure our current door, since we were just replacing the door and not the whole door assembly including the sidelights. Those were staying as they were. So, basically the new door could come in, the old door taken off the hinges and the new door installed in its place. Sounds easy, right? And it really was that easy!
They sent me stain samples and glass samples which really made it easy to choose. You can also get samples when you order from Knockety.
I measured and took specific pics with my cellphone and emailed them all the pictures showing dimensions of hinges, where the current doorknob sat and all of that.
I measured from the top of the door to the bottom of the door, as well as several other locations they asked for. This ensures a perfect fit on our door. Our current door had daylight coming in under it which we had never remedied, but we fixed that this time around.
This is the Knotty Alder door that caught our eye, with the 6 glass panel style. I loved the choices in the glass they had and we decided on the Water glass (looks almost like old antique glass), which is similar to the one in this picture. I just knew this was the door for us and Mark and I decided together on this one.
We ordered the Knotty Alder Sierra Brown antique stain finish and the glass is Water.
After I sent in all the measurements and chose our door style, stain color, and glass type, about 2 weeks later, the door arrived on a freight truck directly to our house. The Fed Ex driver, brought the pallet down from the truck and wheeled it into our garage. I immediately tore open the box to examine it and found out how securely it was shipped with foam and lots of protection. Impressed about that too!
I found an installer and had him come to our house the morning we were leaving for St. Simons. One hour later, it was installed and looking beautiful!
We could NOT be happier with the door we chose! Just know that Knotty Alder does indeed have knots. You'll see them in the pics, but if you don't like knots then go with a more clear wood. I think it's so beautiful!
I could not be more happy with the color of the stain, it's a gorgeous brown tone.
From the outside, it looks beautiful. We had never installed our Schlage handleset on our front door, but now we have it and it looks beautiful too. I sent Knockety the template from our Schlage box and they bored the holes for us and they were perfect for our deadbolt and handleset.
Isn't she pretty?
I took lots of pics from different angles so you could see how beautiful it is. There's a knot under the handle.
We did install one of those door sweeps to close up the gap we had under the door, so it's all sealed up now. We got that at Home Depot and it slides on the bottom. Mark had to cut the length a bit and tap it into place.
My new wreath looks beautiful on the door and now I'm using 2 suction cup hangers to hold it up, since the door has a divider now.
There's a look at two more of the knots, but it just gives it a rustic look.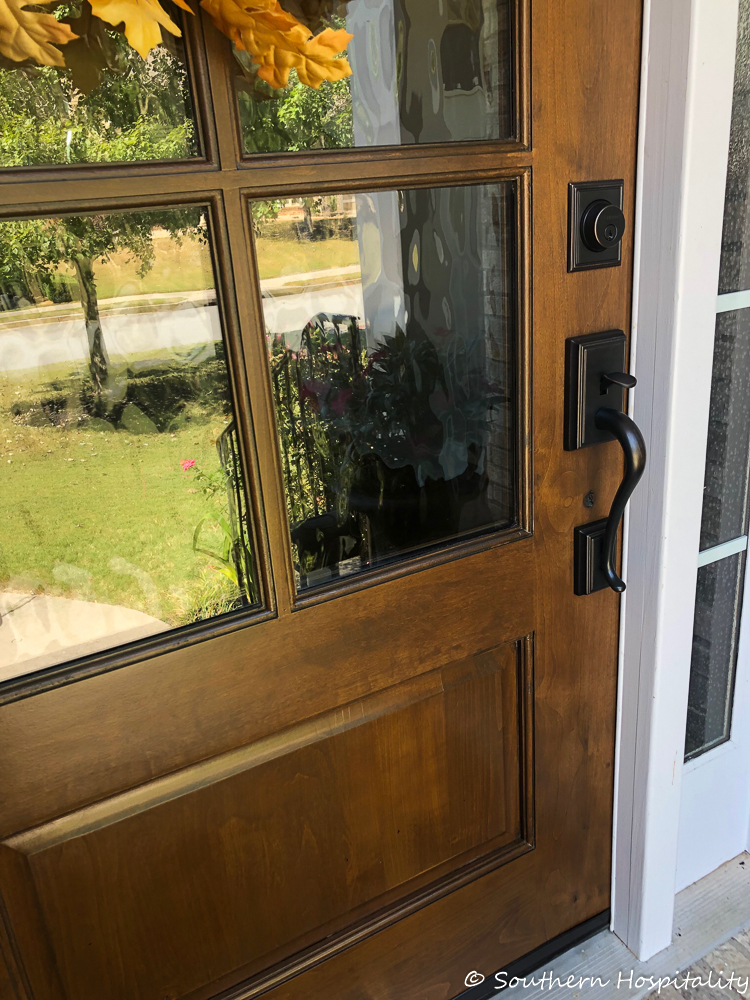 You can see the Water glass here a little better. It gives a bit of privacy but you can see forms through it, so it's just enough. Our other door was clear, so this is really nice. People cannot see straight in the door, there's a reflection from the outside as you can see.
We absolutely adore our new door. And here's some great news for you all! If you're in the market for a new door too, Knockety is offering my readers 35% off a new door of your choice. They have so many doors to choose from, from real wood to fiberglass and also Dutch doors, which I love! If I had a good space for a Dutch door, I'd do one of those too.
Hope you'll take a look at the Knockety doors and if you're in the market, take advantage of this great opportunity. Our door was less than $800 retail, plus a few add ons with boring holes, but the prices are very good.
Just use the code SH35 for your 35% discount for the next 30 days. You will place your order and then Knockety will contact you for specifics on your particular door before it ships. If you want to order samples, those are $2, so you can do that first to know what you're getting. They will review your order and measurements before production to be sure you are getting exactly what you need.
And here's great news too: FREE SHIPPING all the time at Knockety! 
Let me know if you get a new door from Knockety too! We could not be more pleased with our new door. Our installer's name is Chris Turner and he does a lot of handyman projects. You can reach him locally at 678.761.2981. He charged $175 to install our door and handleset and everything went very smoothly.
Don't Miss a Post, join my list!