{Giveaway is Closed}
The winner is:  #24  judiW
I finished up one more little project that I can't wait to share with you this week.   One more to check off the long list.
This month's Lowes challenge was fixing up an outdoor space and I knew just what I wanted to tackle this time around.  My mailbox is nothing great to look at. Old, peeling wood posts that are probably original to the house.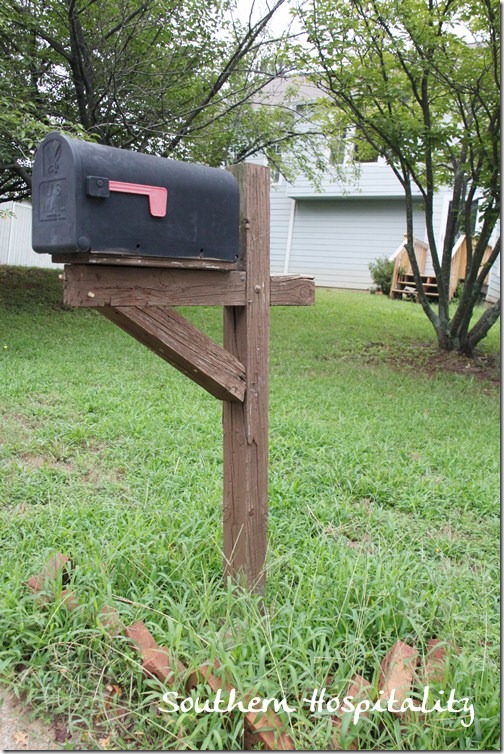 See, not exciting at all.  Here's my sad little mailbox.  Bricks were around it originally in some sort of pattern, but it was long over grown and not very attractive.  Definitely in need of a makeover, don't you think?  The original wood wasn't even worth saving, so we bought new 4×4's to cut the new post with, pressure treated lumber of course.
I picked up some supplies from Lowes and decided on this cute sign by Nite Bright to display my house numbers on the mailbox.  It is the coolest little system, all packed in one package.  It comes with numbers 0-9, several of them,  that are plastic and they are sticky on the back.  The sign has a little template and you can place your numbers in there to get them lined up properly and they are so cute.  You can mount this on top of the mailbox or on the post.  I opted for the post.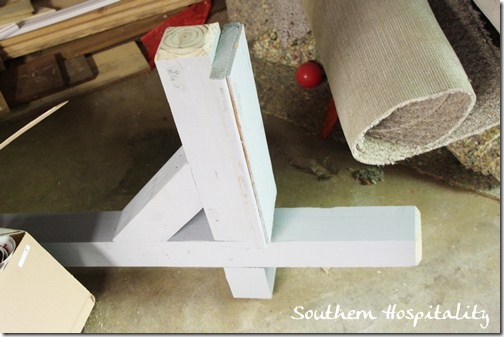 So, remember our mailbox post that I had to whack off the end of?  Yep, it's ready to go now.   My dad got the old mailbox out and the new one in place, along with a pretty new white metal mailbox.
I picked up this cute little finial to go on top of the post.  When you can add just one little thing to make a mailbox look even better, I say do it.  Finials are perfect for that for just a couple of bucks.   I used my drill to start a pilot hole and added the finial.
With the addition of a new white mailbox, this is so much cuter than before.  Using the same stain from the back stairs to stain the post, it now gives my house instant curb appeal.
Here's the cute little numbers sign that is now attached and can be seen from both directions and it lights up at night.  And those cute little metal fencing pieces add so much charm too, don't you think?   I did blur my numbers to keep the stalkers away. 🙂  You know, safety on the internet. In real life, the numbers are crisp and perfect.
Now, the mailbox is adorable!  I love it so much better and now this actually feels homey to me.  I'll eventually add some pretty flowers around the box and it will be extra special then.   It's too hot to plant flowers, but I can't wait til next spring and hopefully I'll be tackling some more outdoor projects.  Fencing from Lowes too.
So, that's my spruce up  to the mailbox this month.  I'm so glad to get this finished and couldn't wait to show it off.  Charming, cottagey, it has such curb appeal now.
We also got some great cleaning products to try out this month from Lowes!  All of these available in your local Lowe's store.
Dawn Grill cleaner and Mr. Clean Magic Eraser and Outdoor Pro cleaner.  My sister and brother-in-law's grill was the perfect candidate to try it out. We had just grilled out for my dad's birthday and the grill was plenty dirty.
The outside of a grill definitely gets dirty and we don't always take the time to wipe it down after use.
There was plenty of baked on grease along the top edge. We didn't clean the grates even though you can take them out and clean them.  I kept trying to figure out what that pink is on the stainless grill and finally figured out it's the red bottle reflected.
I sprayed down the grill and let it sit for about 15 minutes to soak off some of that baked on grease.
Then I wiped it down with a wet rag in warm water.  See all the dirt coming off? I'd say it's working pretty good!
The front looks much better now. Most of the baked on grease wiped off without a lot of effort.
And that side panel looks better too.
After cleaning, the grill looks nice and shiny now.  All in all, these are good products to try out.

I am thrilled to be a Lowes Creative Ideas blogger and Lowes provided a giftcard for the outdoor mailbox project.  All opinions and ideas are my own.
Thanks to Lowes for sending me some products to try out and they want to send a set to ONE of my readers too.  Just leave a comment and tell me what is your favorite thing to grill out in the summer?   
You can find Lowes on social media here:
 Lowes  Facebook –
Lowes on Pinterest
Don't Miss a Post, join my list!