My blog is not particularly about farm animals at any time, but you know when I see something worth sharing, I will always do that around here.  Hope you don't mind.  I just can't stay completely on the topic of decorating, cause life is not all about decorating.  Life is about random sometimes and today is a random day.
Besides, sometimes you just have to stop and smell the goats. 🙂
Cute goats alert!
After the wonderful brunch with the girls that I shared yesterday, Judy and I headed back home and stopped by the barn to see the goats on the way out.   And a few other farm animals that happened to be in the vicinity.
Like this sweet ole' girl, Cupcake the pig.  She's a pot-bellied pig and didn't even bat a pretty gray eyelash when we passed by her stall.  Girlfriend's been eating a lot it appears and was down for her afternoon nap.  Yeah, I know the feeling after that brunch food, Miss Cupcake.
Cute little chickies running around the barn too.
We then got outside to see the goats. 
Brown goats, white goats, black goats, goats of many colors. 
Aren't they sweet?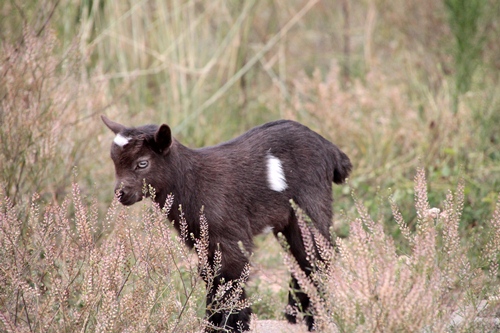 And then I saw this little guy!  I think there were 2 just alike and they were 2 weeks old.  I wanted to pick him up and put him in my purse.
Don't you think my dad would love to have a goat in the backyard to take care of all that grass growing that happens?  Way to cut down on mowing the lawn!  Going green.  That's a great idea.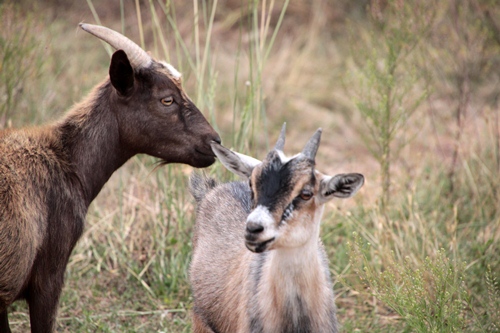 I loved looking at them and they looked right back at me as I took their pics.  They probably thought I was going to feed them something.
Fascinating creatures, they are.
Look how color coordinated they are?  I love this wardrobe, black and white is my fave. 
Resting in the water trough.
Oh, he's done now, out he goes.
There's that sweet baby face looking up at me.  He is just so adorable, I wanted to kiss him.
Major cuteness going on with this little guy.
They are so stately with lovely faces and those horns are pretty neat too.
Loved taking their pics.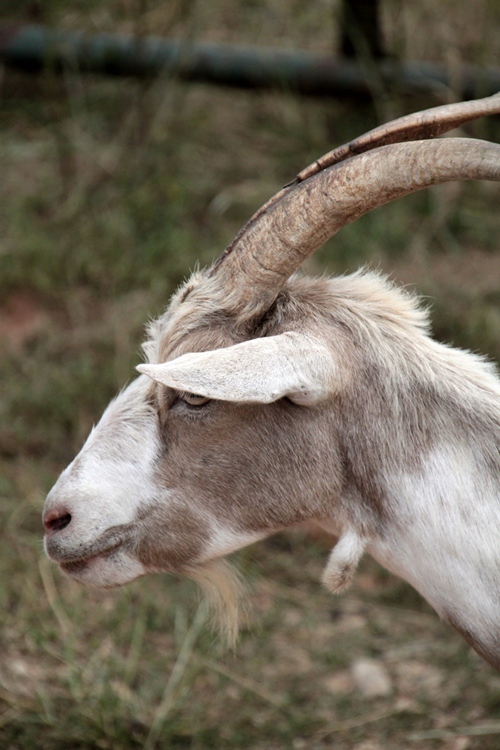 Sweet guys.  Or girls.  I have no idea what they were.
Cute definitely comes to mind though.  Yep, they are so cute.
I imagine they can do some real damage to some grass in no time flat.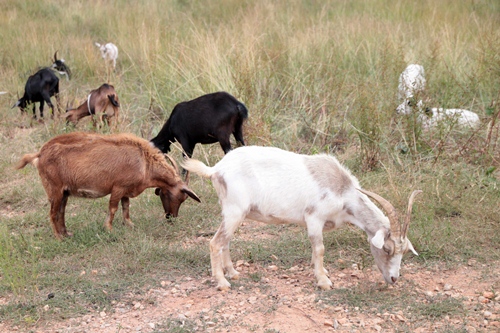 Taking a few minutes to watch them was very fun. 
This big guy was hanging out in the barn.  King of the roost!  He has some beautiful colors in his feathers, no wonder the girls like him.
Here's where it got a little dicey.  As we were leaving and walking back through the barn, her cousin's husband, Tommy made the comment,  "well look who's back again."
And calmly walked over and picked up this slithering creature.  I stayed far back, but quickly said, let me take his pic!  I knew ya'll would love to see this too.  Did I mention I really hate snakes?  I do.    Tommy threw the snake in a burlap sack, tied him up and was going to drop him off in the woods somewhere.  I don't know the snake variety, but I'm sure he wasn't poisonous.  Tommy said they love to eat the eggs that the hens lay.  I'm sure they do.
Judy and I drove back to our county and said goodbye to the sweet farm animals,  like this pretty little hen out in the field.
She's going to lay some eggs, I imagine.
Farm life.  Chickens, roosters, pigs and goats.
Do you have any of these?  We used to have chickens that laid eggs when I was very little, but that is all the farm animals that I've ever been a part of.
Don't Miss a Post, join my list!