My sweet daddy turned 87 on the 14th of July.  We had a party last year, but this year it was more low key and mom fixed a nice meal of his favorite fresh veggies from the garden and my sister and I came over to celebrate with them.  I had just finished Haven, my sister went to the beach last week and my parents had been up at their mountain house, so we all hadn't seen each other in a week or so.
The fresh vegetables are all pouring in now, especially the tomatoes, so I knew you all would love to see an update on my dad and mom.  When I go too long without sharing about them, I always have someone ask about them.  Y'all are so good to be concerned about them, I so appreciate that.
Last year, I shared a long post about my dad's birthday and shared a sweet video of him at the end, so if you missed that, go back and check it out.  He's a funny guy!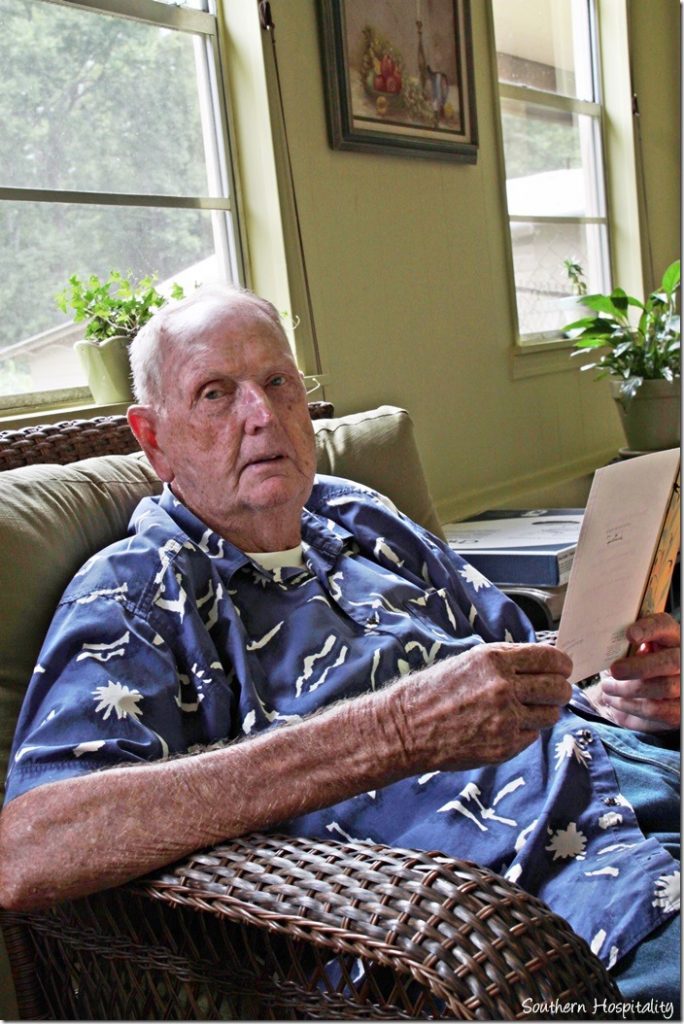 Dad at 87, still going strong.  He's still out tending his 2 gardens.   This is the look I get when I tell him to pose for a pic.
Mom is always by his side, doing what needs to be done.  I am so blessed to still have them.   She is a sweet mama!
Dad's garden here in Marietta is doing good, he's bringing in lots of tomatoes and other things.
The tomatoes are abundant and I brought home a nice sized bag of them.  I'll be eating tomato sandwiches a lot this week.

The Silver Queen corn is in too and I forgot to get some.  I'll just have to go back, won't I?
Eggplant is ready too.
This bucket of tomatoes is less ripe than the big bunch they have inside.  They have a ton of tomatoes right now.  Of course, we all enjoy them.
Lunch was delish, as usual with stuffed peppers.
Cream corn with fresh tomatoes and cucumbers.
Update:  For those who wanted to know how my mom makes her creamed corn, this is straight from her:
Creamed Corn, Iris Style
Cut off corn from cob and scrape into a bowl that can go in microwave.  Enough for a meal.
Add salt to taste and cook in microwave for 3 minutes.
Remove, add butter and cook 2 more minutes.  Stir and add a little milk and cook for 1 more minute.
That's it! That's how she makes cream corn.  Of course, it's wonderful right out of the garden.  She said that when she tries to cook it on the stovetop that it sticks so bad, so she figured out how to do it in the microwave.
Fried eggplant and green tomatoes, field peas, steamed okra rounded out the table.  It was yummy, of course!
The tomatoes are rolling in and we will be gorging ourselves for a few weeks.  They don't last long enough so you have to take advantage while they're here.
You can bet I'll be eating LOTS of tomato sandwiches the next few weeks.  Love this special summer treat!
Thank you for sharing in the beauty of my parents.  They are special people and I love that my readers have fallen in love with them too.  I so wanted to get them down to the Haven Conference this year, but it didn't work out.  My sister was at the beach and I didn't have anyone that I could ask to bring them down, but next year, I'm going to make sure they come down and see it in person.  My dad always asks me about it and how it all went.  I was happy to tell him all about it and what a great success it was again this year!
Don't Miss a Post, join my list!