When I started this blog, I had no idea of the opportunities and blessings that would come to me and my family as a result.  A recent landing in my inbox produced one of those blessings for my very special daddy and I'm so grateful to be able to share this with him.
A few weeks ago, I got an email in my inbox from Troybilt. They had found my blog, sharing my dad's garden and showing him in his garden, with his old tried and true friend, his Troybilt tiller.  He's had it for about 20 years now and it's still going strong.  It helps him with his gardening so much.
This would be the picture that captured the folks from Troybilt.
Then, in the email I was asked if my dad might like to get a new Troybilt tiller for his garden, the Bronco?  Ummm yes, I was absolutely sure my dad would like that idea.
When I went over the next day and told him about this fortuitous offer, you should have seen the look on his face.  Troybilt is going to give ME a new tiller?  Yes, indeed, they are.  For the next few days, it was like waiting for the lottery and as I got updates on the delivery of his new tiller, it was like he was waiting for Santa himself.  He could hardly wait until it was delivered to his house.
This nice man, Wade, showed up at their house one morning and delivered my dad's brand new Troybilt Bronco tiller.  It's smaller than his old beast and has vertical tines which are supposed to really break up the dirt.
He and Wade took at look at how it all worked, got it set up with oil and gas and started it to see how it all sounds.
And took it back to the garden.  It's been raining a lot lately and then my dad took off for over a week to their NC mountain house, but when he gets back, he'll be putting it to good use in his garden.  This will really come in handy helping him keep his garden free from weeds in between the rows, since it is much narrower than his old one.
The TroyBilt Bronco Axis, Vertical Tine Tiller.
He was smiling from ear to ear and it thrilled me to have this happen for him.  That my blog has opened so many amazing doors is still such a blessing to me and my family.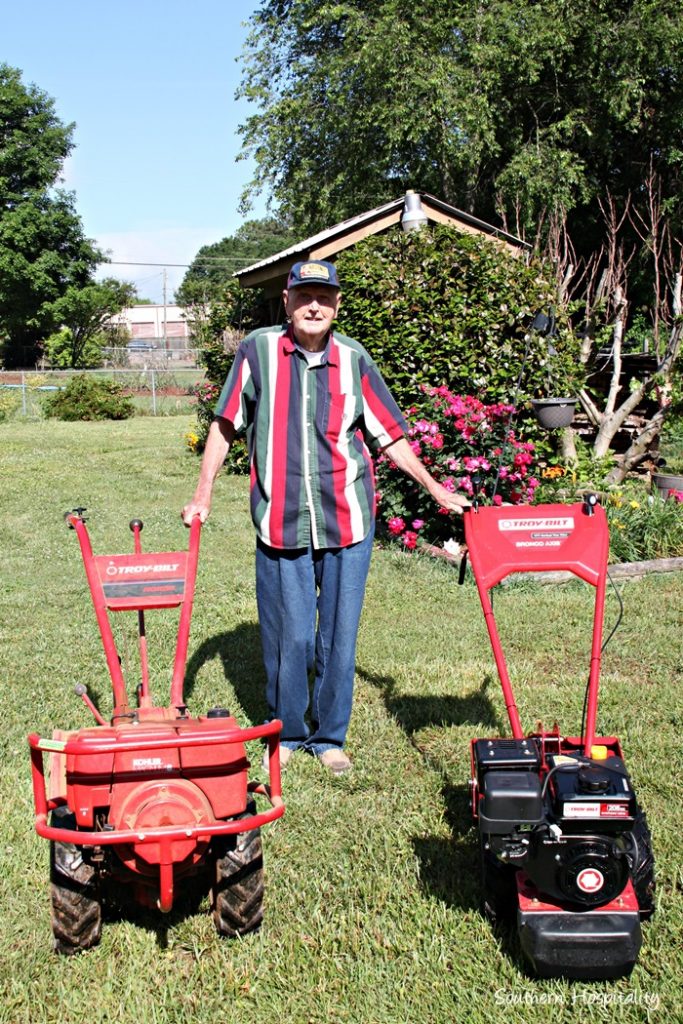 Dad's old 20 year old TroyBilt tiller on the left and the new one on the right. He will keep them both and they will both help him continue to garden for who knows how long. We keep thinking he might slow down, but that doesn't appear to be the case.  He still gets excited about gardening, every single year.
And the garden is rewarding him for all that hard work.  Soon, he'll be picking squash, beans, and tomatoes.
Mom is right there with him too.  You can see lots of things growing and coming along just fine with all the rain we are having.
I spotted one tomato already.  Can't wait for those to come in!
Had to show you these beautiful oak leaf hydrangeas in their backyard.  They are so pretty, I'm going to bring a couple of baby plants to my house.
I knew you would all get a kick out of this story too and I sincerely thank the folks at TroyBilt for making my dad's year by giving him this new tiller.  He is so thrilled and excited and will be a TroyBilt fan for life!  I'll be sure and share more about the tiller along the way this summer.
Don't Miss a Post, join my list!