When my dad became a big part of sharing on my blog with the house renovation 2 years ago, I had NO idea how popular he would become with all of you out there.  You love my dad!  And I'm glad you do, because we love him too.  I'm happy to share him with you and he loves talking about his garden too, so today I'm going to share his Fall greens garden and I asked him for some tips on growing greens, for you aspiring gardeners out there.  You sure don't want to ask me about growing vegetables, because I'm clueless about how to do it all, but I happened to be raised by an expert at growing things to eat.  He definitely has a green thumb and it's his passion for sure.
Dad's Fall greens garden is growing like crazy and he dearly loves coming out here and tending to it and of course, eating those delicious greens at home.
He's good at this gardening stuff and knows how to do it.  He should, since I would imagine he's been gardening for well over 50 years.
The Fall garden has mustard, turnips, kale, collards, and broccoli.  Now that's some good vitamins for you right there!  Green leafy vegetables are high in anti-oxidents.  Left row is mustard and right row is turnips.
Turnips and kale on the right.
Mustard greens are my personal fave. They cook up really tender and have a good flavor. We eat them with homemade pepper sauce, which my mom makes. (peppers and vinegar).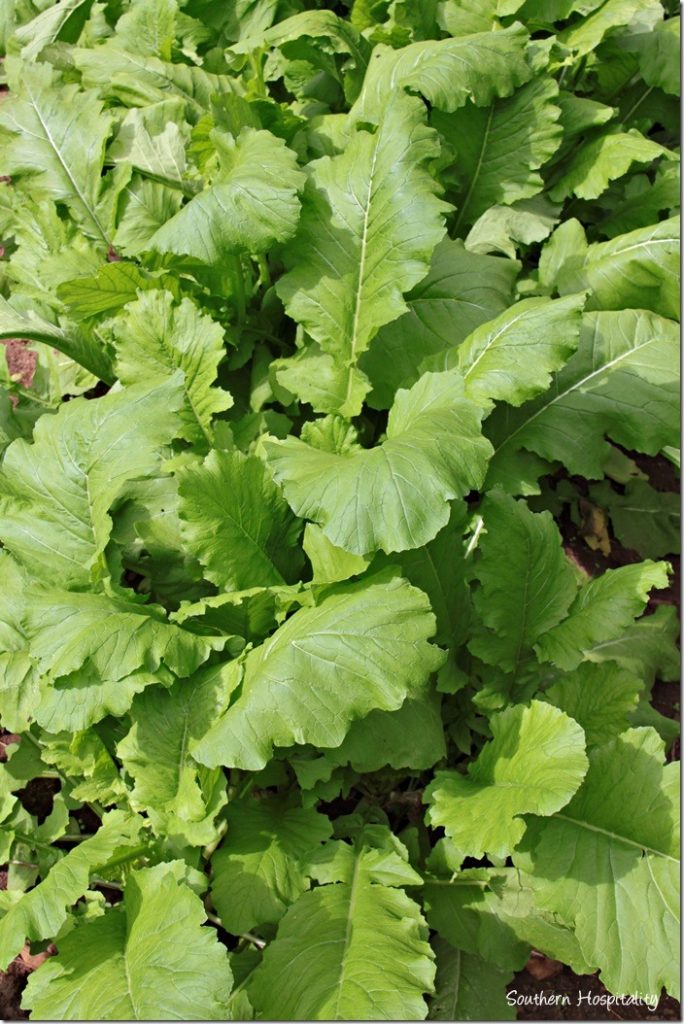 Turnips
Kale
Dad's picking collard greens.  We call this a mess o' greens, that's the Southern way of talking. He's also got broccoli growing there too.
It's some mighty good eating and we all enjoy it.  We have surely been spoiled with all this fresh food from the garden.  I know we took it for granted growing up and didn't appreciate it nearly as much as we do now.  It's a treat to have parents that grow food and can and I'm so glad that we were raised with that salt of the earth heritage.  I wouldn't trade it for anything!
I asked Dad to give me some tips to pass on to all of you on how to grow greens like this and here's what he told me:
Plant at the end of summer.  He put these plants in the ground mid-August, so they've been growing 2 months now.
He plants seeds and plants.  The collards and broccoli were plants and the Florida Broadleaf mustard, Just Right turnips and kale were grown from seeds.
Break up the ground really well before planting, definitely amend the soil if it hasn't been already.  Don't plant too deep, make shallow rows .
Fertilize with Ammonium Nitrate fertilizer (picture above).  He says that Home Depot or Lowes should have this fertilizer, but check around if you can't find it.
That's his tips on how to grow greens, so if you want to try it, I hope you'll let me know how you did.  They love cool weather and even last through the frost if I remember right, so they should be eating these greens for a couple more months at least.  You can see he has enough for an army!  He likes to grow plenty, that dad of ours.
Some of you may have missed this video last year of my dad's 86th birthday. It's worth sharing again and you'll get to hear his voice and enjoy his wit too. He's quite the character, as well as gardener.
Don't Miss a Post, join my list!