I hope you're all enjoying the recap of the High Point design competition as much as I am. It was truly a highlight of my blogging time and it's hard to put it all in a few posts.
At last, I'll share the complete room that Lindsay and I finished. And later in another post , I'll share the other 4 rooms that the other bloggers completed. There was so much eye candy to look at!

There were some pro photographers from Shaw along on the trip and they captured some great photos for all of us to share too, so I'm adding a few of their pics in this recap as well.  This is the whole crew from all 10 bloggers, to the Shaw Floor group, and Empower Marketing firm too.  They were a fun bunch to hang out with.   This gives you the scope of how big the Biltmore House really is.
Majestic!
It was late afternoon when we were there on our tour. 

Here are all 10 bloggers:  (from left to right)
Ethan with One Project Closer
Julia with Casa Sugar
Rhoda
Katy with Charles & Hudson
Lindsay with Living with Lindsay
Jill with Material Girls
Cassity with Remodelaholic
Roeshel with The DIY Showoff
Carmen with The Decorating Diva
Pam with Retro Renovation
Dessert cake pops from our wonderful meal at the Deer Park Restaurant. 
Another beautiful pic of the lavish table settings.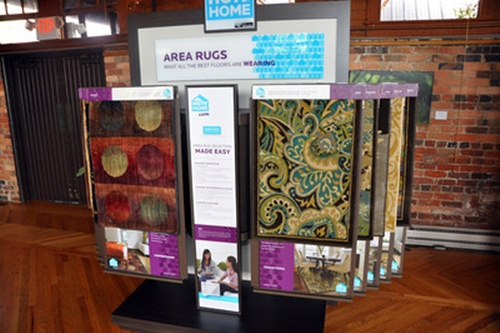 We got an up close and personal look at the new line of floor by Shaw Floors and HGTV Home and they are beautiful.  Here's something fun for all of YOU to look forward to next!
I'm getting my own personal rug from Shaw AND ONE of you will win a new rug too.  That's coming in an upcoming giveaway so stay tuned for that this month!
The hardwood and laminate selections were outstanding and we got to touch those too.
Lindsay and I had a FUN time choosing our area rug and we are so happy with the one we picked.
Again, here is the bay that was a complete shell.  We chose the carpet, a beautiful flat weave texture with small squares and the color is Butter Bean.  It's a great looking subtle pattern.    Our area rug is called Delilah in Teal Blue.
Oh, those director's chairs!  What a thrill that was.  They shipped them to us and I just got mine in last week.  🙂
This is our designer, Laura, from Tribuzio-Hilliard who helped us with our room.  We got to choose flowers late in the day on the first day of the competition and we came out of there with a bundle of florals and greens.
I might have gone a little crazy with the choices and I ended up being the floral designer for our space.
I'm SO happy to show you our completed space.  We absolutely are SO PROUD of how it turned out and are happy to be in this competition!
If you did the sneak peek over at my Facebook page, you have already seen our room.  The rug took center stage and that is what we pulled from for our inspiration for the room.  The bay itself was more contemporary so that played a part too in what furnishings we brought in.
We had fun mixing it up and we wanted our space to have an eclectic, collected over time feel.  Just like we aspire to in our homes!  There were so many great items to choose from and we had a blast.
These two turquoise painted chairs were a last minute decision, when we pondered over what we could bring in to give our room that much needed pop.  Our designer Laura, pulled some strings and got permission for us to get these pretty traditional wood chairs painted and the elves got them painted for us overnight and we were SO happy to see them the next morning.
We love how our space came together.
The mix of pillows was very fun.
Natural elements for the coffee table.
A little hanging basket on the coat rack was a fun touch, along with a hydrangea blossom.
Our fun bookshelf in the corner.  The deer head was a fun find too and we had him painted white.  I styled that bottom shelf.   I think the paint color is HGTV Home by Sherwin Williams Independent Gold #6401.  You can see the whole collection here. We had to choose a paint color really fast and I ended up jumping on this one.  We were not sure how it was going to look on the walls, but it ended up being perfect and we breathed a sigh of relief when we walked in the next morning to see our finished walls! 
White roses on the side table.
The other side table.
We added a console table behind the sofa and that is a great tip if you have a large room you want to break up into 2 areas.  A sofa or console table is the perfect thing to add that visual wall and it's fun to decorate  too.

I played floral arranger and used all of our greens to put this together in a old trophy vase.  It added a nice pop of color and real flowers are always a plus.
Our dining room space was fun to put together too.  We all pulled pieces together to make it work.  I spied the sideboard and armoire, Lindsay found the funky modern chandy and Laura spotted the table. 
We loved our modern dining space.
Setting the table was very fun, with all those choices to pick from.
Here's a good shot at that amazing chandelier made out of cardboard!  Talk about going green, that's the ultimate.  Lindsay fell in love with our chandy.
I quickly put this little floral arrangement together to add some green to the table and it was a nice touch with the white pieces.
I thought our artwork and lamp choices came together so nicely too on this side of the room with the sideboard.  No prop was left undone, right down to the Pellegrino and glasses.
I spied the funky zebra-like column and we decided that our corner needed that punch.
So, that is our room!  I hope you love it as much as we do.  We are completely pleased as punch at our finished space and will be so proud to put it out there in the competition for votes by the public.
That would be YOU, by the way!
We are counting on all our friends and readers to stop by the Shaw Floors Facebook page, starting September 1st, when the contest officially begins.
Lindsay and I will be forever grateful if you would vote for us.  The great news is, there will be a chance for you to win too.  Every single day in the month of September, Shaw Floors will draw a winner out of all the voters.  One person a day will win a room of flooring of your choice from the new Shaw Floors HGTV Home line:  carpet, hardwood or laminate!
Now, that is exciting!  I would love for some of my readers to win!  I will be giving you all a heads up as the contest gets started and beg urge you to go over and vote! 🙂
Don't Miss a Post, join my list!