Welcome to you all from Kate's Outdoor Spaces par-tay today!  So glad you stopped by.  I'm showing off a gorgeous screened porch today, so hope you enjoy your look around.
I've got another long-time friend named Debbie here in Atlanta and she is my creative buddy.  A former high school drama teacher, she now owns Miss Lucy's Monograms and she loves all the same creative stuff that I do, as well as decorating and doing home improvement projects.  Debbie was my inspiration for painting diamonds on the floor many years ago and I copied her and did the same thing on my little screened porch at my old house in Georgia.
(Debbie and I at a friend's birthday party a year or so ago)
Debbie and her hubby built this screened porch several years ago and Debbie got busy decorating it on a budget.  It's happy, bright and cheerful and I absolutely LOVE it.  It makes me smile every time I step out the door at Debbie's house.

In fact, I plan on hanging out here on the porch with Debbie a lot this summer.  She and I have some kind of fun cooking up ideas together.
See how absolutely fun it is?  I just love the colors and all the happy bright fabrics she paired with the black and white diamonds.
Take a look around and enjoy the tour.
It's a large space with plenty of seating for her family.
And big enough for a table to eat outdoors.
Love it!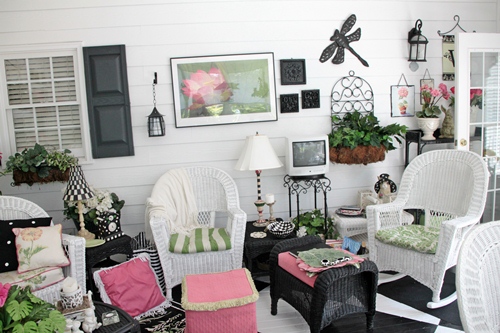 It has a garden feel with Mary Englebreit inspiration.
Couldn't you just hang out in a space like this all day long?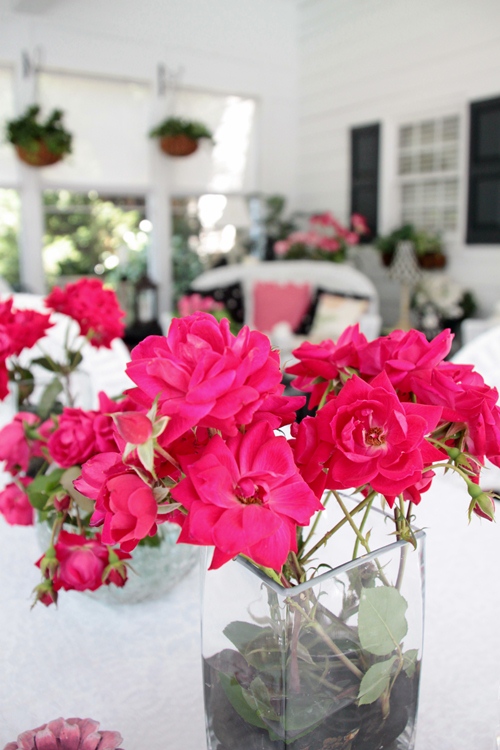 They had Mother's Day lunch out here on the porch.
And Debbie is a bunny lover too.  Like someone else I know! 
Inviting, yep totally.
This room is just off the kitchen and family room.
And nothing is left out.
In case it gets too hot though, here's what is in the backyard.  Nice, huh?  Makes for a refreshing dip during those dog days of summer and I've spent a few hours out here by the pool and will definitely be doing it again this year.
Nice to have friends who will share their space with you!  Hope you got some inspiring ideas from Debbie's porch!
I'm linking up with Kate's Outdoor Spaces today! Don't forget to join the linky parties going on for 2 weeks.  You're sure to get lots of inspiration from all of them.
I'll be hosting the summer recipe party on Tuesday, May 24th.
Don't Miss a Post, join my list!