I've been working hard on getting that deck all whipped into shape and taking it back (literally) from the birds.  And I absolutely love it now.  With the addition of the new all-weather wicker, some comfy new cushions and shopping the house for accessories, it's all coming together very well.  I had plenty of yardsale finds that were perfect for the space, so I didn't buy anything extra for that part.
I did make some pretty cool shutters for the window that I'm really excited about.  Love them and I think you will too!  And they only cost about $10 to make for both of them.  Let's look at where we started on this boring deck:

These plastic chairs were the only purchase I ever made for the deck, since I had plans for a screened porch that would utilize all my REAL wicker that is stored in the garage. But, since that is not going to happen, at least this year, I had to do something with this deck to make it nice and useful at the same time.  I don't know about you, but my surroundings are very important to the way I feel and if I have a pretty space, it makes me happy.  You too?!   This, it ain't so pretty!  Just a reminder that the umbrella was a recent yardsale find for $30, so that really got the ball rolling on this project and made me realize I could utilize this deck much better than I had.
Walk with me out the door from the living room and this is what we see right outside.  I restained the deck floor, so it looks so much better with fresh stain and that freshened it up a lot.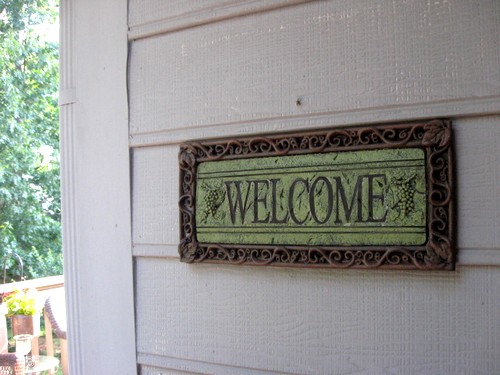 Coming out the backdoor, I added a Welcome sign I've had for years.  I just went around the house and found things to use out here that I didn't need elsewhere.  That's the good thing about collecting. 🙂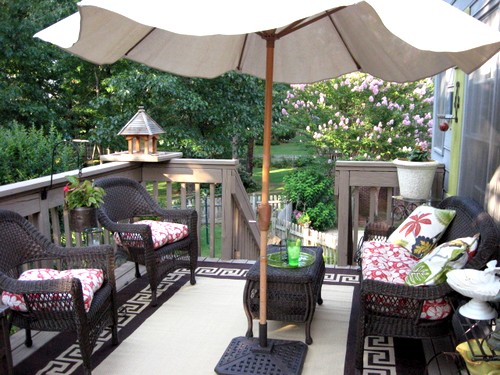 Turning to the right, here's the whole new and improved space.  I just adore it and of course, will show you all the details.  I found the all-weather wicker at Big Lots and they price matched for me, so all 4 pieces were $250, which I thought was a great deal.
I found this 8×10 outdoor rug at Old Time Pottery for $80.  Quite a good deal on a big rug like this. I loved the Greek key border and the cream and brown color was perfect for my porch.  All of the wicker pieces fit very nicely on the deck, with enough room to walk through to the stairs.
I anchored the loveseat underneath the double window and you can get a glimpse of my homemade wooden shutters, made out of fence slats.  I'll do a post showing how easy this was to do.  For about $10 in materials, they can't be beat.  I think they are just THE cutest things!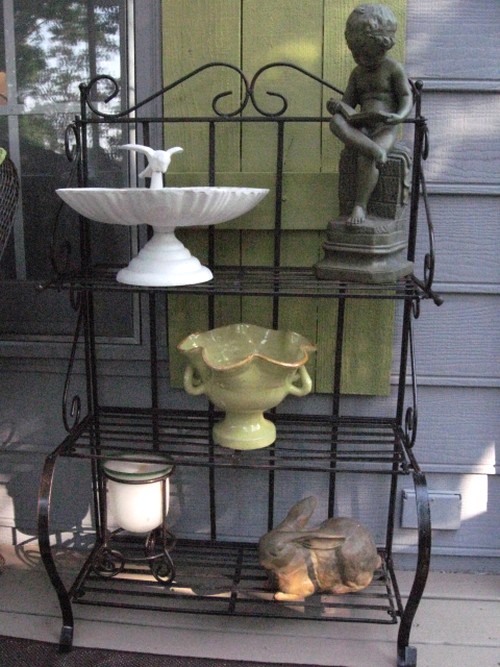 This little bakers rack has been with me for more than 10 years and was an Old Time Pottery find years ago.  All the items on here were brought in from other parts of the house.  Of course, I had to have a bunny out here.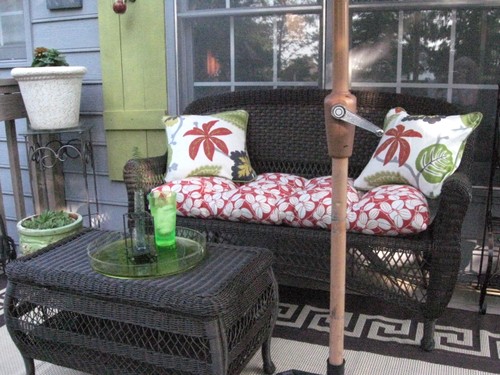 I potted some plants to bring some color and greenery to the porch.  Those cushions were found at Homegoods and I mentioned that I won a $50 giftcard. That really came in handy and paid for most of the cushions.  They're a pretty coral color. 
When I found this graphic floral fabric at Old Time Pottery, I just knew I had to use it for pillows with my new cushions and it is perfect, I think.  I just love all the colors it brings in.  Oh, and I made these pillows.  As much as I'm NOT a good seamstress, I managed to make these and cover the throw pillows that came with this settee from Big Lots.   I'll show you that later too, but really, if I can sew, anyone can.  I'm not so good with it at all, but after watching Grandma Eleanor sew up my slipcover and do all that cording, I tried my hand at it too and it worked out pretty good.  Just don't examine them up close.  🙂   I had some leftover green fabric which was perfect for my cording.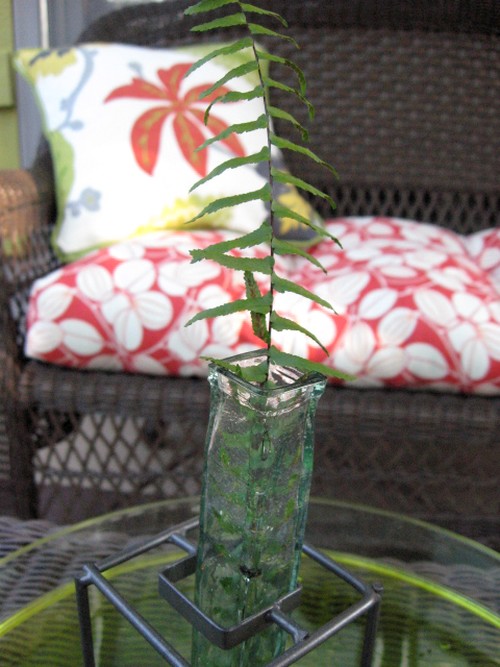 This is the little floral stem holder I found recently for $1 and it is a nice little accent here on the table.
That is a deck box I found last year yardsaling for $10 and I decided that a fresh coat of paint would make it look better with my stuff and it totally does.  I used a Hammered Brown finish on it and it looks so much better than the beige plastic it was.  The box holds all my cushions and pillows and keeps them out of the weather.  The wooden planter was a find for $2 and I need to get some small pots to go in there for further color.  Come back tomorrow and I'll share the painting process and the shutter how-to.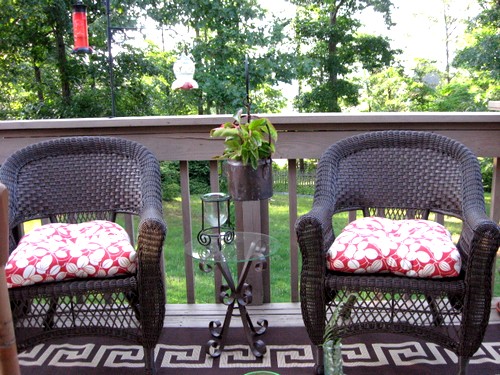 The two all-weather wicker chairs will be nice for company.  I can see myself sitting on this deck a LOT now.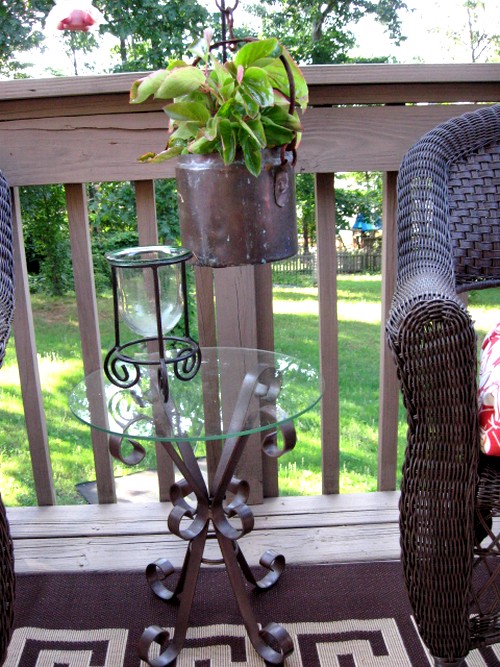 I have been picking up little tables and plant stands like this for years, so these came in handy once again out here. This one was $5 years ago.  It had a gold finish and I used my hammered spray paint to freshen it up and make it blend better out here.  Perfect for a little side table between the chairs.  Literally, all the accents out here came from yardsales.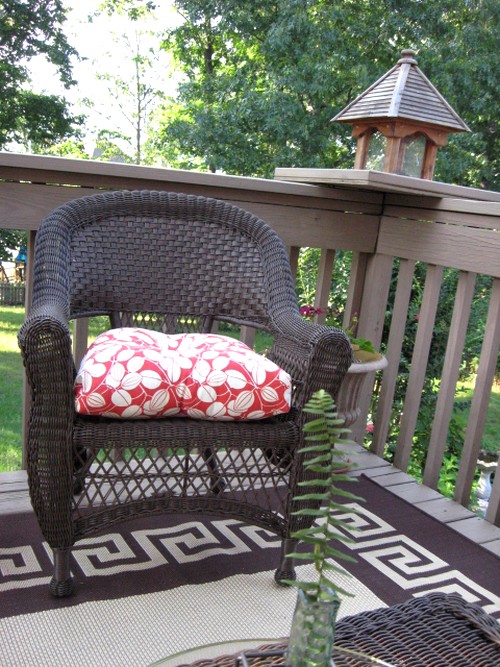 The chair on the right and the birdie condo.  They are enjoying this big feeder and we enjoy watching them!  I am just going to bring my upright vacuum cleaner out here once a week and suck up all the sunflower seed shells. When we run out of what we have, we will get the hulled ones next time, so hopefully those shells won't continue to be a problem.
This is the old copper pot I found recently for $5 and it's a great planter for this Angel's wing begonia.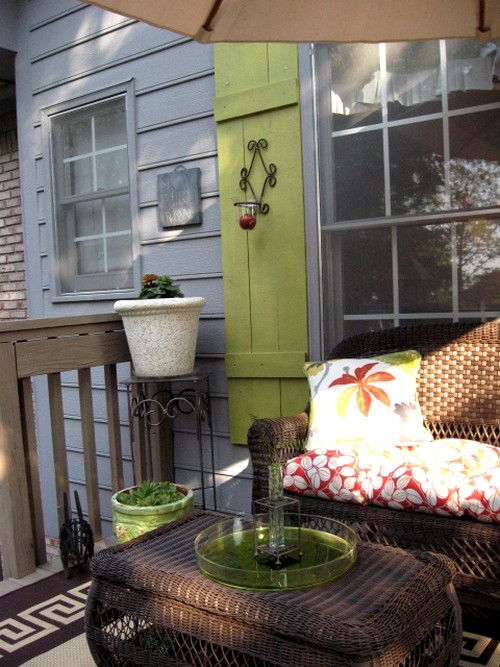 Another view of the shutters and plants on that side. That round green plastic tray was a $4 find from Walmart this year.  Perfect for sitting drinks and snacks on.  That wicker coffee table lid raises up too and I can store things in here if needed.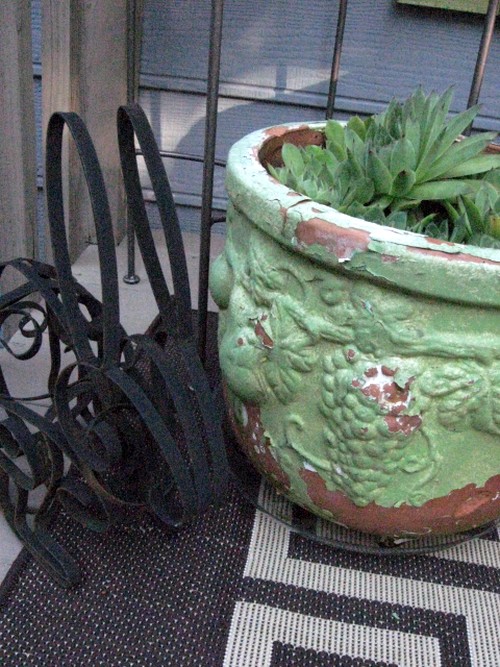 I found this planter which someone had painted green at a yardsale and at another sale, the hens & chicks succulents and this plant has done so well for me.  All that green paint is chipping off the clay pot, but I don't mind it.
This cute little fairy sign was a House Parts find a few years ago.
I added an iron piece I had to the top of the window.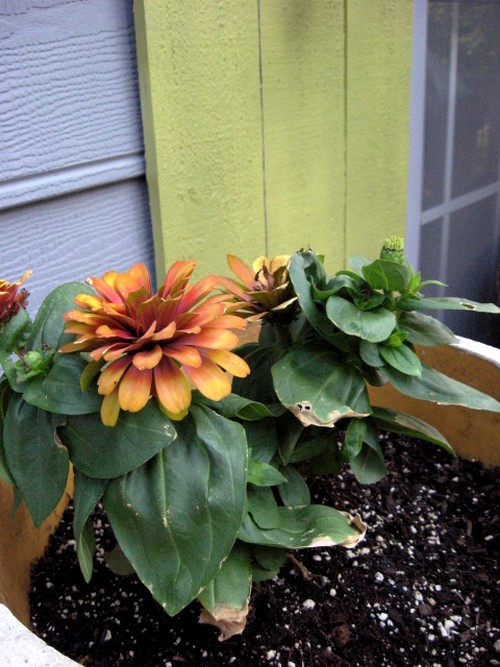 And some zinnias in this planter add color.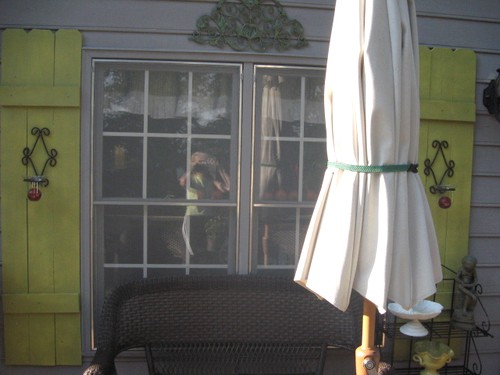 Here's a full shot of the 2 shutters, which is hard to get.  They are 6′ tall, I think and I'll show you all the details on how I made them.  So easy!  Yes, you can see me in the window in my workout clothes.  🙂
I do love how much they add to the deck now and the color really is vibrant.  I'll share that with you too.  I used spray paint! I was trying to figure out where to put those black metal candle sconces and finally decided they just need to go right on the shutters and I love them here.  Another $5 find from long ago for both of them.  Added the dark red candles and I hope they don't melt in this heat.  I'm definitely going to try them out one evening.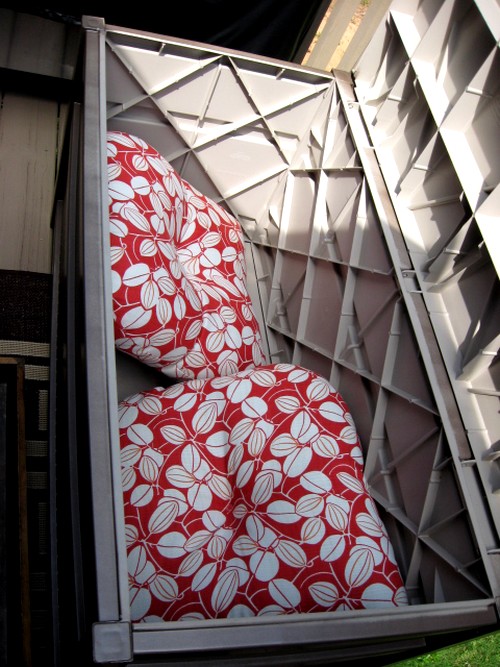 The deck box holds it all out of the weather.  I'll be storing these away every night to keep them looking nice.  Once summer is over, I'm going to find some covers for my chairs and settee too, to keep them dry during the winter months, but otherwise, I think everything out here will weather pretty well, since it's made for outdoor use.
Here's a shot from below looking up.  I think I'm going to enjoy my new deck space SO much now that I won't even be concerned about trying to waterproof the underneath patio now. I'll sill sit in my swing, but that top space is going to be my new hangout place now.
It has a great feel to it now and I'm so happy I finally got it looking pretty.
You can bet this is where you'll find me morning, noon, and evening.  That settee is even big enough for a decent nap. 🙂  That's one of the pottery bowls I made in pottery class that I just got back.  I'll show you all 3 pieces, they turned out really cute.
Here's my recap on the Top 5 ways to create a cozy porch:
Add some all weather furniture with cushy and colorful pillows and cushions.  If you have a window, frame it with some shutters, homemade or from the store.
A huge umbrella or something overhead to block the sun is a must-have for an open deck or porch.  Extra points for a strong fan to help push the humid air around.
A soft rug underfoot is a perfect way to add a real-room feel to a porch and make sure it is an outdoor rug for maximum weather wear.
To keep pillows and cushions within easy reach, yet out of the weather, a deck box comes in very handy and you won't mind putting them away at the end of the day.
Bring in some potted plants and flowers to your space for color and a garden feel and don't forget the garden accessories that look right at home on a porch.  Candle holders are a great accessory for the porch to add some extra ambiance when dusk falls.
So, do you have space that needs sprucing up?  I hope this will inspire you to get busy and pretty it up, so that you can actually enjoy and use it! I'm just thrilled with my new porch, but I'm definitely adding a portable fan out there!  It's way too hot already.
Shared on Melissa's Inspired Friday.

******************************************************
Newsflash from Holiday with Matthew Mead:
Submit photos of your home and you could win a three spread lay-out of your home decorated for the HOLIDAYS,  to be styled and photographed by Matthew Mead and run in the HOLIDAY 2010 issue of Holiday with Matthew Mead.
WE WILL WORK AT YOUR HOME FOR 2-3 DAYS… PROPPING AND PHOTOGRAPHING ALL ASPECTS OF LIFESTYLE INCLUDING FOOD, PEOPLE, DECORATIONS, ETC.
Head on over to Holiday with Matthew Mead for all of the contest rules and details.
Don't Miss a Post, join my list!