How long do you keep things in a room the same, especially the fabrics?
Well, mostly the same. I think we all do some tweaking here and there all the time, but for the most part, do you keep your space the same for many years?  I do know that fabrics can date a room.  Many times, you can walk in someone's home and make a mental note of exactly when they did that particular room, based on the fabrics.  Can't you?
I think for me I would say at least 7-10 years, I will keep my fabrics and most of the bones of the room the same. Maybe changing out some accessories here and there, but I try to be content and satisfied for several years before I go changing out the major things in a room. 
(from Charles Faudree)
I've learned that for the most part, keeping sofas a neutral fabric and color is the best for me.  That's a tried and true thing that I've stuck with over the last 20 years or so. Chairs can be something in a print, but even those can be iffy when you want to change out a look in your room.
I love the above pic from Charles Faudree. He's the king of toile and traditional design, with beautiful toiles and checks mixed so perfectly.  I fell in love with toile almost 10 years ago and still have that fabric in my house in the dining room and guest room.  But, as much as I still love toile, it's not what floats my boat right this minute.
Isn't it funny how we can change our minds about what we love when trends and fabrics change?
Like this for instance.  I'm going to swallow my pride and show you my old house, back in 1986.  I was so proud to have a house of my very own to do what I wanted with it. And this is what I did.  Some of you were just babies back then.  Me?  I was a single girl out to decorate her first place.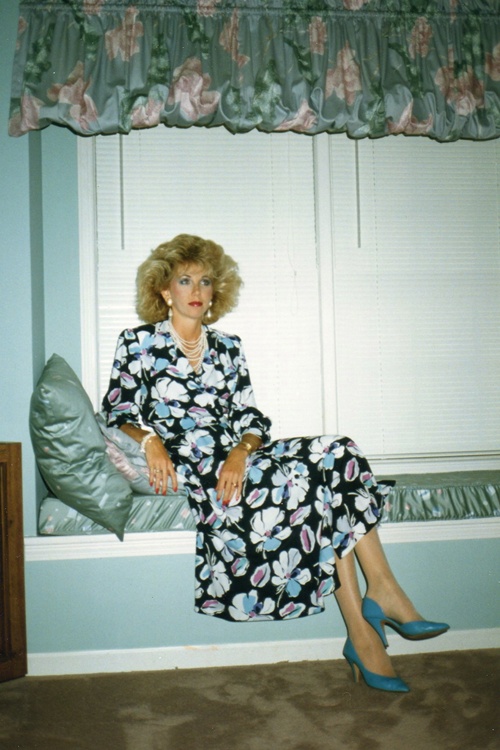 Isn't it lovely?   No, not the hair.  And don't laugh.  You know you had hair like this too. :)I could definitely rock the big hair.

This beautiful shade of seafoam green was so in back then.  In fact, do you see a comeback in the making?  It's not so different than some of those blue/green shades we are all loving now.
Of course, then we were pairing it with mauve (yep, I did mauve carpet, what was I thinking?) and I even threw in gray for some contemporary flair.  My mother was sewing for me back then too and made the curtains and that window seat cushion.  I thought it was SO pretty.
Then, sometime around the early 90's, this dark and moody hunter green was everywhere.  Hunter green and burgandy.  I bet you had some of this too, right?   It was dark and cave like, but then I moved on to my red stage. 
I can't put my hands on my old house pics, but I had a red very similar to this one in my dining room and I painted the whole living room with it and had new window treatments made for it too with a yellow/gold background (again, my mom sewed for me).
Don't you feel like you are constantly growing when it comes to decorating?  I sure do!
When we moved in this house, I didn't change out many of my fabrics at all and it's been almost 5 years that we have lived here.  Many of those fabrics go way back from there.  The only room I started over with was our master bedroom and bath.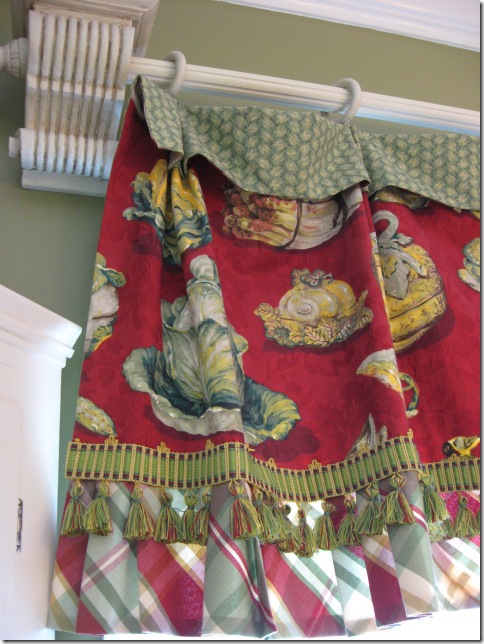 So, I'm chomping at the bit to do a little freshening in my kitchen.  I have loved, loved my red bunny fabric for a very long time now.  My mom did such a great job on that window treatment and I said to myself that I would keep it until something else started to grab me.  This window treatment is almost 9 years old now.  It is still very charming and I certainly don't dislike it, but some other fabrics have grabbed my attention. 
And this fabric that I found earlier this year at Old Time Pottery has been calling my name.  You may remember I used it for pillows on my porch, but I have plenty left to do a window treatment with.  I won't even have to change the green paint in there, but these fabrics will freshen it up. Even though these colors are brighter than what I have elsewhere, I'm going for it. 🙂
Those 2 sample fabrics with it are from Tonic Living, a new site my friend, Kate, shared recently.  I clicked over there and LOVED all the fabrics and the best part, they are so reasonably priced. They even offered a 10% discount on orders, with the coupon code,  TONICLIVING, which I intend to use.
I'm pretty sure this pretty golden yellow lattice fabric will go on my chair seats.  And I'm hoping that stripe is still available as I don't see it on the website now.   I'm not sure yet what type of window treatment I'll do, but I think it will be simple.  You will definitely stay in the loop when I do figure it out!
I admit, I'm a fabric junkie.  My mother used to drag us in the fabric stores when we were growing up, so maybe that has something to do with it.  But, when I see a fresh new fabric out there that catches my eye, it begs me to bring it home with me.  I'm about a 7-10 year girl with my fabrics.
So, tell me!
How long do you keep your fabrics?  Many years like I do or do you tend to change them more often or less often!
And what is it that gets the itch going for change?  Is it fabric or a particular color?

*******************
The giveaway winner for the Downlite pillow is #144, Patty Hibble.  Congrats Patty, email me with your mailing address and I'll get you connected.
Don't Miss a Post, join my list!