So, let's kick off this new series with a living room dilemma from Anita, who lives right here in Georgia.  Her mother recently moved into assisted living, so Anita got her sofa and loveseat, which are in great condition and are very neutral, a very good thing, in my opinion.  One of the things I tell people that I've done myself is to buy mostly neutral when it comes to large pieces of furniture, like sofas.  Anita's living room appears not to be that big, so let's see what we can do in decorating a small living room like this and bringing in some color and interest.
How many bold print sofas have you seen from 10 to 20 years ago, where you could judge the age of the sofa by the wild print that was on it?  I've seen that happen lots of times, so staying neutral on a sofa is a big plus.
This is a good sofa to use for a starting point, in good shape.   Anita recently painted the room from red to this warm neutral, so that's all good too.  Anita's dilemma is how to add warmth, coziness, and color to her space with accessories.
One thing I see in the above pic, is that the artwork is hanging too high above the sofa.  You want to bring it down, so that it relates to the sofa below without having so much space between.  I'd say bring the art down at least 10 to 12 inches from where it is now.  The bottom of the print should be about 6-8″ above the top of the sofa, but look at it visually when you move it to be sure it looks good.  I eyeball things, so hardly ever measure.
This wall is a good focal point for artwork too, so I'd go for something more modern on this wall to liven things up.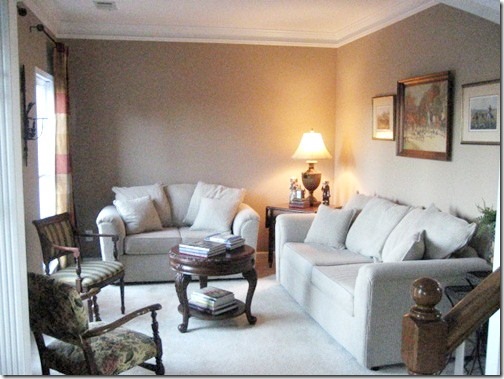 It looks like there is not a lot of room for a coffee table and side table over by the window, so I might suggest moving that round table in the middle in between the 2 chairs and pull them closer together in front of the window.  I'd add a nice lamp to that table too.  If there's room, then think about a glass coffee table.  Glass visually is light and airy and doesn't seem nearly as heavy as wood.
The drapes look to be in great shape too with nice colors, so Anita, if you still like those, then pull colors from those drapes and bring it into your room.  I think adding a colorful rug over your carpet would be a nice starting point.  Not sure how big your room is, but a 5 x 7' rug might be big enough, I'd make sure the front edge of both sofa and loveseat come to the edge of the rug, so measure your space and see what size will work.  If not 5 x 7, then try an 8×10. That would really add a lot of color to your space.
Looks like you might have enough room for a few plants and enough light coming in to add some real plants to your space.  I love a nice tree or plant by the window.  Add one on an end table too for lots more life in a room.
So, here's an Olioboard I put together showing how adding just a few things to the room will change it up and add much needed color. Olioboard is a free site that you can use to put together moodboards. I pulled items from the site and made a board for Anita and it shows all the items below and you can click to see where they came from.
Anita, keep in mind when you are looking at rugs, to check the tones against your drapes, if those are staying (and they totally can, the colors are great to pull from).  You'd want to make sure the reds all line up well in tone.
This is a fun way to create inspiration for a room and hopefully you can see what a difference just adding few things can make in a room.  The rug, pillows, artwork and accessories will really liven it up. Changing out lamps to a bit more modern would also be a great look, since the room is so traditional. I've loved evolving in style myself and I'm not stuck on all traditional anymore. Adding some modern elements to a room just kicks it up a notch and makes it so much more interesting.  It's all a learning process, isn't it!?
Anita, what do you think? I hope you like my ideas.  All of the rest of you are welcome to chime in too.
What do you see in Anita's room that she can change to bring in more coziness, warmth, and color. These are my ideas, feel free to add your own!
Don't Miss a Post, join my list!