I've got another decorating dilemma for all of you today, so help Laurie out.  She's got a vaulted ceiling living room that is giving her some problems and let's see how we can help her get this room under control.  Here's what Laurie says about her room:
"We have lived in this space for 13 years. Little by little I have redone big fixes. New windows,  doors , floors and I love my new marble fireplace. But this fireplace wall is my problem. I just think it's not in proportion and I need storage. However, the wall is flat, no indents for built in bookcases. As you can see I am a neutral palette person. Just scared of which wall to accent with color.  I love blues, and turquoise. Projects I intend to complete this year are reupholster the 3 chairs, paint the TV stand, find new lamps.
I am also stumped about the window treatments. With so much space above the transom, I don't know where I should hang them, or if I should forget them.
I know what I like when I see photos but I rarely find rooms with the vaulted ceiling on the fireplace wall."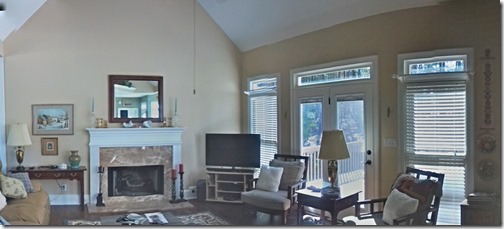 OK, so let's get some ideas going for Laurie!
First, on the window wall, I would definitely hang some drapes and hang them above the transoms.  Hanging drapes high will give that wall more presence too.  I would hang a panel to the left of the left window and to the right of the window right of the French doors.  At least 2 panels up there to soften and fabric will always soften a room.  She could do what I did in my living room and not try to hang 4 panels, but only 2.  I'm happy with how mine turned out and since there is so little space on either side of the French doors, and she probably doesn't want to cover the light switches, she could just do 2 panels above the transom.  Four would work as well, if she doesn't mind covering the light switch.  Four would definitely soften up the window wall a lot more.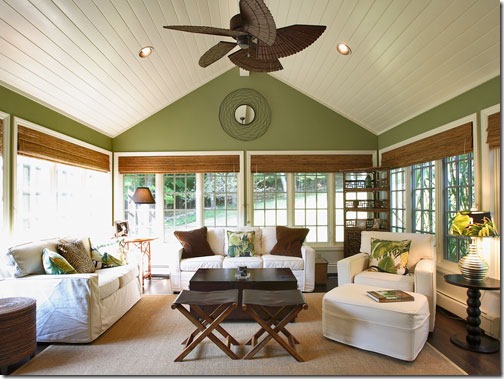 Another idea is to use bamboo shades and hang them high above the windows and just have them come down and cover the transoms.  That would give some nice texture to the window wall.  Example below on using drapes and bamboo shades, hanging the bamboo shades just under the rod.  You could easily take the rod up high and also hang bamboo shades with drapes at least on windows on each side.  Also, see the long rod across the French doors, with drapes on either end.  This would warm up the room considerably!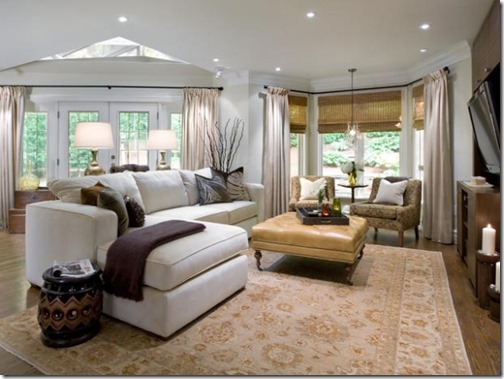 via Adorable Home (I think this is a Candace Olsen room)
Now, on the fireplace wall I do think some built-in bookcases would still work.  So many in blogland are doing built-ins on either side of the fireplace and you don't have to have a recessed wall for this to work.  She could easily do Billy bookcases from Ikea and trim them out with crown molding on the top and bottom for a built-in look.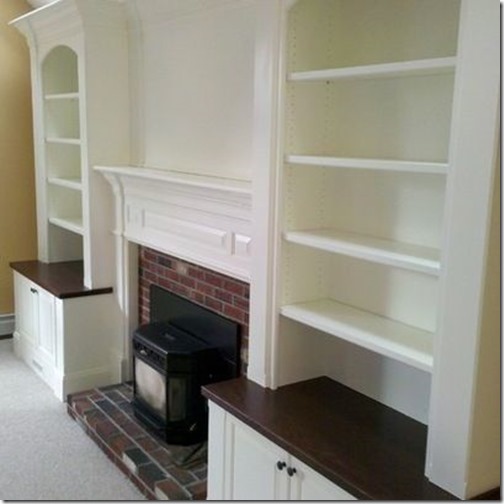 via Houzz.com
Here's a pic that I think is from Houzz (via Pinterest) that shows bookcases added that project out past the fireplace, they aren't recessed.  You could take these up high and add an over mantel to the fireplace to tie it all in, adding crown molding to finish it all off and I would bring it up to the window height on the vaulted ceiling.  A good carpenter could to this for you!  It might be tricky on the right side because it looks like there's not a lot of room by that far window to add something, so that might get in the way of this plan, but it might be doable if you didn't take the built-ins all the way to the window wall.
Here's another one from Houzz that shows built-ins that are not recessed.  There's even a gap allowing for the mantel to stay put and it looks great.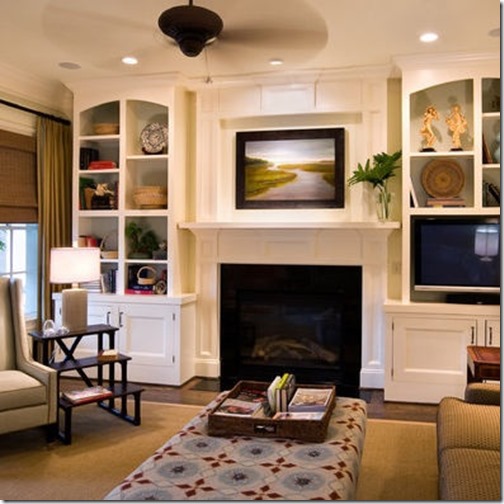 I definitely think recovering the chairs and adding some fun fabrics would liven up your room considerably. You are swimming in a sea of neutrals and that can get boring!  You need color, texture and interest with pillows, rugs and accessories.  Some fun new lamps would add a lot of life too!
Here's my Olioboard with a few ideas on how adding some of that turquoise would liven up your space. Add a painted side table, new lamps, rug, pillows and accessories, along with some drapes and possibly blinds on the windows and your room will definitely wake up!

Don't Miss a Post, join my list!