Let's talk decorating today!
One thing I've really enjoyed is seeing black and white used with much success around blogland.  It's fun to infuse a space with a little black and white and I've done some of that at my house.  Black and white adds such a fresh energy to a space.  Take a look at these photos and you'll see what I mean.  I don't recommend living entirely with black and white, but adding a jolt of it is very fun and fresh.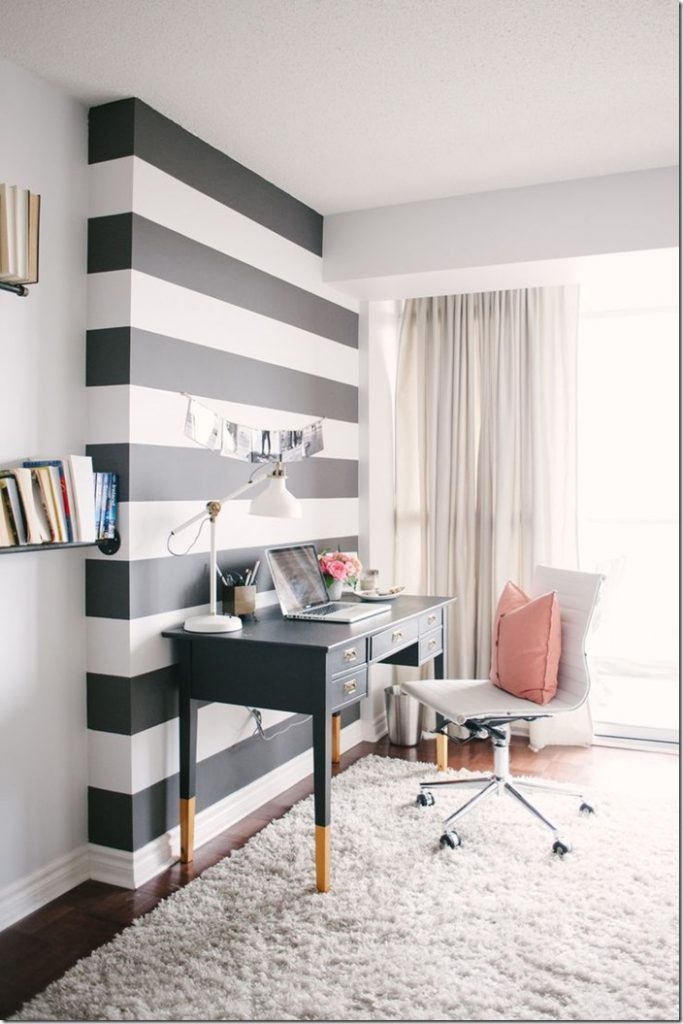 Style Me Pretty's Livings editor, Jacquelyn Clark's  beautiful office space with this graphic black and white wall is just lovely.  A perfect accent with the wall that slightly juts out, I love this treatment.
I featured Jennifer's home, Dimples and Tangles,  earlier on my Feature Friday series, but I love how effectively she uses black and white accents around her house, specifically this Ikea rug that really makes a statement in the foyer.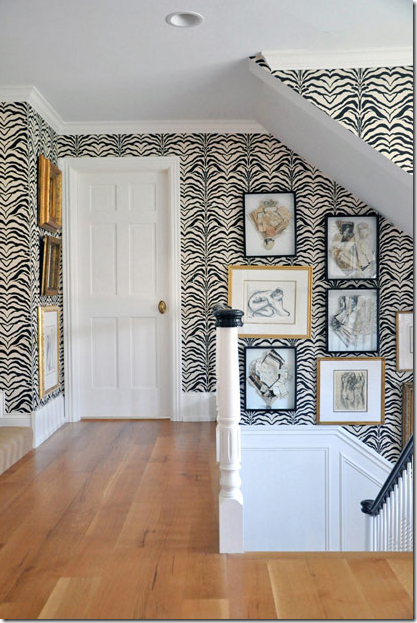 This graphic and bold black and white zebra wall paper from designer Megan Winters and featured on Mix and Chic,  makes a stylish statement in this hallway at the top of the stairs. I love unexpected surprises like this!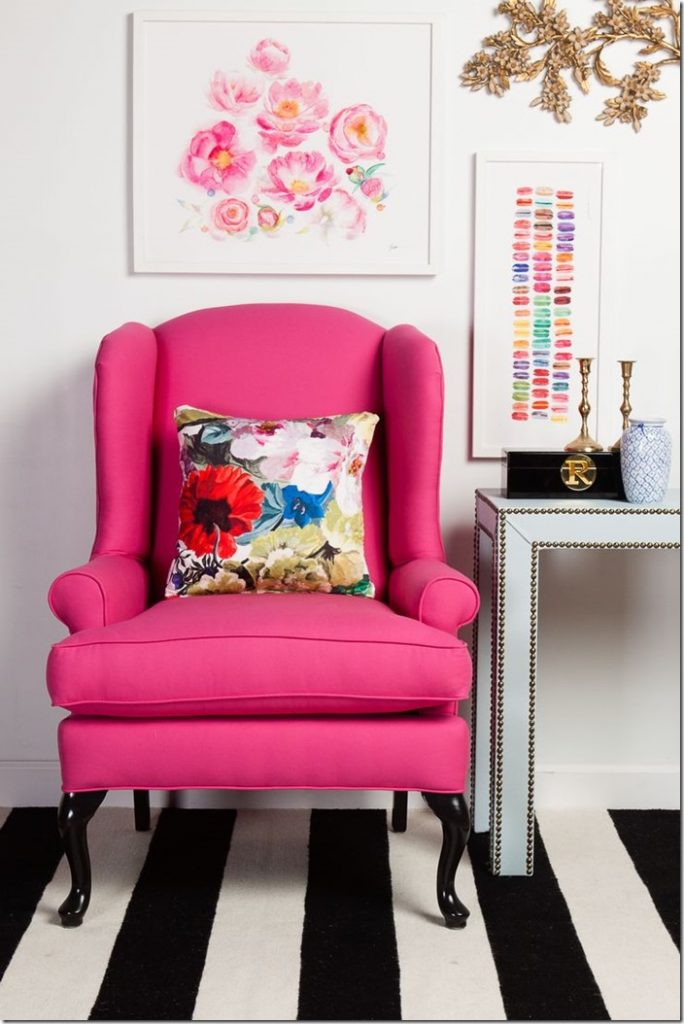 Love how black and white really accents bright colors too.  This punchy pink chair featured at Homey Oh My, shows the power of color along with black and white.  Everything in this pic looks happy.
I love this punch of black and white from Brittany Makes nursery.  The throw, the rug and a peek at the bedding brings in that graphic black and white so well.
Here's another bold move in a beautiful bathroom from Houzz.  Black and white stripes on the wall of the toilet room add a nice contrast to the hot pink walls of the adjacent room.  Glamorous for sure!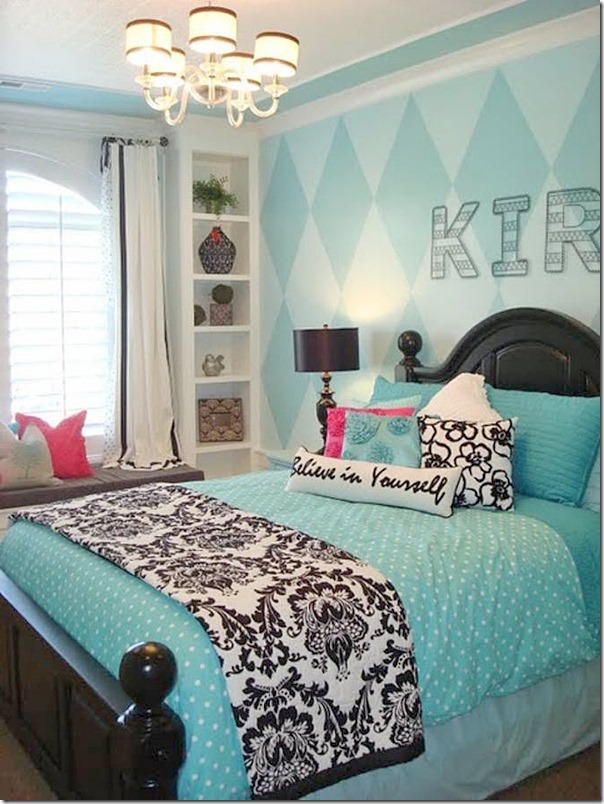 From Decorating Our Small Space, this teen girls room is pretty in aqua and that damask black and white throw adds just the right touch at the foot of the bed.
This stylish kitchen from BHG shows just how much a punchy rug can make an impact on an otherwise mostly neutral space.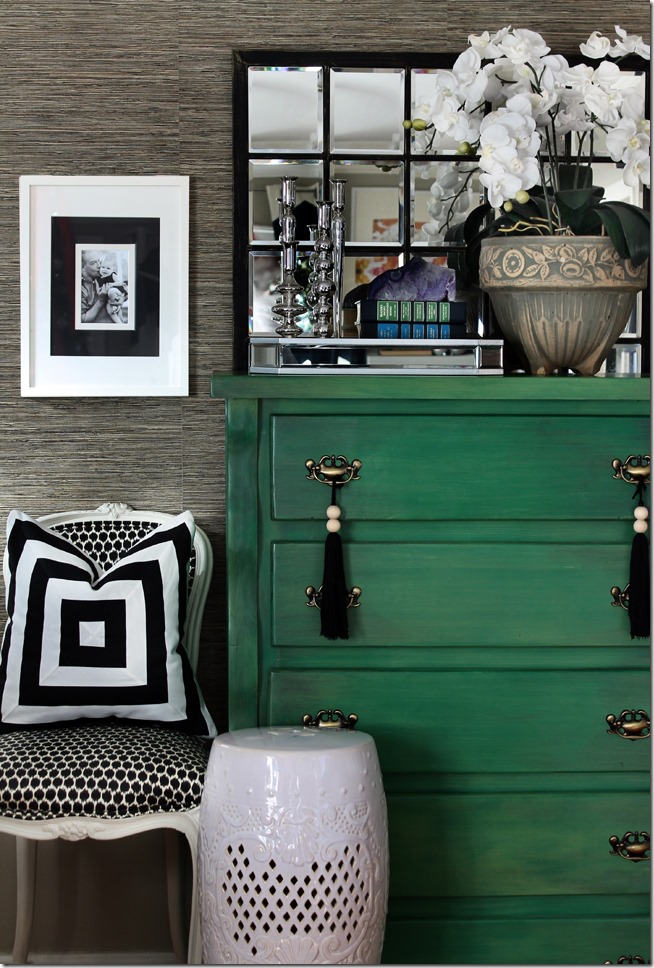 I love how Kristin from The Hunted Interior uses black and white accents so well.  Love this green chest with that cute French chair in black and white fabric along with the bold black and white pillow.  Love!  the great thing about black and white, it can be mixed with any color and work.
Black and white is not just for indoors!  Look how Kristin made over their back yard using lots of black and white accents.  It's gorgeous!  How about those plates hanging on the shed wall?
I've got my own little love affair going with black and white too and added it to my den in this houndstooth rug and the graphic black and white pillow from Homegoods.
I love wearing black and white in my wardrobe, so it's only natural that I might like to decorate with it too.
What do you think of black and white in home decor?
Don't Miss a Post, join my list!