This post is sponsored by Tractor Supply. 
Hey there friends!  I'm back today with another fun giveaway and an introduction to a few more Christmas products that you might enjoy.  Christmas is a time to decorate our homes with love and joy, a time to surround ourselves with holiday decor that speaks to our family traditions and love of home.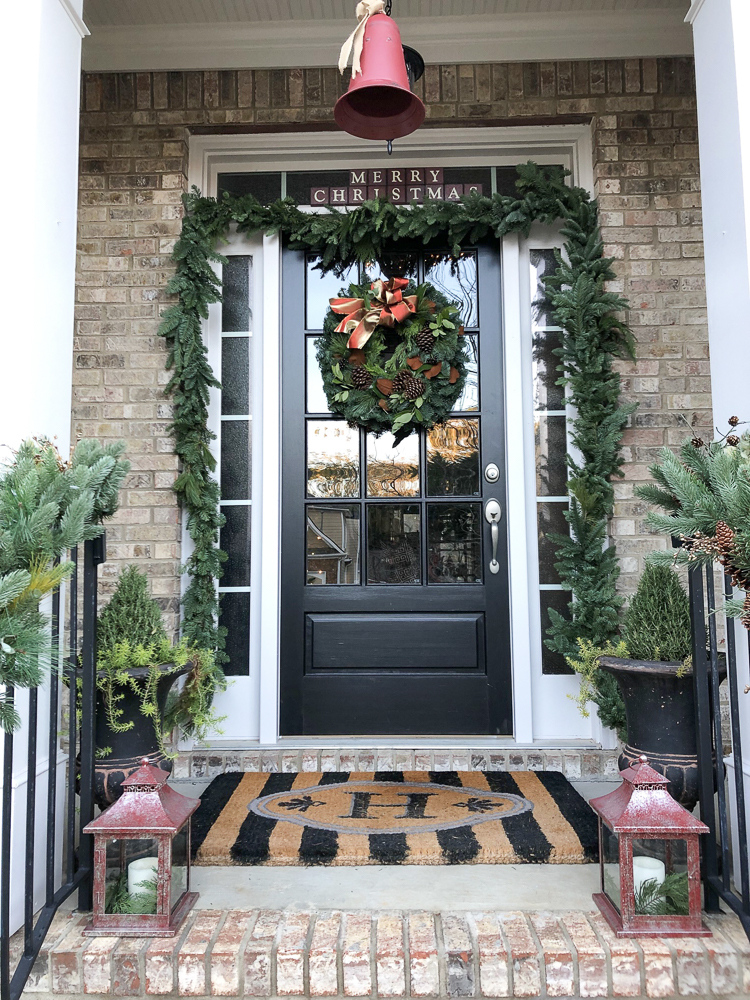 I'm partnering today with Tractor Supply , I've shared them with you before, but this time it's holiday items from the Trisha Yearwood home collection. I think you'll love these ideas! They are Southern-inspired, affordable and exclusive to Tractor Supply.  And, as a bonus, Tractor Supply is offering free standard delivery on all of the products below (plus all of their other decor items) for a limited time.
I had the chance to choose a few Trisha Yearwood items to add to my Christmas decor this year and it was so fun to figure out where to use them. Our porch definitely could use some extra cheer this season and I love these metal snowflake red lanterns from Trisha's holiday collection. Adding some battery powered candles with a remote is the perfect way to add a little welcome cheer to our front steps and they aren't so big they block the stairs. I added some fresh greens inside too.
They make a nice addition to the black urns I have outside on our porch that I plant for every season and are eye-catching when guests come to our door.
Another fun addition to the front porch is this red bell also from Tractor Supply's Red Shed collection its exclusive home decor line. It's a pretty red color with a burlap bow and I love it hanging from our porch ceiling.
I added a couple of silver pinecones that I already had too, as well as the Merry Christmas blocks I've had for at least 20 years. They have been with me through all my homes I've lived in.  It's always fun to find a new spot for them and I love them over the front door.
Mark's boyhood sled is another great addition to the front porch. I love it out here! This year I added fresh rosemary to the urns and they smell so good and have a Christmas tree shape. I love a nostalgic porch and this one certainly has that feel now!
Moving on inside the house to our family room, I'm sure you noticed these pretty deer on the mantel from my earlier posts.  Aren't they beautiful?
The deer are also from Trisha's holiday collection and they are the perfect addition to the mantel this year and mix so well with those little white ceramic houses.
They are big enough to really stand out and I love that one deer is standing and one deer sitting. They are in a pretty whitewash shade and I can see using these in many areas like a tabletop or buffet.
They look much more expensive than they are very substantial and beautiful.
I know I'll enjoy having these guys in my Christmas collection for years to come, so versatile for many areas in the house.
It was fun spreading these Trisha Yearwood Home Collection items all around the house and I found a spot for more in the keeping room on my rustic shelves.
This cute Merry Christmas pillow is also from Tractor Supply's Red Shed line. I always love that sentiment Have Yourself a Merry Little Christmas.
On the shelves, these white snowflake candle lanterns were perfect to add here.  They mix in with the red and green so nicely and adding battery candles with a remote is perfect.
I love turning them on and seeing the flicker of the candles coming through the snowflake lanterns.  So cute and creates a wonderful ambiance in the keeping room!
I'm so thrilled that I'm going to get to share some Christmas cheer with all of you! Tractor Supply is giving away a $50 e-gift card to one of you to shop for some Trisha Yearwood Home Collection or Red Shed's holiday items for yourself. I love to spread the Christmas spirit with all of you too!
Here's how to win!  
All you have to do is visit the Tractor Supply website and look at Trisha Yearwood Home Collection or Red Shed  Holiday items and let me know which one is your favorite!  Be sure to sign up with your email on the Rafflecopter widget and leave a comment on THIS post (you don't leave your comment on the widget, just check the box that you left a comment) and one of you will win a $50 e-gift card to Tractor Supply. You can shop in the store or online, so everyone can shop! You have to add your email to the Rafflecopter widget to win, that's where the winner is chosen. 
Note: This giveaway is open to ages 18+ and continental U.S. residents only.
Merry Christmas and Happy Holidays to you all!
Don't Miss a Post, join my list!