It's amazing to me what pillows can do for a room. I've always loved pillows and changing out pillows is a great way to freshen up a space. Mark doesn't care for pillows all that much but I like to buy new ones occasionally. I've had these pillows on our family room sofa since I was in my old house and they are probably all 5 years old. I know lots of people change out pillows every season and change them often, but I really don't do that around our house.
I do use down/feather inserts which makes it easy to change pillow covers so today I'm going to share my favorite sources for new pillow covers. Changing pillow covers is the easiest and smartest way to update your pillows. If you are a change with the seasons person, you can easily store flat pillow covers and bring them out when needed. Much better than just buying new pillows (with inserts) constantly.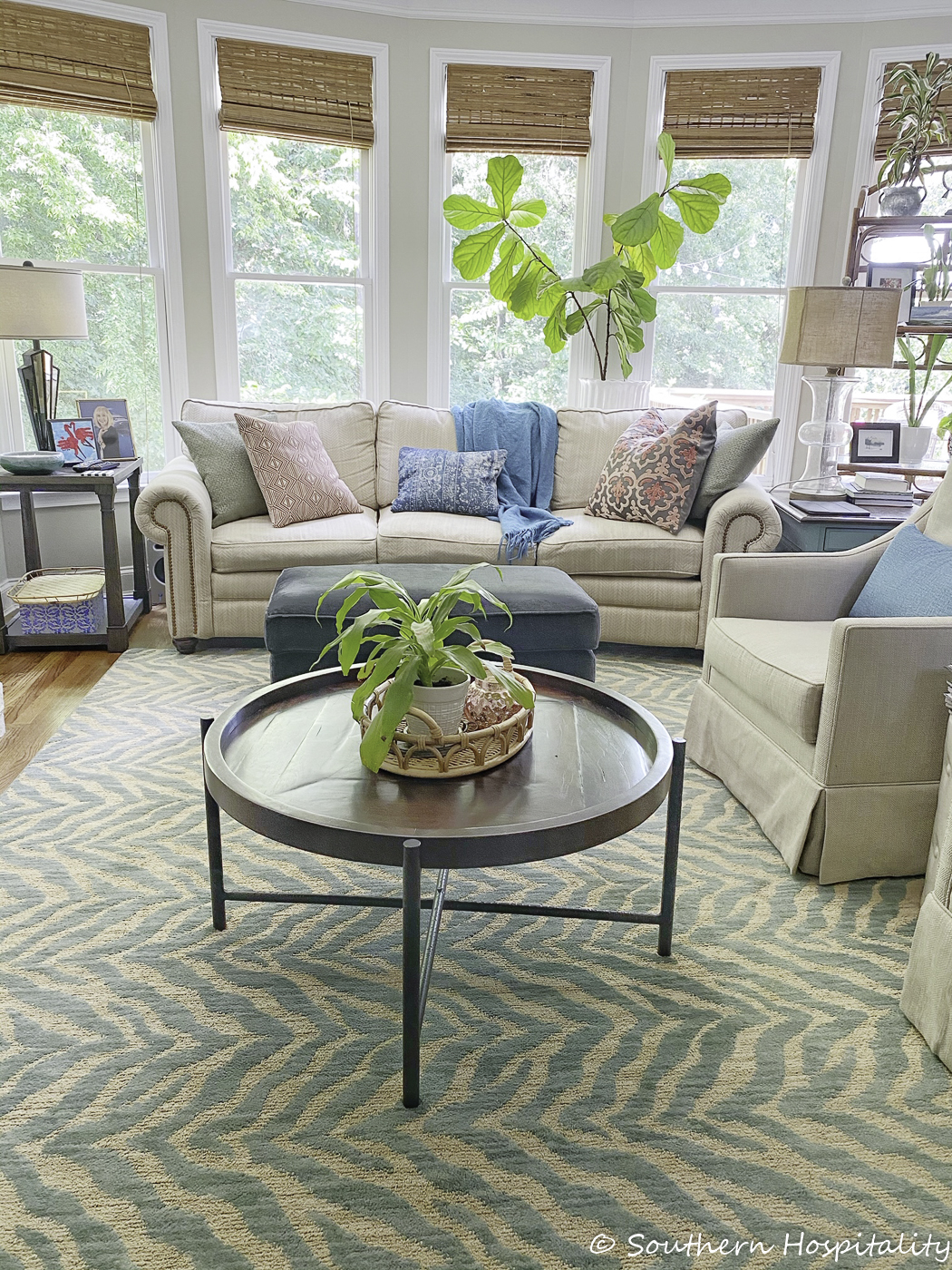 Mark ends up throwing those pillows on the left on the floor and there they sit most of the time. I like the mix of soft blues and those coral shades in the pillows and most of these came from Homegoods. You can see those turquoise lumbar pillows in the chairs and I found those at Homegoods too after I bought the chairs. The color is good, but the fabric isn't that special so I began a hunt for new pillow covers and found them on Etsy!
Here's a current look at our family room. I straightened it up enough to take these pictures and got the clutter out of the way. I like this room a lot and the functionality is good too. We have those 2 extra chairs for people to sit in and we sometimes use them too, but most of the time we lounge on the sofa. The sofa is from a collaboration I did with Lazy Boy a few years ago and the chairs are from a vendor out of NC, Faulkner Furniture and they sell at Scott Antiques every month, or at least as far as I know they will be back there. You can see they offer custom furniture on their website. We've been very happy with these chairs and they were a good price too.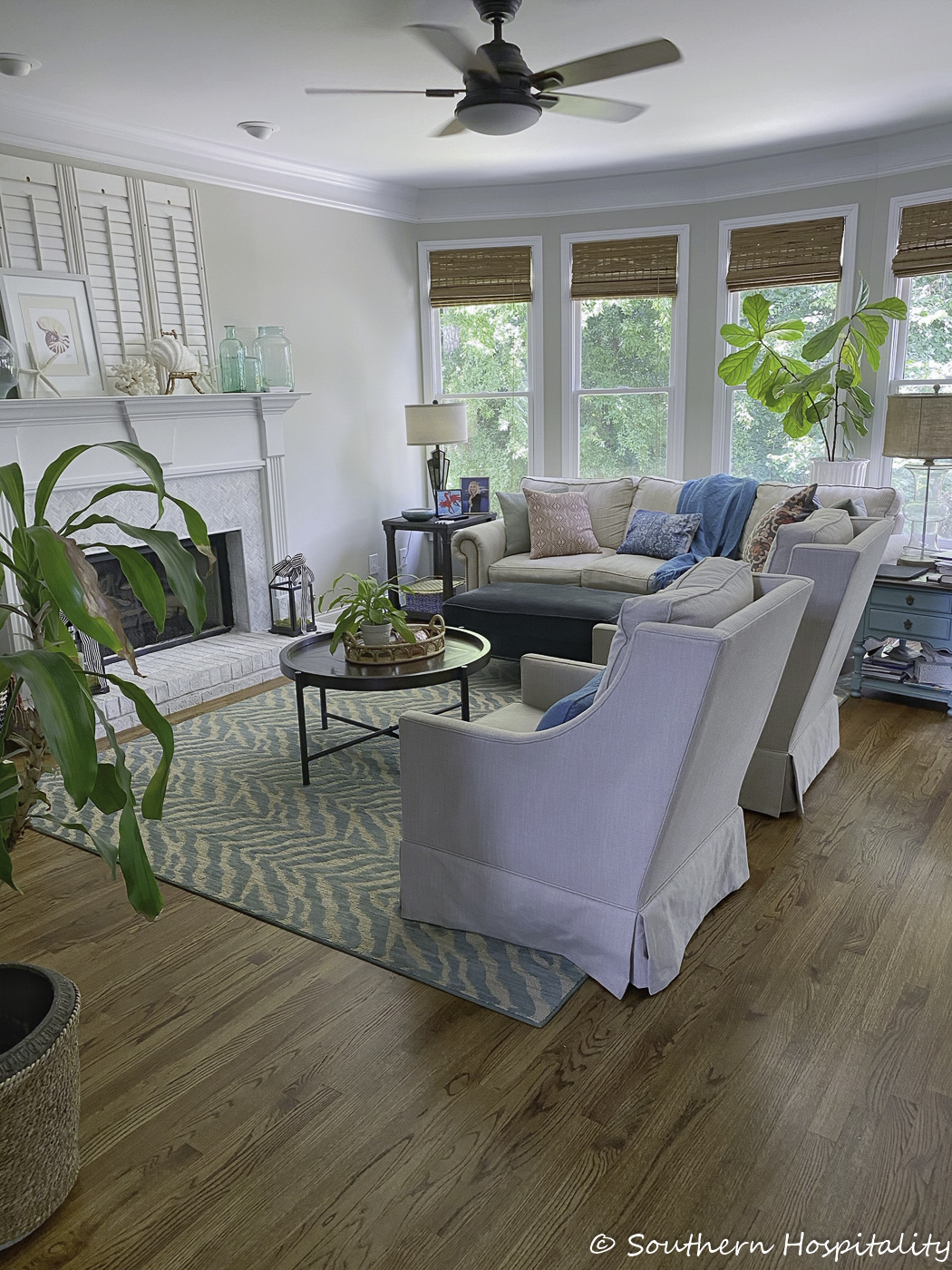 A couple more shots of the family room in late afternoon.
I love all the natural light that comes in here. So, I've been on the hunt for new pillow covers for these 2 pillows. The inserts are down/feather mix and so I measured the old pillow covers and started looking on Etsy for new ones. I wanted just the right fabric. It took me awhile but I finally found the right ones for my space. Pillows are very subjective so the good thing is fabric is plentiful and you can find something that you love too.
I finally stumbled on Schumacher Enchanted Garden and bingo, that was the one. Schumacher fabric is the same brand I have in my living room, Chaing Mai fabric and I have loved it ever since I bought them a few years ago. There is something special about these designer fabrics and Schumacher must be my fave because I keep gravitating to that brand. This one really struck me with the colors, texture and look.
Enchanted Garden is a beautiful fabric, but again designer fabric is not cheap. I paid $134 for both of these pillow covers and that is one side only. the opposite side has a pretty aqua linen fabric on it. The thing with most pillow covers on Etsy that have a floral print, you're going to get a different look on each pillow depending on where she cuts the fabric. That's fine with me and you'll see that here on these pillows as well as the Chaing Mai fabric in the living room.
Isn't it gorgeous? I just love this fabric and the colors are perfect in our family room.
I think these are so pretty and I'll enjoy them for seasons to come. I may not change them for awhile even though they look summery. I would have to search to find something I like for Fall/Winter months.
I'm completely in love with this fabric and it really flows with the other pillows I already have.
I wanted to share with you in case you are looking for pillow covers too.
I ordered these from Flying Tack on Etsy and she did a fast and great job on these covers. There's a hidden zipper on the bottom. I simply removed the old pillow covers and stuffed the insert in the new ones. Love at first sight!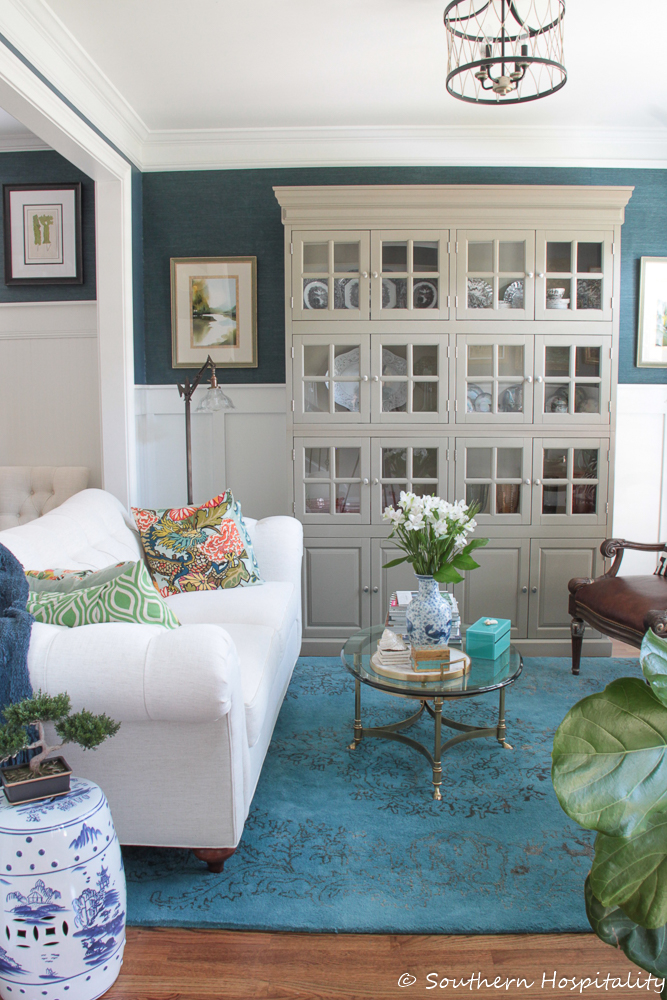 Here's a look again at the Schumacher Chaing Mai dragon pillows in the living room. I love this pattern and still love them almost 5 years later.
Here's another shot and I do change out the navy and green/white pillows occasionally and rotate them.
I love the Chaing Mai with this Peacock fabric too.
Here's a look at some of my favorite pillow covers on Etsy, you can click on all the pics to shop and see what they offer. Many sellers on Etsy offer different sizes and many of them will change and customize sizes if you ask. I have so enjoyed shopping for pillow covers over the years and Etsy is by far the best source for pretty designer fabrics. And there are plenty of fabrics on there too that are affordable and not all are designer, so just search colors until you find what you are looking for in your price range.

Don't Miss a Post, join my list!