I didn't join an official blog hop home tour for summer this year, but thought you'd enjoy seeing what I've done around our house for the summer season. It's really been one of the BEST Springs we have had in recent memory and our temps have been so pleasant and comfortable. Such a difference from years past and we are loving it. Today I'm sharing how I decorated with our summer blue hydrangeas inside the house. Get ready for lots of beautiful blooms!
The hydrangeas in our backyard exploded this year and look so pretty with the blue/purple blooms that I couldn't resist cutting many of them and bringing them inside to enjoy for a few days. We sure are enjoying our backyard this year and we're sitting on that porch every day.
Last summer they didn't bloom so well so I'm very happy to see them back in action.
They are such a gorgeous shade of blue with purple accents.
I guess our Georgia soil makes them blue.
I got out my clippers and clipped a lot of stems to bring in the house. I know they won't last for too long, but they sure look pretty for now.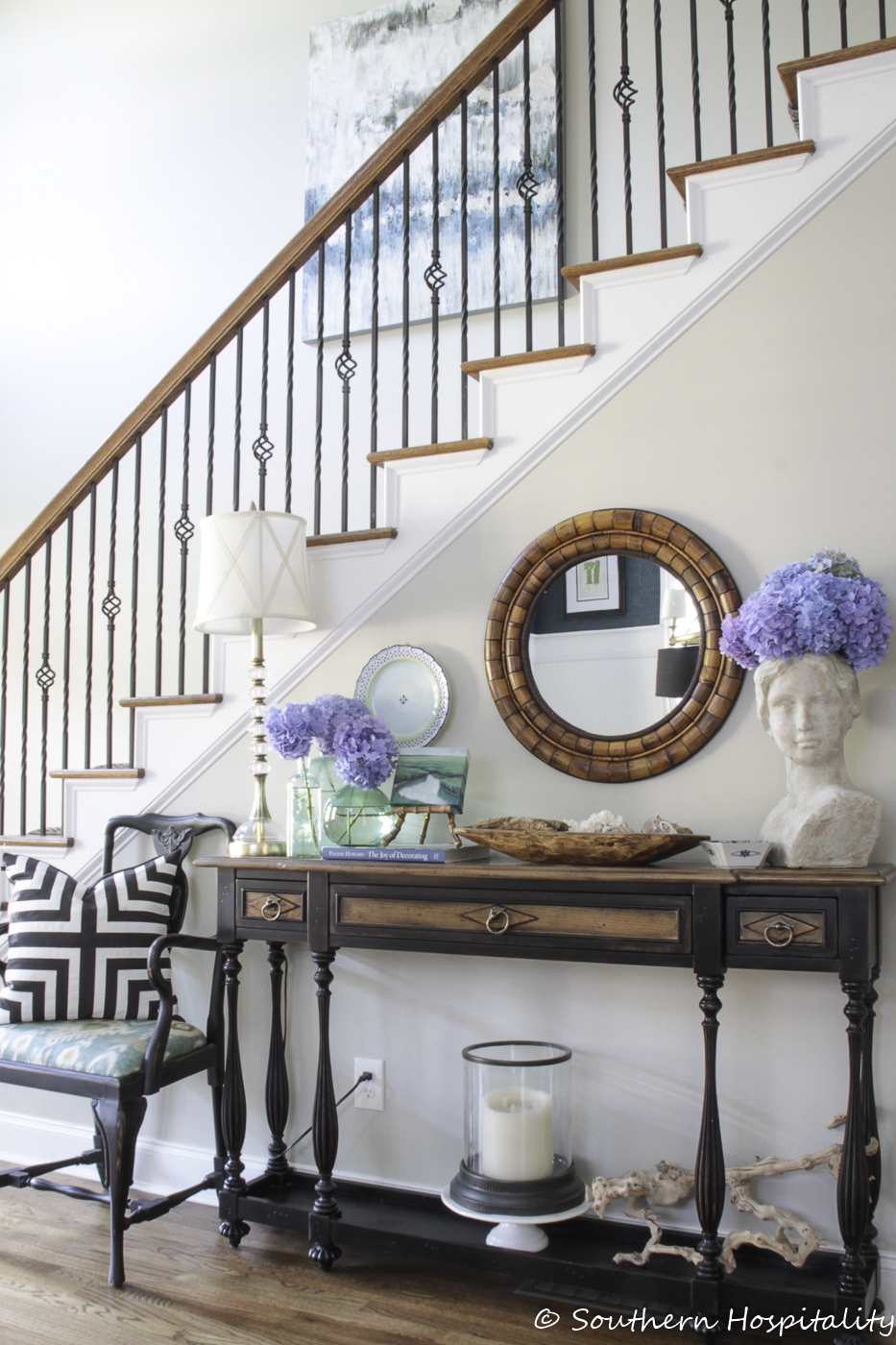 The foyer table got decked out with some of my summer accessories. I got something new this year. Do you spot her?
That pretty lady head bust (Evelyn Bust) (not an affiliate link, but for your convenience) is from Ballard Designs. I had my eye on one of these for the longest so finally just ordered her.
I love adding touches of blues and greens for summer on this neutral table and the lady head fits right in with her flower hat. I'll add a real plant after these hydrangeas are spent. I added a tall clear cylinder vase with water to hold the hydrangeas.
I don't buy a lot of new stuff but tend to recycle my favorite things. I still like color even though most people decorate tables with all neutrals now. Color still makes me very happy!
I really love her at lot and will find a plant to put in there when the hydrangeas are gone.
I've got loads of sea shells in my collection, so they come out every year too.
I love when the sun comes in the front door and window lighting up this area in the morning.
Shop my Living Room/Foyer: (affiliate links used below) 
In the dining room, I just set the table with my blue and white toile vintage china and added fresh hydrangeas to a big vase.
That's about all that's needed.
I thought this green and white runner I've had for a long time would add a fun pop of green.
Shop my Dining Room:
Moving on to the family room fireplace, I added more of my green glass bottles that I've collected for a few years. Perfect for these blue hydrangeas.
I think these shutters might stay here permanently. I love them as a backdrop.
These colors are so pretty together!
And the seashells are a fun addition for summer.
Seashell art and real shells displayed.
And that's it for my summer home tour this year. I hope you enjoyed the explosion of blue hydrangeas we have this month. It sure is fun to watch them come out and bloom and I've got some white ones right behind these that should be in bloom for July.
I'll be sure and share updates on the garden and how things are growing out there this summer! I definitely have a lot of hydrangeas now and that's fine with me.
Here's to summer! I hope you're able to enjoy it some even though travel is slowed down for most of us. We have a couple of summer trips planned not too far away, but I'll be sure and share those too.
Don't Miss a Post, join my list!