If you've been reading my blog for long, you know that I dearly love to shop secondhand for vintage and older pieces of furniture.  There has been a huge surge in that market in the last 10 years, but I have been shopping that way for much longer than that.  When I first set up house and started shopping for furniture, I had heard about antiques, but always thought they were way out of my price range.  I didn't think I could afford real antiques.  Well, let me clarify that.  I can't afford the ones we see on Antiques Roadshow…those priceless heirlooms that were centuries old and worth hundreds of thousands of dollars.  Those kinds of antiques were not in my budget then or now.
But, I quickly found out that I could afford vintage pieces, those mass produced pieces of furniture from the 1930's, 40's and 50's that were plentiful and showing up in antiques stores and thrift stores all over the country.  Solid wood furniture never goes out of style and that's what I've built the bones of my home with.  Good, solid pieces of furniture that have served me well for years.
I can remember hunting down and bringing home every single one of these and the thrill of the hunt was part of the appeal.  Finding a bargain is still in my blood and one of these days, I'll be able to shop again,I hope.  Since I moved in my house and it is full now, I have had to give up doing much shopping since I have no more room for furniture.  Just going out to look isn't nearly as much fun as when I was hunting down a special piece for a spot in my house.  Depending on what the future holds, I may end up in another house one day and will probably be shopping again for some key pieces.
I will still buy new sofas and chairs for the most part and I won't say I'll never replace any of my pieces, but I am pretty content with the collection I've put together and don't have a desire to constantly make changes around here.  Mixing old and new is the best way to get that eclectic and unique look in your house, not to mention it's just plain fun to hunt down the bargains.
I thought it would be fun to share some of my favorite pieces with you and how I came to find them. Antiques are considered real antiques when they are 100 years or older and I'm happy to say I have a few of those.
This over 100 year old mirror came from Chattanooga, TN.  I was up there over 20 years ago with friends and found this in a dusty antique shop.  It's the first antique I ever bought and I thought it was the coolest thing ever.  The shop owner told me it came from an old bar/saloon in the area and I can see how that could be.
I love having pieces that are unique and not mass produced and that's what you get when you shop vintage.  This old French 1880's cupboard is like nothing I had ever seen and I found it at Scott Antiques year ago.  It's one of the most expensive pieces I've bought, but if I remember correctly it was $1,200.   Not bad when you consider the cost of new furniture and how much more appealing an older piece is for the long haul. That pretty brass armillary was $25 at a yardsale. I still remember finding it and how I loved it so much. Oh, not to mention those heavy iron sconces, $25 for the pair, found at a yardsale in Birmingham.  The treasures are out there waiting and I want to shop like this again!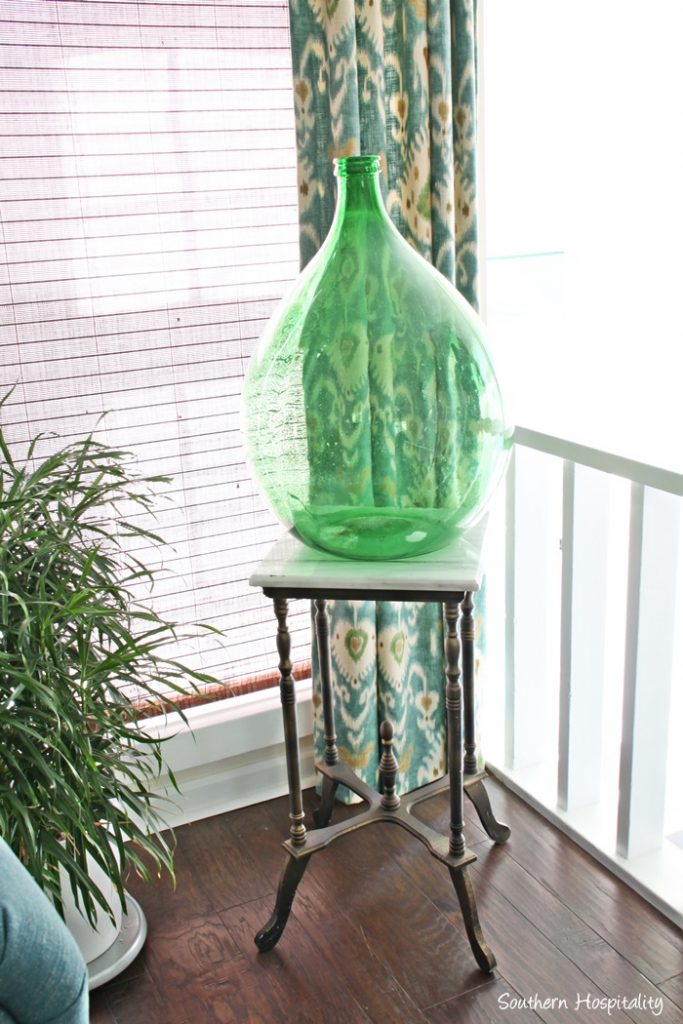 This marble topped plant stand came from an estate sale in the last couple of years.  I thought it was so pretty and had to have it and at $35, it was a great deal.  It actually came from a good friend's dad's estate, so it's extra special to me.
This sold wood Henredon piece came from a yardsale too, at $25.  It was a natural wood when I bought it and it's gone from black to this vibrant green last year.  Pieces like this can go anywhere and be useful in so many areas.
When I was yardsaling for years, I found so many great objects that I brought home and have used for years, like this plant stand. It was rickety and a different color and all I did was paint it aqua and have had a plant on it ever since.  Older things like this have such character.
This piecrust table has been with me for close to 15 years and it came from a yardsale.  I remember seeing the price tag of $75 and almost passed it over, but decided it was worth it.  I'm so glad I did, as it's a classic piece.
Family pieces are hard to come by in our family, since neither side of my family had much to pass down.  I cherish this little mass produced side table from my grandma on my dad's side.  I claimed this one after her death and my dad brought it home. It's not fancy, but it's part of my heritage.
My mahogany buffet in the dining room is another classic piece that I've had for year.  I bought it from an antiques store on the Marietta square years ago when there were many more antiques shops than there are now.  I think I paid $550 for it, a bargain by today's standards for something new of the same quality.  If you try to go out to the furniture stores and buy new pieces that are all wood, you'll definitely spend a fortune on real wood and they won't be made as well as these older pieces are, for the most part.
Before I moved in this house, I spotted this vintage Ethan Allen piece at a thriftstore for $25.  I painted the bottom in an Annie Sloan Duck Egg chalk paint and this solid wood piece works just fine for me in the den.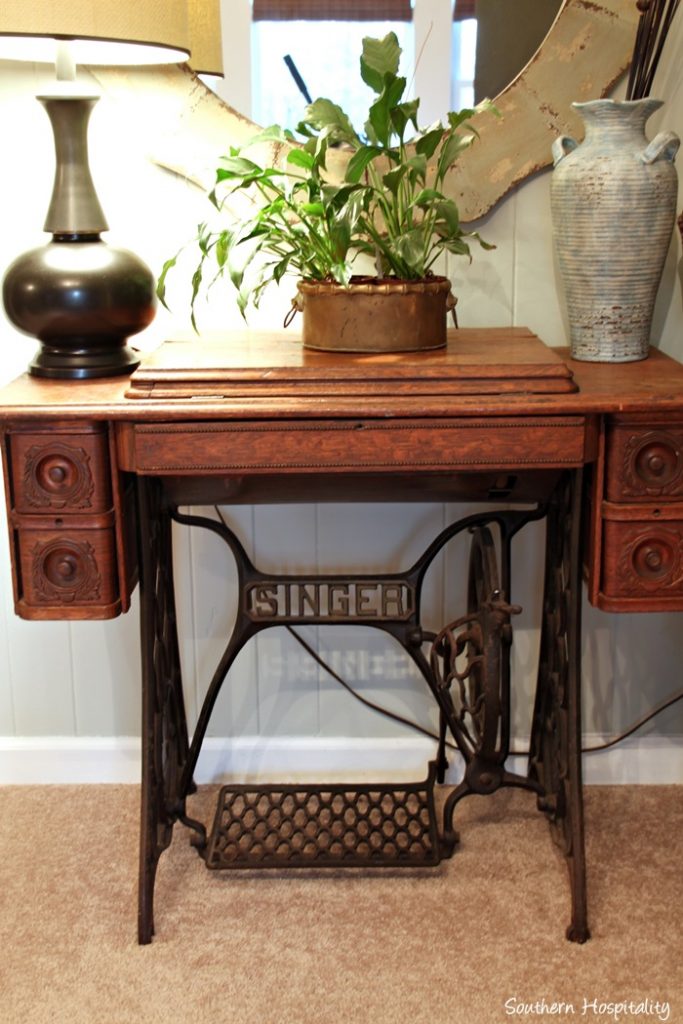 Another vintage piece from my grandma, this old Singer sewing machine is the only other thing passed down to me from my dad.  I'll have to keep it in the family too and Lauren will probably get it eventually.  The sewing machine is still inside and my dad remembers his mama sewing up a storm on this.
This is not a really old piece, but you can pick up so many cute items at antiques shops and thrift stores, which can be repurposed and painted to suit your room.  I think this console piece was from Bombay Company originally and I paid $75 for it at an antiques store.
Not wood, but I couldn't help but remember finding this heavy iron lamp at a yardsale for a mere $3.  I found the square lampshade later on and it's a great lamp for my den.
My bedroom is an eclectic mix of styles and periods and when it came time for me to find a chest of drawers, I hit the antiques stores while still living in Birmingham. I found this vintage Thomasville piece for $400.  You can't go wrong with these older vintage name brand pieces.  It's gotten a little beat up from moving a couple of times and one day I may paint it, who knows.
My vanity and mirror was found years ago as well antiquing and it's been a fun piece to have around as my makeup vanity.
This piece was found in Birmingham too and it was a child's piece of furniture that I repurposed into a TV cabinet with chalk paint.  It's the perfect height for watching TV from bed.
Although I don't buy a lot of used upholstery pieces, this chair was picked up while I was living in Birmingham.  It came from the Salvation Army, the brand is Sherrill and one day, I'll have it properly reupholstered.  The white slip cover has been fine for a long while, but this is a solid chair that has many good years left in it.  I remember it was $99 for the chair and ottoman.  That little side table was a yardsale find for $5.  I love my bargains!
Mixing old and new has always been fun for me and I just can't ever see myself going out and buying a whole new room of anything.  That's not to say that I won't ever be shopping again, but when I do it will still be a mix of new and vintage.  That way of shopping just has the most appeal for me and will always be something I want to incorporate in my house.  A room just sings when it's a mix of collected items and not all brand spanking new!
How about you? Are you mixing old and new? 
Don't Miss a Post, join my list!