We haven't talked about this subject in awhile, so let's dish wallpaper today!
Wallpaper has gotten a bad rap over the years.  Believe me, I get it too.  I have had my share of wallpaper that turned ugly, from green ivy cascading over the walls in my kitchen, to a classical Tuscan look in my bathrooms, with faux finishes and urns.  Ugh!  I thought it was SO pretty back then, but when I look back at it now, it's laughable.  But, that doesn't mean I'm totally turned off to wallpaper.  I do still like it in small doses.
Here are a few wallpapers I saw on BHG that I really loved the look. See what you think and if you might be ready to tackle wallpaper again.  I would use it in a bathroom to really amp it up into something special and cozy.  I love it as an accent wall in a certain room to add pizazz to a space.  I wouldn't use it in large doses, but here and there, yes!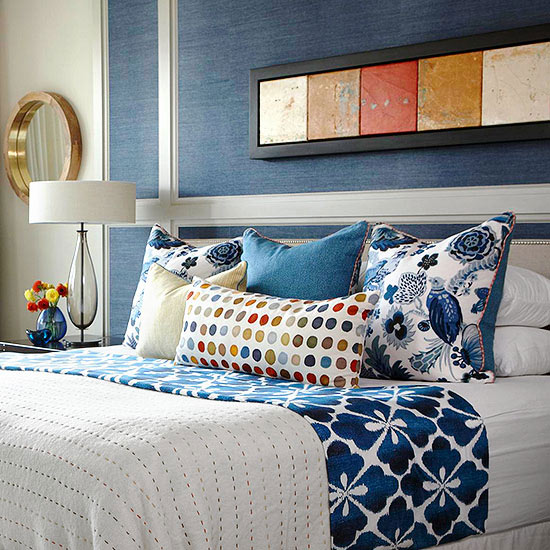 Grasscloth has been around for decades and I still love it. So classic and pretty. I would definitely use grasscloth somewhere.  This deep navy is beautiful.
Here's a grasscloth in green.
And this neutral grasscloth looks very classic in this living room space, at least to my eye.
This bold black and white really adds so much personality to this pretty white bathroom.  I love it!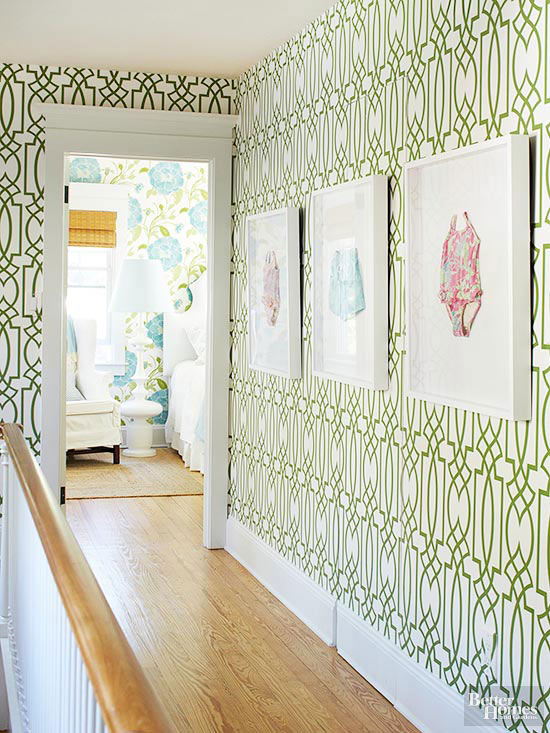 Green and white trellis wallpaper livens up a hallway.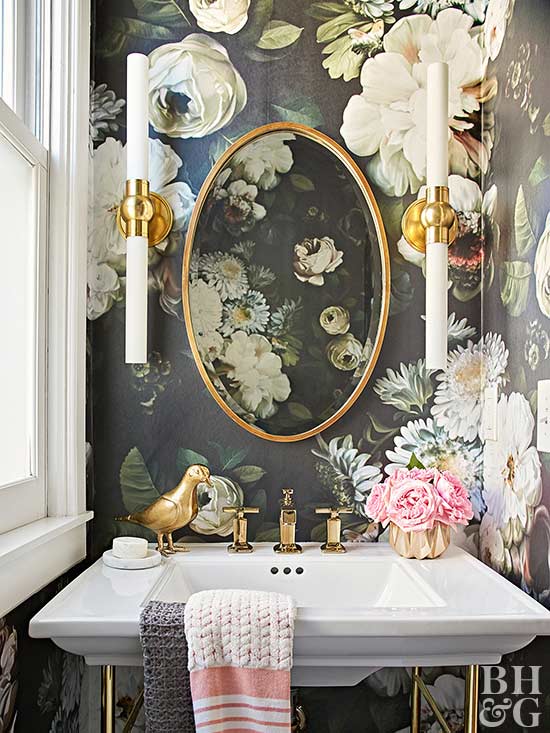 This beautiful classical gray floral is so romantic in this powder room.  I totally love this too!
On the back of a bookcase to add some interest and slight texture.  Love this room too!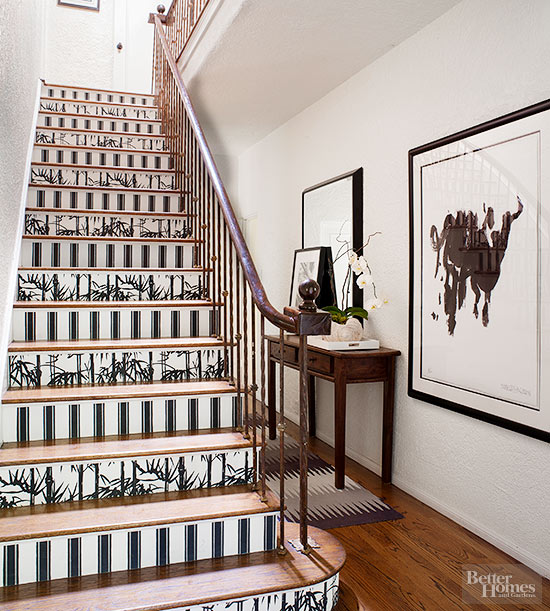 I wouldn't have the nerve to do this, but on the risers of stairs would certainly make a statement.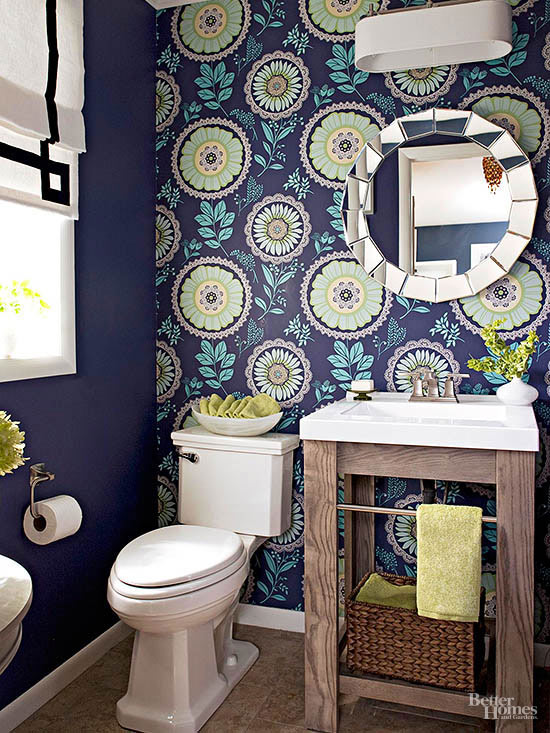 This whimsical floral pattered wallpaper totally makes this powder room space.
A soft and subtle Greek key design is always in style and classic.
(all photos above from BHG.com)
Do you recognize this Schumacher patterned fabric made into wallpaper?  This is the Chang Mai Dragon fabric that so many bloggers (including me!) have decorated with.  I have 2 pillows out of it on my living room sofa.  It looks very vibrant on the walls of this powder room.
(pic via Magnolia Home)
Favorite designer, Joanna Gaines, has created her own line of wallpaper with York and these are standouts.   I saw this black and white toile in person when I visited the bakery at Magnolia Home silos in Waco.  It was so fresh and pretty and made the perfect presentation in the ladies room.
This beautiful black and white buffalo check is also by Joanna and both are currently sold out, so I'd say that wallpaper is definitely making a big comeback.
What do you think? Are you ready to try it again?  Raising my hand! I am, I am!
Here's an update with one of our finished rooms in our new house, the laundry space! I sure love the wallpaper! It makes this little room a happy happy place!
SaveSave
Don't Miss a Post, join my list!