I sometimes wish I had a magic wand and could figure out where home design was going next, but it seems that in the last few years, with blogs becoming so popular and so many styles and room designs out there, it's becoming increasingly difficult to define a particular style.
Do you know your style?
I think I know mine, but even though I'm pretty true to what I love and live with, it's influenced by so many factors and the truth is, we have never been so inundated with pictures and images of room designs, telling us what we should love.  It used to be we only had magazines to determine styles and trends, then along came HGTV and they brought things down to the normal folks and we all got more comfortable with DIYing and trying new things ourselves.
So, now it's just a free for all on style and what works for everyone.  The internet is full of images of beautiful homes and rooms and I think sometimes this muddies up the waters and makes it even harder to find your style and stick with it.
Does that make sense to y'all?
None of us can afford to redecorate our homes over and over again, so usually it comes down to freshening rooms and updating with paint and fabric and I'm no exception to that.
What are all the styles we see now?  There are a lot of decorating quizzes out there that are supposed to help you define your style, but truthfully, most of us are a mix of a few styles.  It's much more fun that way! 
Traditional
Used to be so easy to spot, with classic American/English dark wood furniture and fabrics which are traditional too.  Now Traditional has broken out of the box, which is a good thing.  I still consider my style Traditional, but love to mix in more modern fabrics and accessories too.  Under the Traditional umbrella could be French or English inspired décor, with all of those mixes.
Modern/Contemporary
Definitely not my top style, but a sleek and more minimal look.
Cottage or Farmhouse style
There are so many mixes of this look and style now, with white rooms and minimal color, to very neutral fabrics and textures.  White slipcovered sofas seem to be leading this trend still, while mixing in colors in rugs and pillows.  Coastal cottage seems to fall under this one too and coastal has been hot for a long while now.  Shabby Chic could also fall under this one.
Eclectic
A mix of several styles, bringing in elements of vintage and modern.
I'm not going to attempt to name all the styles out there, but there are plenty to choose from, that is for sure.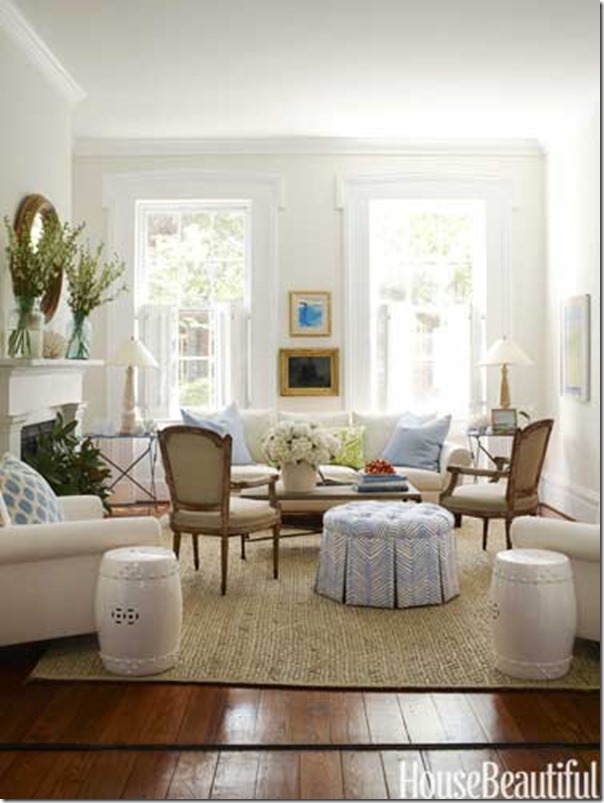 I thought I'd gather a little inspiration around the internet and talk about styles and how things change over the years.  This image above, from House Beautiful, is a beautiful room, with traditional furniture and elements.  A mostly white room, with neutral textured rug and just a little bit of color makes this room a standout to me. Of course, having those beautiful architectural windows doesn't hurt either, does it?  I do love white on white walls and have been happy that I went with a light neutral white on my walls with white trim.  With dark floors it all works for me.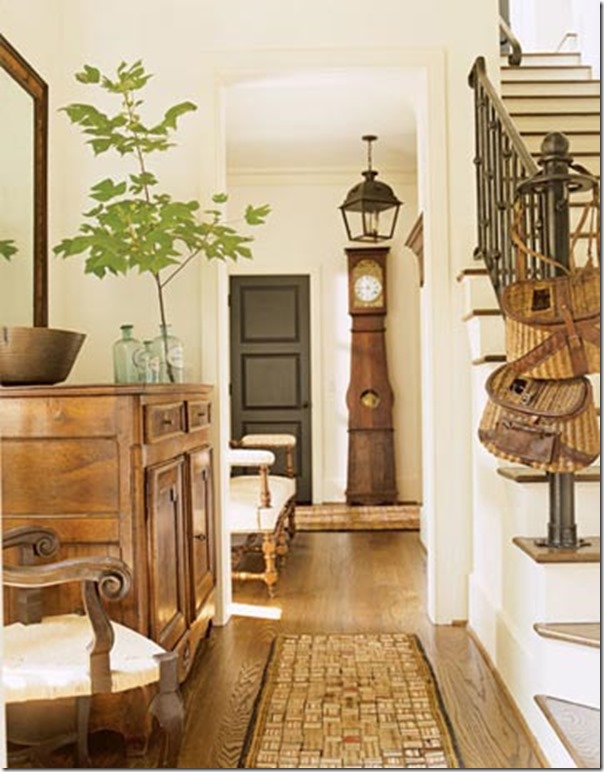 This photo, also from House Beautiful, is one of my favorite pics ever.  There's just something so serene and comfortable about this hallway, with the dark door in the background and light walls and trim.  The lantern is so classic and traditional too, just a lovely room with antique furniture.  I'll never tire of antiques and that real wood patina on older pieces of furniture.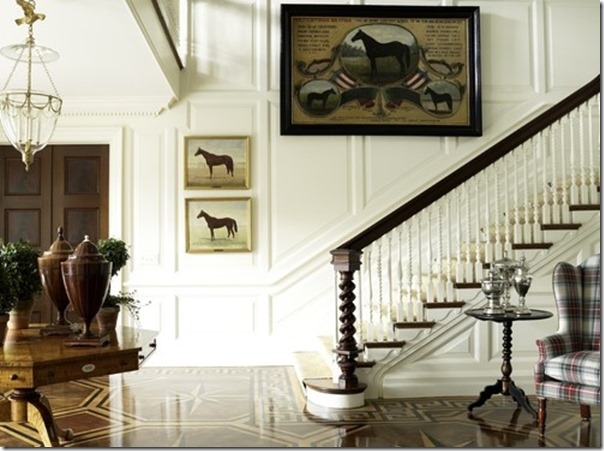 Another beautiful staircase from House Beautiful, with beautiful molding and trimwork, this is certainly a Traditional look, always a winner.

This classic shot from Atlanta Homes and Lifestyles also is casually elegant with Traditional bones.  You can't go wrong with a patterned antique rug  and you can see that little color was used here too.
There is still a huge surge in reclaimed wood and all white rooms (via BHG).  Cottage style and farmhouse style rooms are still very popular and many people loved the casual lived-in feel that these rooms provide.  The all white trend is still going strong in blogland too, with pops of color here and there and lots of painted furniture.
This bedroom from Country Living with lots of white and dark wood is definitely a classic and Traditional look too, along with Cottage style. Country style has now evolved into a more modern farmhouse style, but the look also has a lot of vintage and chippy furniture.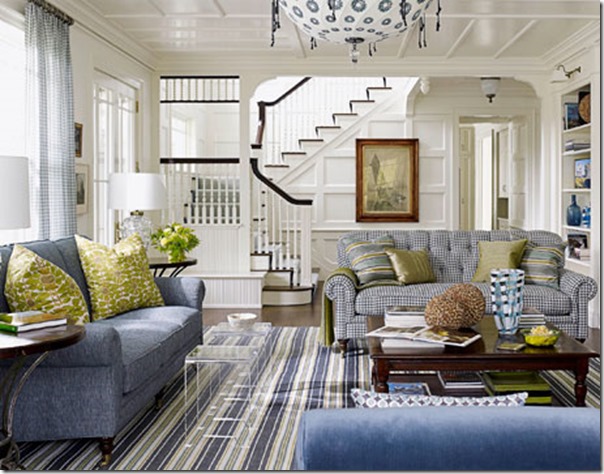 Blue and white color schemes always seems to be popular, as they are just so easy on the eyes, like this room from House Beautiful.
This hallway has a definite Farmhouse feel with white woodwork and walls, dark flooring and casual antique runner.  The eclectic mix of the gallery wall brings in much personality to this room and gives it a collected over time feel.  I love the feeling of these type rooms.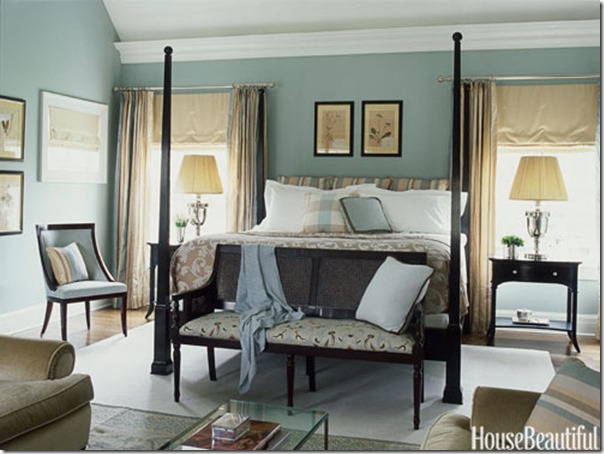 A pretty bedroom from House Beautiful shows a pretty soft green/blue on the walls, dark furniture, soft patterns on the fabrics, creating a very calm and serene bedroom.  This is definitely on the Traditional side of decorating.
An all white kitchen in House Beautiful is not boring at all.  Those harp-back chairs are certainly Traditional in style, although the whole feel to this kitchen isn't stuffy but very crisp.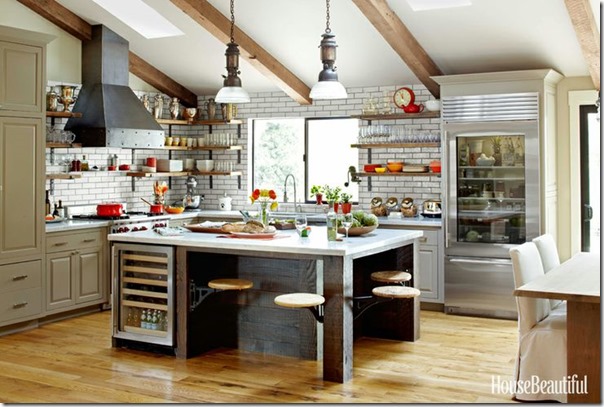 The Industrial revolution is still going strong in home décor too with so many industrial elements and reclaimed wood being used all over the place.  I love it too, just wondering how long this trend will last? I don't think it will continue being as popular as it is now, that's just my gut feeling.
(via House Beautiful)
Iron, wood, vintage, modern fabrics, white walls, colored walls, it seems everything goes these days.
So, how do you go about finding your own personal style in this conglomeration of trends nowadays?  I don't have all the answers at all and am right there with you  I wish I had a magic formula to tell you all how to find your style and stick with it, but it's sometimes an elusive thing.  It takes years of honing your eye and trying to see the things that will truly stand the test of time.
For me, I still try to stick to my Traditional roots. With many of the pics shown above, the classic look of Traditional furniture frames will never go out of style.  Changing out paint colors and fabrics is the easiest and most cost effective way to freshen up a room in a hurry.  Very rarely do any of us get to completely start over in a room. Don't we always have a sofa, chairs, side tables to deal with when we want to do a room design?  So, by breaking down pics that we see and love, we can bring in some elements that are updated and fresh without completely starting over.
Have you figured out what your style is and do you stick with it? 
My likes have changed over the years, but I'm really striving to find a classic and timeless look that I don't feel the need to change with all the trends every few years.  It's hard NOT to fall for a few trends, but there are some I know will not stand the test of time like some of the classic photos above will do. We all have to figure out what WE love and want to live with and finding inspiration pictures always seems to work for me.
What are some things you are tired of seeing in decorating? Go ahead and tell me and I'll share a few of mine.  Even though I have a little bit of chevron in my house, it seems to have been way overdone and I think it will be on the way out soon, along with all those antlers and animal heads that have been so popular the last couple of years.
I also have to wonder how long the reclaimed wood and the everything vintage trend will last?
Is it a classic or not?  Time will tell!
Don't Miss a Post, join my list!