If you've been browsing blogland long, you have probably run across this idea already.  There are some wonderful projects out there of built in Billy bookcase ideas, taking Billy bookcases from Ikea and creating a built-in bookcase look, using moldings and trims.  I've seen so many great examples and I'm about to undertake this project at my house, in the den.  I think this will be the perfect thing to add in the corner of my den for a library feel, a place to store my books and totally make it pretty with accessories too.  This is a project that my dad and I can handle and I can't wait to get started.  We are hoping to get this done before spring draws us outside for more exterior projects.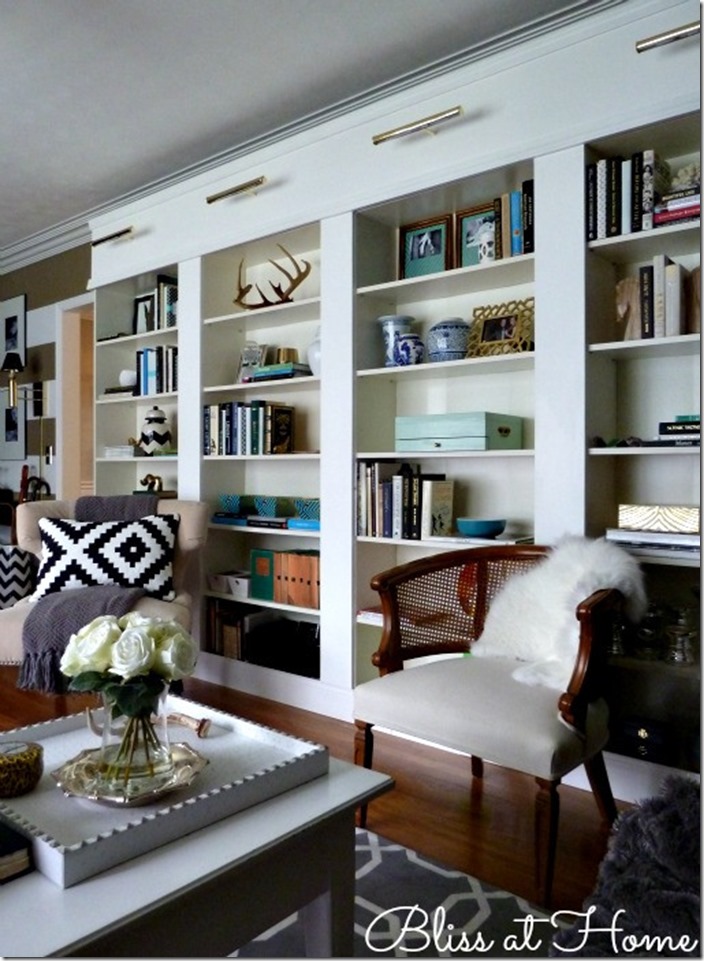 Kristin, at Bliss at Home did this beautiful wall of Billy bookcases, with her hubby putting it all together.  They added lighting above for a really custom look.  Love, love this one!
My friend, Beth, from Home Stories A to Z did this beautiful wall of bookcases on top of her historic brick wall in her city townhouse and I love the brick as a backdrop.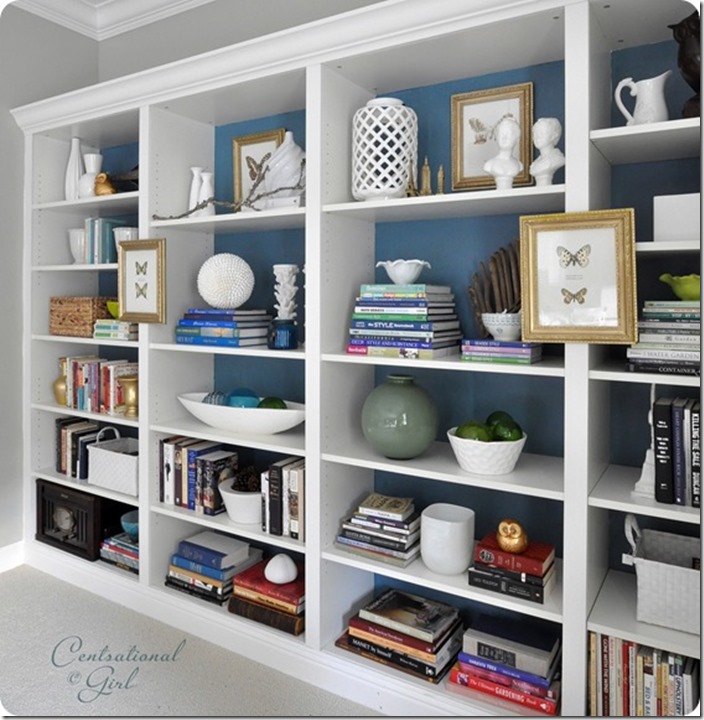 Another blog friend, Kate from Centsational Girl did this beautiful Billy bookcase wall in her guesthouse. I love how personalized they all are with different backgrounds and styling.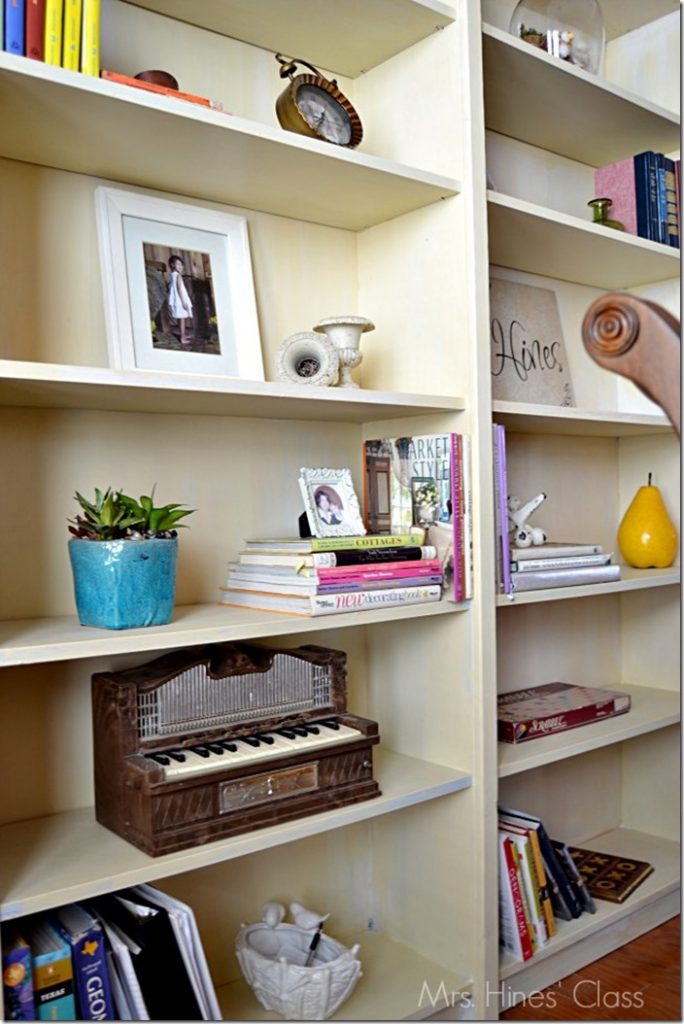 Sharon with Mrs. Hines Class did a double Billy bookshelf wall and custom painted it to get the color she wanted.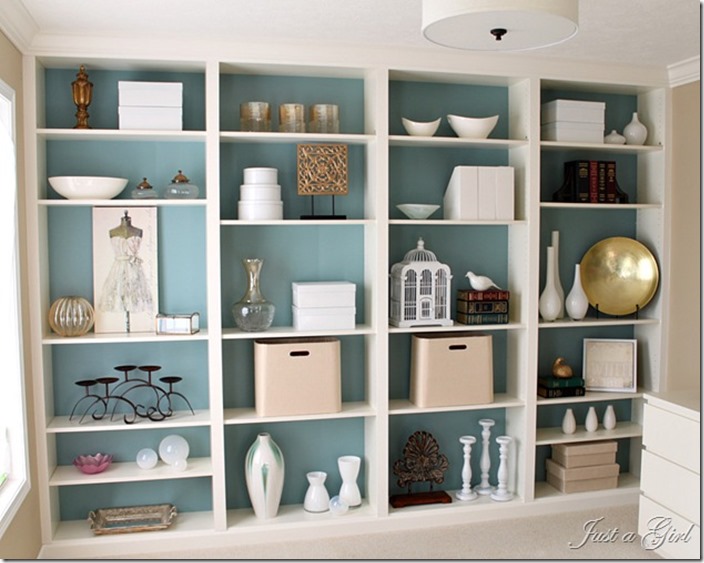 Another blog friend, Chris with Just A Girl, did this beautiful wall of Billy bookcases in her house and I love the background color and styling.  I'm still pondering over what color to use behind mine.
Jenny with Little Green Notebook added built-in Billys on either side of her living room and used glossy black trim to trim it out.  Adds a modern feel to it.
This blog couple from Newlywed McGees also did built in Billys, but more of a free standing look. Adding the crown molding and additional molding makes a world of difference in these plain white bookcases.
Songbird did a couple of built-in Billys in her guestroom, using the top extenders and crown molding to the ceiling.
And don't forget the house that Layla and Kevin made over a couple years ago, with Billy bookcases on either side of French doors. That made such a huge difference in that room!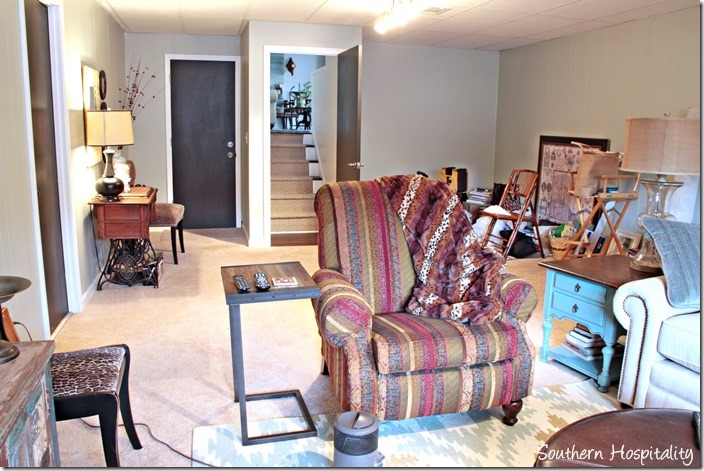 So, here's the plan in my den.  I've got the perfect spot for some built-in Billys and we are going to start that project soon.  I'll give you an update in the den, although it really hasn't changed any lately, except my messy corner continues to get messier.  I do plan to recover the striped fabric on this Lazboy recliner that I've had for a few years. I'd like to lighten it up to something not quite so bold, so I'm working on that too. Another project that I'll be sharing down the line.
My new Lazboy sofa is finally in place, arrived in January and what a beauty it is. This is the Poet sofa and I know I'm really going to enjoy it. The fabric is nice and neutral and it has a subtle herringbone pattern on it.
Den seating area.  This room really is huge and I'm trying to make it as cozy as possible and adding the built-ins to the space will be nice and functional too. This is a great place to watch TV and we do that often.
Here's my problem corner.  I have never gotten all the junk cleaned out from here since I moved in, so it continues to pile up and be cluttered. Once I get the built-ins in place, I can start to sort through all of this and find a place for it.  Some of it is tools that need to go in the garage and the garage is another spot I want to work on, getting it prettier and organized. One day!
You can see from this view that this will be the perfect spot for some built-ins, so I'll be heading to Ikea soon and picking up what I need for this project and dad and I will get to working on it.  I can't wait to mark this one off my list too.
Do you have a spot for Billy built-ins?  I just love all of the above projects using the Billys from Ikea and how great they all look. It's a really cost effective way to get a more custom look to off the shelf bookcases from Ikea.
The giveaway winners for NatureBox snacks have been posted and emailed!
Don't Miss a Post, join my list!