Hey there friends!
I've had a lot going on around here and one of the fun things I've been involved in over the last couple of weeks was a fun adventure with At Home stores and my friends, Whitney and Ashley, with Shanty 2 Chic.  I've known these girls for at least 9 years or so and we all go way back in the early blogging days, when we were all doing our thing and growing our blogs. Well, they have exploded in growing their blog and brand and they now have a line of furniture launching with At Home, farmhouse inspired and all wood.
These talented sisters have been making their own furniture for years, sharing plans and ideas on their blog, Shanty 2 Chic and inspiring other women along the way. I'm so happy to see their success and watch how blogging has changed so many lives, including my own.
As part of this big campaign announcing the new Shanty2Chic furniture line, I was invited to come to my local Kennesaw At Home store and participate in a friendly competition with another Atlanta blogger, Cynthia with Darling Down South. I didn't know Cynthia before this, but she is a darling young gal who lives in mid-town.  We could not be any different in style and we're at completely different stages and ages of life, but it was a fun time doing this compeition in the At Home store.
We had a few pieces of Shanty2Chic furniture in our mock living rooms and then we had full reign of the store, running all over the store choosing things for our spaces to completely finish them off, from furniture, rugs, lighting and accessories.  It was a blast!  We got to bring someone with us to help, so I recruited my sister, Renee, since she loves decorating too and has a good eye for finishing off a space.  We worked for about 2 hours on our spaces and finished up just in time.
It was fun to see this sign up at the store announcing our spaces.
We both started with an elevated room staging area and I picked the teal backdrop, since I knew I could use that color in my room design.
They had a photographer at the store taking some in progres shots.
Having all this at my fingertips to decorate with was really fun!
I found a gorgeous teal rug and white sofa to start the room design, along with Shanty 2 Chic's coffee table, bookcase and that pretty white console table on the far right. Once we had the rug and furniture chosen from around the store, it was time to add in the final layering pieces.  I loved choosing a bold piece of artwork.
Adding the finishing touches to my space.
I decided on an accent color of blush pink, which looks so luscious with the teal colors and it was so fun pulling this room together.
That velvet blush bench was a great accent, as well as the throw and all the accessory pieces. I loved the pops of pillow colors on the sofa too.
We had so much fun doing this challenge and we were both very proud of our spaces. At Home really does have some great pieces in the store to decorate with, from furniture, rugs, accessories and a huge selection of outdoor patio pieces.  If you haven't shopped at an At Home store recently, I'd encourge you to get in there and take a look around.
The Shanty 2 Chic pieces are very affordable and all wood, such a bonus.  They are textured and would add so much interest to a space.
They have so many throw pillows in an array of colors for any room in your house.
We went around the store looking for the final finishing touches of accessories and found plenty to choose from to add to the bookcase.
Lamps, rugs and accessories add the final touches to any room and this space was no exception.
I was very proud of my finished space and had fun seeing it all come together.  A few of my readers showed up too and it was great to get to chat with them.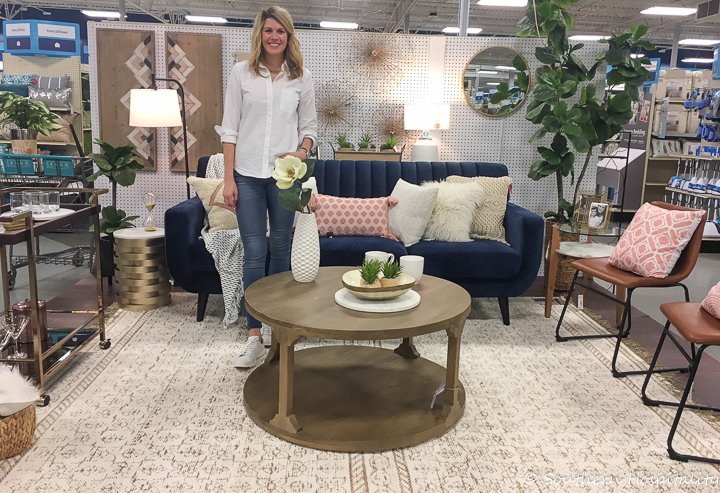 Cynthia did a great job on her space too, using the same coffee table and console table behind her sofa.  Her style is more boho and eclectic and it really looked nice as well.
Here are a few Shanty 2 Chic things that you can find in your local At Home store.  This industrial bookcase on wheels is very farmhouse style.
This pretty wooded cabinet with glass front doors is so pretty with the X detail.
And this serving piece is nicely textured, perfect as a bar cart or serving rolling side table.
It was a very fun experience in my local At Home store figuring out my room space and putting it all together using Shanty 2 Chic furniture and pulling pieces from all across the store.  I'm getting ready to add some new outdoor pieces to our open deck and I'll be using some cushions and pillows from At Home to pull my space together.
Again, if you haven't visited an At Home store lately, you will be so pleasantly surprised at all they have to offer!
This post is sponsored by At Home.  
Don't Miss a Post, join my list!