Today, I'm sharing another project that was completed at Andrea's house in the sunroom.  Namely, painting that Queen Anne desk and chair that was in the room.  She has oodles of Queen Anne, as I've mentioned before.  Many of you agree that this mass produced older furniture looks great updated and some of you are purists that would never paint Queen Anne.  I'm NOT a purist, so I say paint away if furniture is no longer to your liking and painting it will make you love it again.
Andrea now loves her desk more than ever and changing out the fabric on the seat was another great update!  I know you all enjoyed seeing the sunroom makeover last week, it sure was fun to see that room come to life as I knew it could.
Here's the desk before against the brick wall.  It's all wood, but needed an update.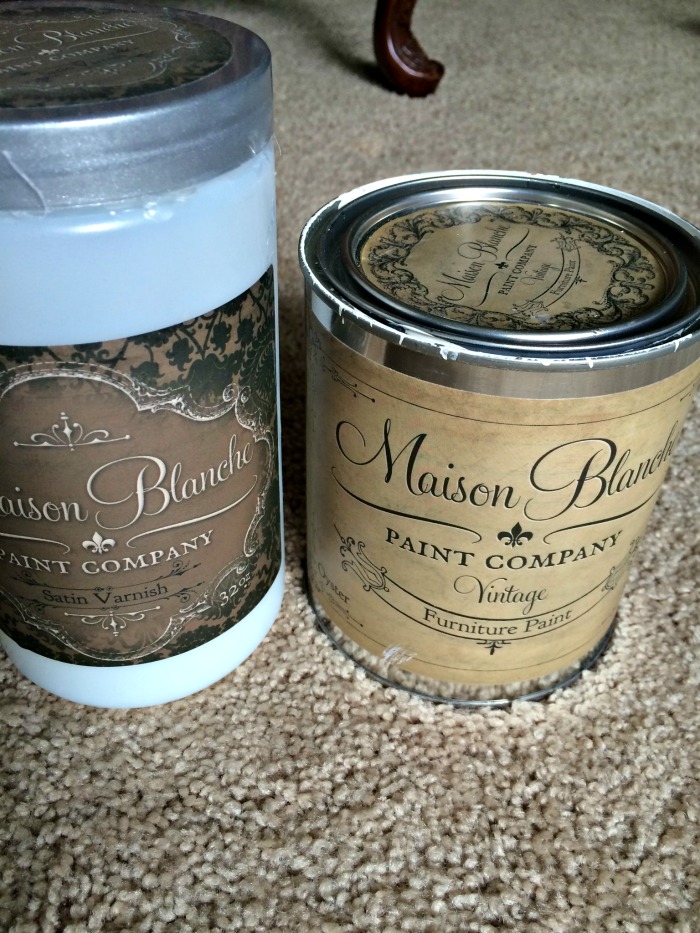 I've been working with Maison Blanche paints and they have some lovely colors to choose from, so we used Oyster, a pretty creamy white.  I do love the Satin varnish they offer too, really protects the paint after use. I would much rather use varnish on my projects than the heavily distressed look with wax.  Maison Blanche is a chalky paint and very easy to work with.  Chalk paints do need something on top to protect the finish and so they don't feel chalky, so I prefer the Satin varnish, which gives it a little sheen.
You don't have to sand when you use chalk paints, so that is a big advantage.  David painted this desk, so I wasn't there to see it being painted, but we used the same method as the console table I shared with you.  Rollers and paintbrushes were used.  This won't be a perfectly smooth finish, but it looks good when completed and is a great way to update old pieces.  I'm a big believer in paint!
And here's the desk in place, as I showed the sunroom makeover last week.  Looks really good in here now.
Adding a pretty new fabric to the chair seat was simple and easy.  If you've never recovered a chair seat before, I did a tutorial on that years ago.  It's as simple as cutting the fabric and using a staple gun, pulling the fabric taut.  You can see this pic was before we went shopping for new lamps. We will reuse that pineapple lamp somewhere else.
Changing fabrics totally changes the look of the chair as well.
Close up of the desk.  Oops, I see a little touchup is needed under the lip of the desk.
Andrea had a little stool for this space that she recovered and added some fringe trim. I think we are going to paint the legs of the chairs and this stool in the same Oyster white.
And that's a look at how the desk and chair were updated for Andrea's sunroom space.  It looks so good out there an they told me they are spending way more time in this space now. I can imagine it would be such a good place to read a book and enjoy a cup of coffee in the morning with all that light streaming in.
Got some old pieces you'd like to refresh?  Give paint a try!
Note:  This post sponsored by Maison Blanche paint, all opinions my own. 
Don't Miss a Post, join my list!