This post is a very fun one to share and I can't wait to show you some exciting things happening in my dining room!
Let me start by telling you the story of how my dining room came to be.  When I was living in Birmingham, I bought a new dining room table for the smallish dining room that was in the house, my first dining room ever.  I didn't have a dedicated dining room at my first house, so the Birmingham house was fun to decorate with my very first ever dining room furniture.  With the small size of that space, I knew I wanted a round table, so I started shopping around town and found a beautiful round solid wood dining table made by Richardson Brothers at a local store there.  The table was marked down to $400 and it was being discontinued. I knew that was a great price for that table!  It was the perfect table for me and the perfect complement to my vintage sideboard that I've had for many years.
For those of you who have been following me for almost 10 years now, here's a throwback to that Birmingham dining room, which I totally loved at the time!  I originally painted it red, then went to Antique White and loved it even better.
I loved the classic Empire base of this table and couldn't wait to find chairs to go with it.  This was all pre-blogging, in fact the summer before I started this blog, in 2006.  I knew that I wanted comfortable dining room chairs, but really didn't know where to start.  I did some research online (I was already very comfortable with internet browsing at this point) and had read some very good things about a company I found online called Carrington Court, and this post is sponsored by them.  I ordered swatches from them back then and they had a lot of different styles of chairs to choose from, in the Parsons chair style.  You could choose from skirted, non-skirted, long skirt, short skirt and lots of different chair back styles too.  I knew the company was in NC, so figured they knew what they were doing in building chairs and building custom order pieces.  It was a big deal to me on how I would spend my money on new chairs for the dining room and I wanted to get it right.
I ordered fabric swatches and narrowed it down to a few that stood out.  At the time, gold was still very prominent in decorating and so many of us were using gold as the neutral.  So, I chose a pretty gold chenille with black flecks, a very cozy fabric that I thought would look great in chairs for my table.  I also chose a camelback for the chair back and a short skirt for the chairs. I thought that flirty skirt was kind of cute!  With Carrington Court, you can choose all of these things to your exact specifications, including wood leg finish and nailheads or no nailheads.  I took this order process seriously and knew that this would be a big decision for my dining room.
I wanted to get it right and I'm happy to say I was completely 100% happy with my chairs.  I remember when they were delivered on a big truck in individual boxes, 6 in all.  It was a super exciting day to unpack those gorgeous chairs and put them around my table!  At last, I had a pretty dining room!  Fast forward to my current house and the dining table and chairs were completely at home in my new house too.  In fact, I love this dining room even more than the other one.
Cue the choir! 
Somehow during the last year or so, Carrington Court found my blog online and reached out to me.  They were starting to branch out on the internet and look at bloggers. They saw that I had mentioned their chairs before and started a conversation with me about my chairs and how much I enjoyed them.  Even though I loved my chairs, I would probably choose different fabric if I was buying them today.
We talked about possibly slip covering my chairs for a fresh new fabric look, but realized that slip covering these chairs wouldn't work. It would completely change the look of the chairs, so we came to a conclusion that after 10 years, it would be such a fun decorating move to replace my chairs with a new style from Carrington Court.  I was all over that, as you can imagine!  I began to browse the styles and fabrics, with lots new in the last 10 years.  I ordered more fabric samples and quickly narrowed it down to a beautiful chair called Fenwick and a creamy linen, called Angela Linen.  I chose Brown Cherry leg finish and French Natural nailheads, a pretty burnished brass.  I'll share more about the ordering process and how Carrington Court makes their furniture in another post, but I want you to know this is a Made in the USA company and all of their chairs are built one by one, with nail heads applied by hand.  That's pretty amazing for this day and time!
Today, I'm just going to share the new beautiful chairs with you that I received from Carrington Court.  I love that I discovered them 10 years ago and now get to work with them as a blogger, sort of a Brand Ambassador for them.  I have always made it known that I love my chairs, now I get to shout it even louder!  For now, let's just enjoy how beautiful my new chairs look in the dining room!   I'm completely in love with them and they really brighten up my dining space SO much.
The lines are clean and modern and these chairs are super comfortable.  My others were too and that's something to note about fully upholstered dining room chairs.  These are made to sit and linger awhile with friends and good conversation.
In case you are wondering what I did with my old chairs?  They were still in perfect condition, so I sold them to my dear friend Debbie's, daughter Lauren, who had just moved into a townhouse and was about to start shopping for chairs.  I told Debbie, I have the perfect chairs for Lauren.  It was a done deal!  I'm going to do a post soon and show her new place with the chairs in their new home. I was SO happy to be able to pass those along to a good home. She got great chairs for a really good price and she is thrilled with the chairs.  I was told by Carrington Court that their chairs are considered heirlooms, that's how well made they are.  Recover them and keep on going!
I so love the nailhead trim on these chairs and the burnished brass picks up the hardware on my vintage sideboard.
I'm a Traditional girl at heart, which you all know by now.  My Empire dining table is classic and traditional and I still love it.  These chairs with their clean and modern lines and tufted back are a perfect complement to the table.
Amazing what the creamy white fabric does to brighten up this space.
I had 6 chairs with my other chairs and ordered 6 of these.  It's nice to have 2 extra to pull up to the table when I do have company.
A closer look at the tufting.  Beautiful workmanship on these chairs.
Again, the nailhead are applied by hand, one by one.  I'm going to share more of that process later.
For now, I just want to show off the room from every angle!
Seagrass rug (affiliate link)
I love this dining room, can you tell?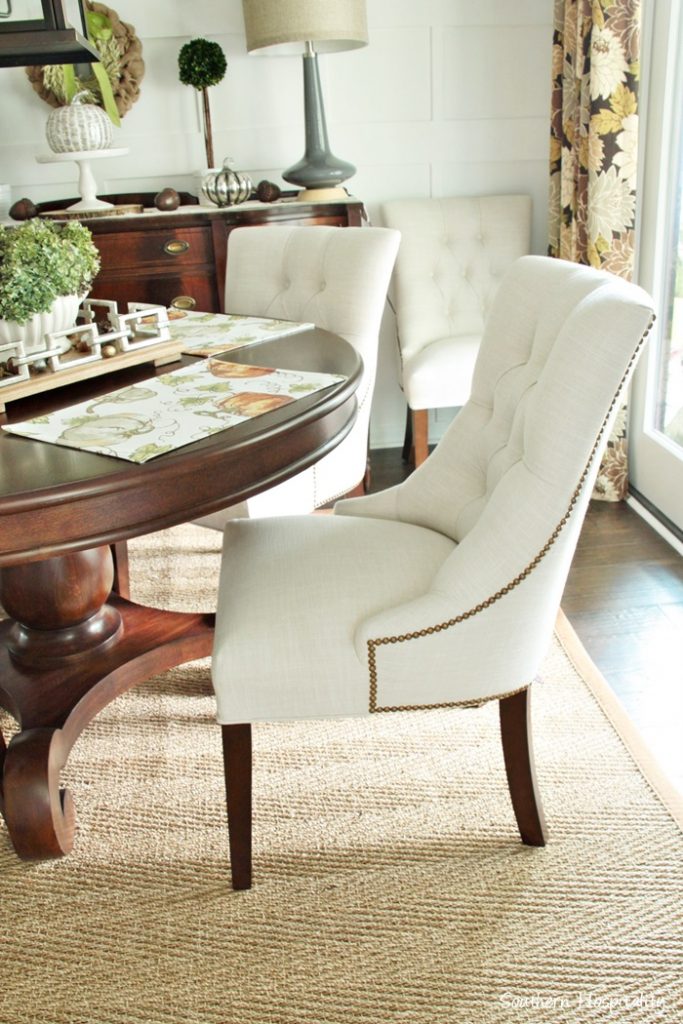 It's been so nice to have a dining room and have a table that I cherish.  These chairs will be chairs that will stay with me forever.  They also had Scotchguard applied to keep them free of stains.  Since I don't have little ones around my house, they should be fine, although I was little nervous about creamy linen.  You may be seeing lots more of my dining room now, since it is one of my favorite spots in the house.
I'm so happy to share a company I really, really believe in and since I found them 10 years ago pre-blogging, that is a big testament to who they are as a company.  I knew I was totally happy with my purchase then and now that I'm working with them as a sponsor, I'm thrilled to share them with you too.  If you are looking for upholstered chairs like this for a dining space, I don't think you can go wrong with Carrington Court.  The workmanship is truly amazing and I love that there are so many fabrics to choose from, as well as wood finish, style of chair, and nailheads.  All of that combined makes a beautiful chair and dining room.  I love that they are made in the USA and these are heavy substantial chairs.  Not flimsy at all!  These chairs will last a lifetime, of that I'm sure.  Their price points are very good, in my opinion.  These particular chairs I got are one of the more expensive frames, but they have a lot of frames that are much less than this.  I hope you'll check them out for yourself and see what they have to offer!
Links to products in my room:
Seagrass rug (affiliate link)
Note:  This post was sponsored by Carrington Court.  They supplied my new chairs and let me design them any way I wanted.  I wasn't told what or how to share, they left that completely up to me, but I'm in love with my chairs and Carrington Court. 
Don't Miss a Post, join my list!