This post is sponsored by eSale rugs. All opinions are my own. 
Sometimes we just want a change, don't we? I've had the same seagrass rug in my dining room for at least 7 years. This seagrass was in my old house and I had another one in my previous dining room, which means seagrass has been with me for many years. And that means, I was getting a little antsy for a change in there. Don't get me wrong. I still love seagrass and natural textured rugs a lot and they definitely have a great look to them and fit in so many spaces. I will definitely keep the seagrass rug and may be able to use it somewhere else, it's still in great shape.
The thing about our dining room and my previous dining room in my old house is the fact that it's a smallish dining room. Both of them were very similar in size and my round table and chairs fit in there really nicely. So if you have a small dining room, you might want to take note of this. One thing I noticed over the years is that a square rug works so much better in a small dining room and especially with a round table, so I had bought the 8′ square seagrass and knew when i went to replace it that I would do another 8′ square rug. A bigger size rug would have overwhelmed my space and not fit nearly as well. There are quite a few out there in that square size but not as many as other standard sizes. I'm so happy I found one online that I love with eSale rugs.
I've shared eSale Rugs before, but this one is gorgeous and fits our space nicely. They partnered with me and sent me the rug to review and share on my blog.
The thing I really like about eSale rugs is that you can upload your room photo and try out different rugs in your room. Of course, it's not totally accurate, but really helps get a visual for a rug that might work. I tried out a few and this one caught my eye, the blue vintage style. I knew I wanted something blue and white, not too formal, but not too casual either and this one fit the bill. I have another rug that I bought from them too in our master bedroom and the quality is nice We've enjoyed that rug too.
Once I got the visual on this rug, I ordered it from eSale and couldn't wait to get it in.
Here's a reminder of what the seagrass rug looked like. Mark actually likes the seagrass better, but I was ready for a change. He does like the new rug a lot too,but maybe it was the texture and neutral tone he liked. I certainly love the new look now!
And change I got! I really love the soft and vintage style of this rug. It's manmade fibers but backed in cotton and feels very good on the feet.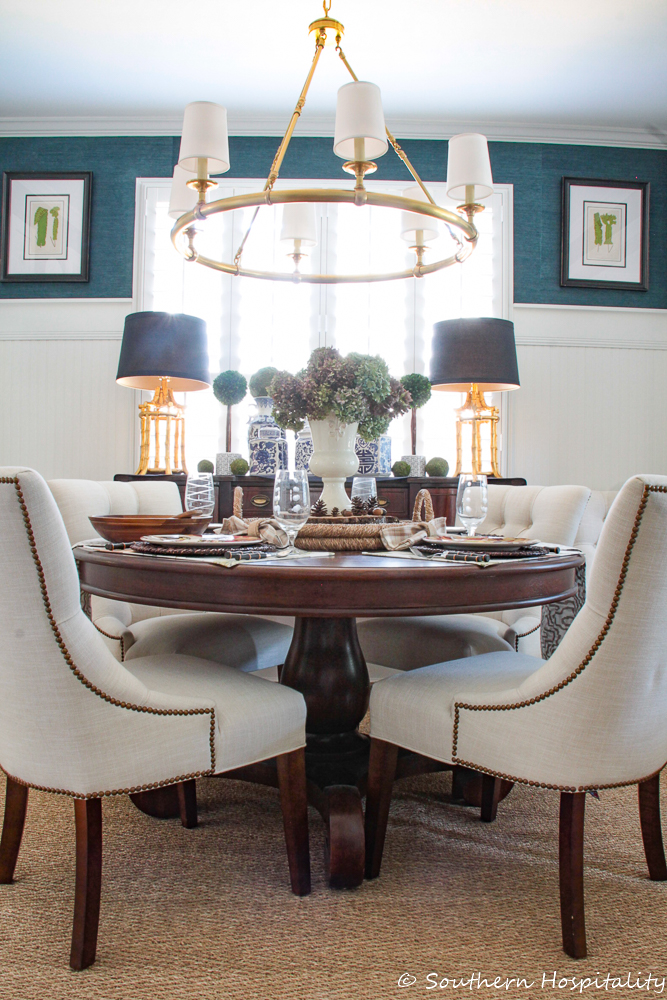 Before: the seagrass
And after, the blue and white vintage rug.
I love the faded tones throughout the rug which gives it a very vintage look. And the white background really brightens up the dining space a lot.
It has fringe on two sides.
As soon as I unrolled it, I was in love and couldn't wait to get it under the table.
It feels great on my bare feet and I can't help but keep looking at it.
It has a nice texture and softness.
And it has a cotton backing.
It's definitely a keeper to me! When you're ready for a change, it's nice to get something new in a space to spruce it up. I don't change things all the time in my home, as you probably know if you've been reading my blog very long. I just don't change things out all that often, but this was something I had been thinking about and I'm so glad I went for it!
The rugs from eSale are very reasonably priced, this one was less than $200 which is not a bad investment for a new rug. I'm happy that they worked with me on this and I get to share them with you, in case you haven't shopped there before. They have great rugs and reasonable prices too. It's sometimes scary to order rugs online and not know what you're getting, but I couldn't be happier with my new dining room rug! It's gorgeous!
Here's my rug again if you're interested (affiliate link):
Don't Miss a Post, join my list!