I decided I really needed to make some cute shutters for my double window on the deck and knew that it would really make that space much more inviting.  I had seen these somewhere along the way, so I did some Googling and found out that a couple of my bloggy friends, both named Sarah, had made their own shutters too (I had seen them, my old brain had just forgotten!).  You can see Sarah's here and the other Sarah's here.  Also, Kathysue, another bloggy friend's hubby made her some shutters for her backyard. You must go and see her really adorable backyard space too, those blue shutters are too cute.
So, getting back to my project.  I went to Home Depot and picked up some fence slats that are 6′ tall, the perfect size for my window.  I didn't have to cut them down or anything, they were a good fit for my size window, slightly taller, but I like that look just fine.  These are 5 1/2″ wide. And the good thing is, they are cheap!  Like $1.39 each.  I spent about $10 for all my materials, not counting the spray paint.  You'll need 3 of these for each shutter. 
I had one of these Gothic fence pickets at  my house and these are not what our fence is made of, so I do not remember why I have this one.  But, neither Lowes or Home Depot carries these in stock anymore, they are special order only.  If they were in stock, I may have gotten these, since I love the shape of the top.  This one, at 4″, is not as wide as the ones I got, so I used this one as my cross piece at the top and bottom.  If you can't find something like this as the cross piece, you may just have to cut down another one of the fence slats for this part.  I know Home Depot and Lowes seem to have many different things at various stores, so you'll just have to check it out in person and see what your store carries.  Both HD and Lowes carried the ones I have for the same price.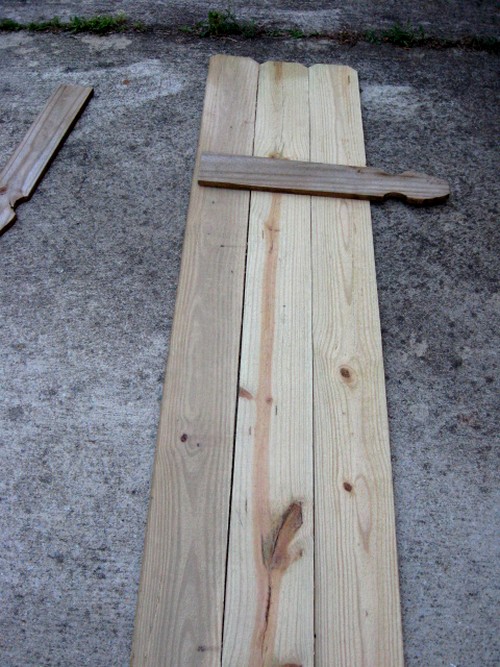 First, I cut all 4 boards for the cross pieces with my miter box, then I measured down 12″ from the top and up 12″ from the bottom to place these boards and screwed them in with wood screws and my new handy dandy cordless drill/screwdriver.  I just got this and should have bought a good one years ago.  This will save you a ton of work and a lot of fussing.  You'll need wood screws about 1 1/2″ long.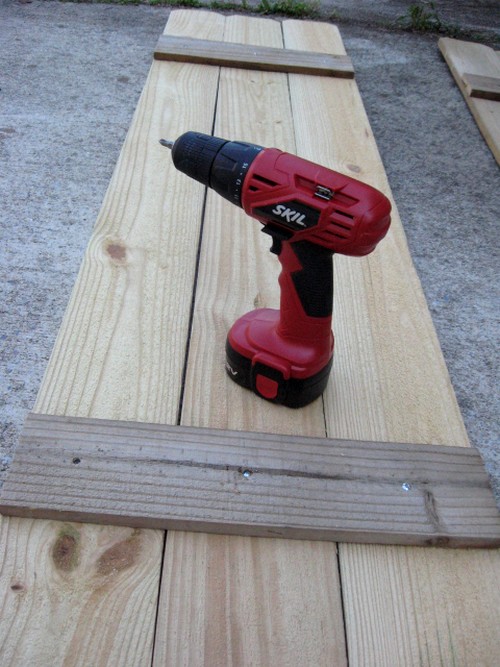 I used 3 screws in each board across the top and bottom and that held it all together just fine.
I then laid them out in the backyard and primed them really well.  I was going to use spray paint on them without priming, but quickly discovered that this raw wood would just drink up any spray paint I attempted to put on there and my cans would be empty FAST.  So, prime it is!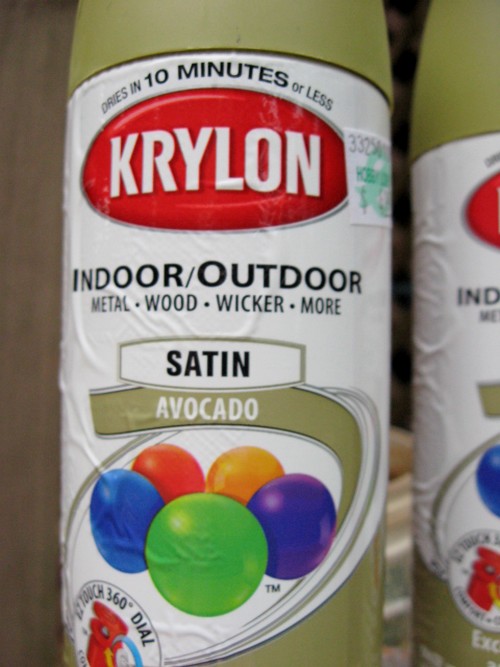 I decided on this green Krylon color, Avocado (oh, that sounds SO 70's!!),  and it's a perfect complement to my fabric.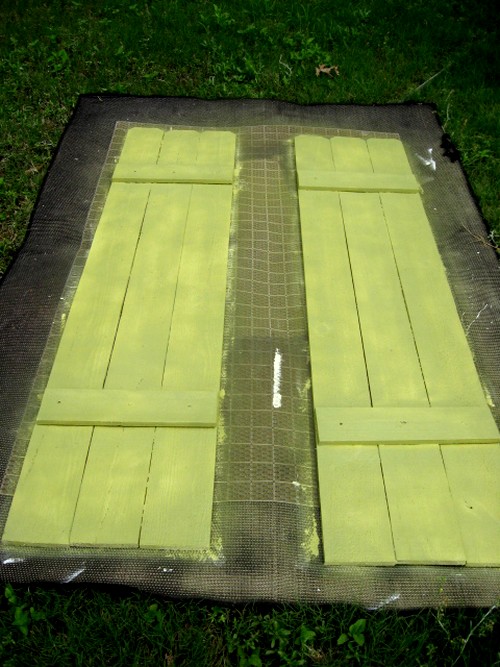 I used 2 cans for both shutters. 
And the color came out just as I had hoped.  A pretty limey green, not so much avocado after all.
EDIT to ADD: A couple of you asked how I attached them to the wall.  Just a few screws will hold them in place. Mine are in siding, so it was not a problem.  In the above pic, you can see the screws I put them in with.  You'll need at least 1 1/2″ screws to attach and a cordless drill will be a lifesaver for this job if you are doing it alone,  like I did. 🙂   I used 2 screws in the top and 2 in the bottom.
I used the regular (not Fusion) Hammered Brown paint on a couple of my side tables, like this one.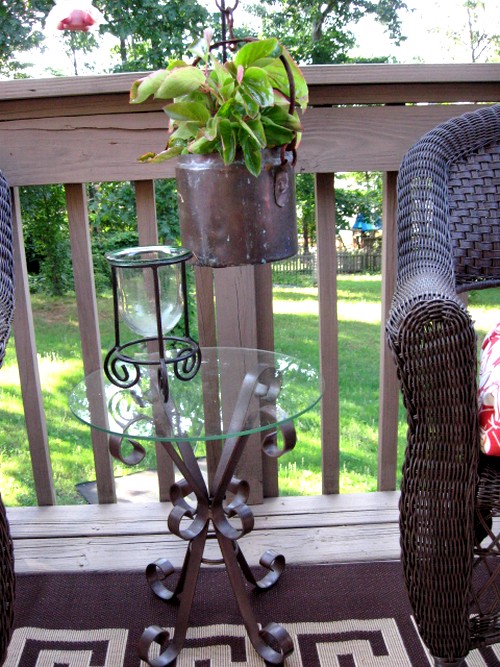 You do know you can paint plastic now, right? Yep, Krylon Fusion paint has been out a few years now and is especially made for plastics.  It will bond to plastic and make it look brand new.
The deck box I picked up at a yardsale last year for $10 came in handy too, but I felt it needed a little something to dress it up more for the deck, so I picked up Fusion paint in Hammered Brown and sprayed it down with a darker color. Save the Fusion paint for plastic things only, you don't want to waste it, since it's a little pricier than some of the other spray paints.
I found the regular Hammered Brown on clearance at Hobby Lobby and the Fusion Hammered Brown at Walmart.  Check all of your local stores for these Krylon paints and you should be able to find them.  Home Depot and Lowes also carry a lot of them.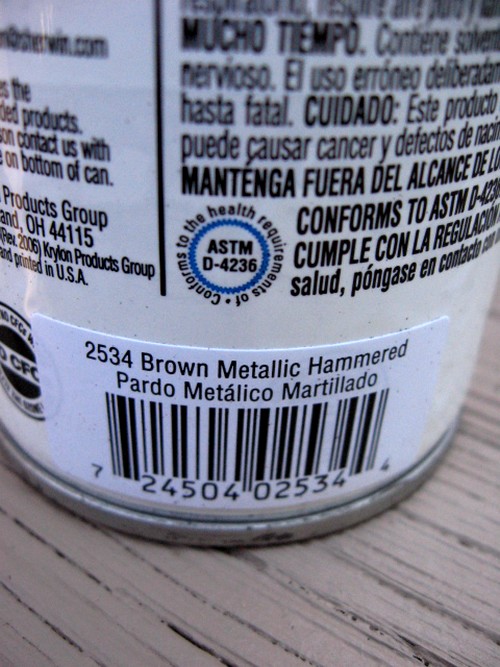 Krylon Hammered Brown is a really good color.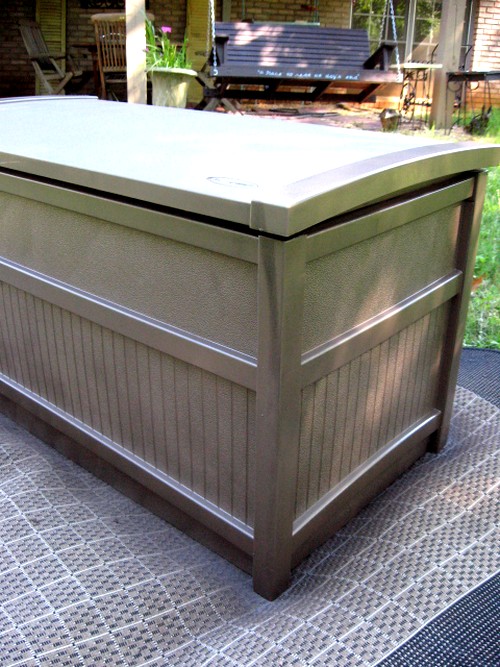 And here's the deck box after a couple of coats of the darker brown paint.  Looks MUCH better than the beige  it was originally.
These are the original cushions that came with my Big Lots all-weather wicker.  The cushions were OK, but not as plush as I wanted and this fabric was not my favorite.  So, I'll save the seat cushions for maybe another project later.  I did use the throw pillows though and covered them for the settee.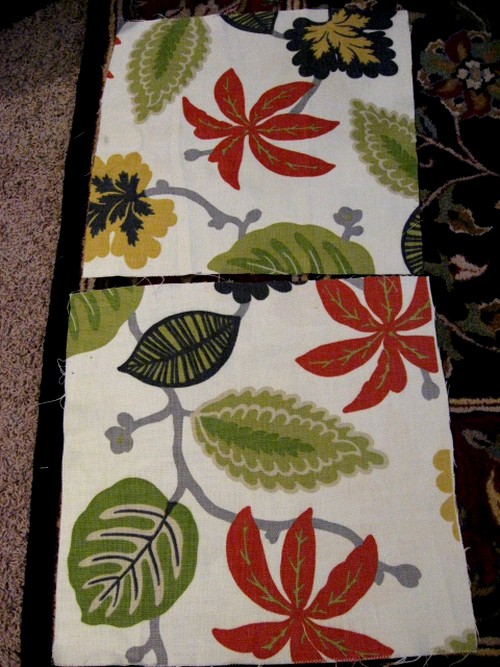 Cut out my squares for the throw pillows, added some cording with green fabric I had left over from another project.
And I have a set of custom throw pillows now that really enhance my space.
So, that's how I got it all together out there by spray painting, building the shutters myself and sewing a little.  If I can sew, YOU can too!
If you have any other questions about the deck space, let me know!

The Slow Love book giveaway winner is Mary (Meteor Mary) and I've emailed her already.  Mary said this:
Rhoda, Never lost a job but I would love to enter the give-a-way since I love to read and this book sounds very interesting!  Mary
Don't Miss a Post, join my list!