Hello and Happy Fall! 
Are  you getting ready for the Fall season already?  I didn't do a lot around here, but we did manage to do a pretty door arrangement at my sister's house.
Welcome to the Door Decor Fall Linky party! I'm so happy to be hosting with my friends, Layla, Kate, and Sarah who are hosting parties too.  Hope you will participate in all of them.
This is a Biltmore Inspirations metal door basket that is really pretty and all I did was fill it with fresh flowers.  I didn't break it all down, but this was easy to do.  I soaked some oasis in water, tucked it in the bottom of the basket and then simply cut the stems and poked them in place.  If anyone is interested in this basket, I can definitely get you hooked up with one. They are very versatile for door decor.
This is a great way to add fresh flowers to your front door for a special occasion.  They will last a few days like this too, so keep that in mind if you want a festive look with grocery store flowers.  Easy!!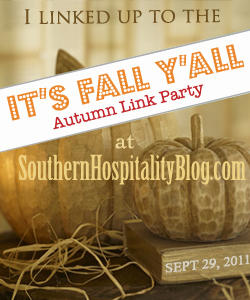 So now it is YOUR turn to share your door decor!   Link up below and let's all share in the inspiration of the season.  Cool, crisp nights, hot cider, falling colorful leaves, weekend trips to the mountains for apples and pumpkins.  Oh, I love this time of year, don't you?
Link up YOUR door and enjoy the inspiration! Hope you will all visit and comment too, that's the fun of a virtual party.  Don't forget to link back to my party so all of your readers can get inspired too!!  Feel free to grab the badge above to share the fun.



Don't Miss a Post, join my list!