While in Orlando, I did get to Cocoa Beach for a half day and enjoyed seeing Ron Jon's Surf Shop again.  It's been since the 70's since I stepped in that place and boy, has it changed!
It's now a mega store, filled with all sorts of beach and surfing items.
And they are open 24 hours, can you imagine?  Ron Jon's is an icon in Cocoa Beach.
Lots of cool t-shirts and beach wear.
Surf boards and more.
It's been mid-70's since I was on Cocoa Beach, so it was fun to go back and visit again.  It's not as pretty as the Gulf coast beaches, but sand and water is still a good thing.
While in the Orlando area, my friend, Beth and I headed to Downtown Disney.  I had no idea what this was all about, but it's a resort like shopping, dining, and fun play attraction built by Disney.  I guess when you come to Orlando, they want to keep you occupied the entire time.  Disney all the way!
Cirque du Soleil has a huge presence, I'm sure this is a fun attraction.  We didn't do any of the rides, but had lunch and I did go to a movie here during the week.
Disney is always over the top, colorful and full of excitement.
House of Blues is here too.
There's bowling and movies and lots more.
Wolfgang Puck has a restaurant here.
There's a huge lake with a hot air balloon ride.
So cute with Tinkerbelle on the side.
It was a hot day just walking in here.
But fun to see what it's all about.
Ice cream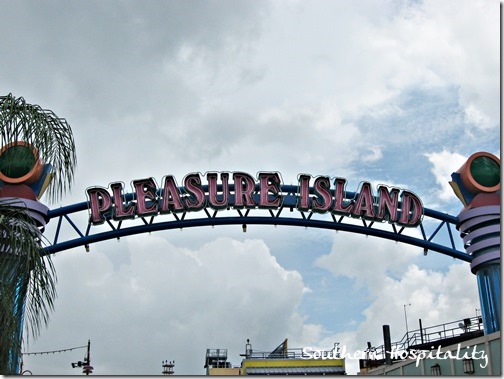 Pleasure Island
Planet Hollywood
Fultons Crab House, this is a real riverboat, I do believe.
T-Rex attraction.

We ate lunch at the Rainforest Café.  Pretty crowded, but an interesting spot to visit.
Legos
How about this giant truck made out of legos.
World of Disney
Ghirardelli is wonderful, I've visited here when in San Francisco.
Back to Rainforest Café, it's a cute place with lots of animals for the kids.
A lifesize dragon coming out of the water.
Fountains and ponds.
A miniature castle, for all the princesses out there.
And dress up clothes so every little girl can be a Disney character.  So cute!  Disney has figured out a way to draw in the crowds and make everyone's dream come true. Downtown Disney is a fun spot to visit, so I would definitely recommend seeing it while in the area.
Don't Miss a Post, join my list!