For the first time since 6th grade when I had my first and only experience working with clay,  I was immediately transported back to the day I made a purple pig.  The pig wasn't especially beautiful, but I was proud of him nonetheless.  He lived at our house for years and I have no idea what happened to him.  This is the first time I've been in a real pottery studio before and it was SO much fun. I can see how it could become addicting.
There were 12 bloggers in all from the Birmingham area.  Some of these girls, I had met before and some were new, but we all had a great girl's day out together, all of us getting our hands dirty.
From left to right and to front row:
Cheri from Chez Cheri; Rachel from Grasping for Objectivity and Alabama Bloggers; Wendy (Mama Hen) from Long Days, Short Years; Jill from Jill's Real Life; Jamie from Jamie's Rabbits; ME; Leigh from Tales from Bloggeritaville; Tammy from Greek GRITS;  Beth from Unskinny Boppy; Nanci from Birmingham Mom Online ; Trina from XOXO, Trina ;
Jessica from Thoughts of a Bama Belle
We were all invited by Rachel, a fellow blogger here in Birmingham.  Her Aunt,  Tena Payne is a Master potter with her own studio in Leeds, AL.  She invited 12 bloggers to come to this pottery event, with promises that we would get to experience the potter's wheel and make some handmade pottery goodness of our own.  Oooooo, that sounded like fun to me, I've always wanted to try that.  So, our 4 hour pottery experience began in the Earthborn Pottery studio.
Earthborn, we found out makes some incredible and gorgeous pottery for upscale restaurants, like the Bellagio Hotel in Las Vegas, as well as our own renowned restaurants here in Birmingham, like the Hot and Hot Fish Club.  We were all so impressed with the wares coming out of Tena's pottery studio.  Handmade items like this are so beautiful.  The thought of making our own was pretty exciting. 
Rachel's Aunt Tena began with showing us the clay and how to start working with it.   First, a ball is formed to put in the center of the wheel.  We split the class in half and half of us took the wheels, while the other half did some freeform clay pieces.  Then, after a delicious lunch of chicken sandwiches, we switched off and everyone got to do both.  I ended up doing 2 pieces on the wheel and one freeform.  
The class was enraptured with Tena as she sat at the wheel and explained the process of throwing clay. 
It was totally fascinating as Tena worked that clay, with the potter's wheel moving around.  She explained how we should hold our fingers and hands and how to work the clay up in a cone first, then down to begin the process of making a bowl.  You can see from the above pic how easy the process is for her.  She has years of experience doing this.  We found out it's not quite as easy as it looks.
We all had thoughts of Ghost, but Patrick Swayze was nowhere to be found. 🙂
Tena showed us how to start out a handthrown piece, wrapping the clay around these cardboard cones for vases and mugs.
And she demonstrated all the ways of making imprints in the clay to make them distinctively our own.
Concentrating very hard, trying to be sure that clay doesn't fly off the wheel.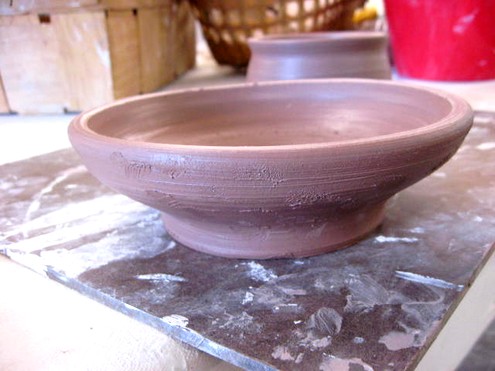 I sat at the potter's wheel on the first round and came out with this bowl.  Pure luck, I'll tell ya! I had no real idea what I was doing, but with a little bit of final touches and tips, I came up with this.  Pretty cute, huh?  After it's all glazed, it will be beautiful, I'm sure.  I was pretty proud of my first time out.
I did get some hands-on help from the master potters with both pieces from the wheel.  It was a proud moment when an actual bowl was formed. 🙂
That one's mine. 
Larry Allen is Tena's business partner in the studio and did a fabulous demo on throwing a beautiful vase on the wheel.  He made it look SO easy, which we all found out is definitely not the case. There is an art to handling this clay.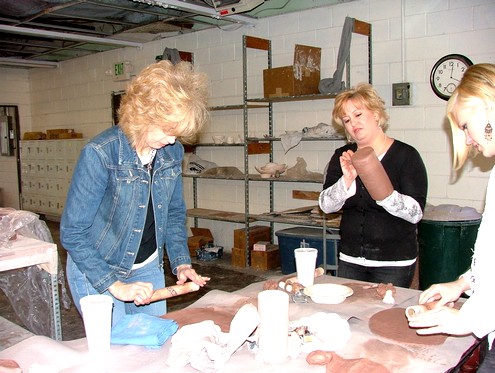 Next was hand thrown time and I decided to do a big coffee mug.  We had a seashell, so I used that for an imprint and she also had several M stamps that were left over from a wedding she did, so I went to town with those.  I can't wait to see how these turn out.
A little rustic, but hopefully after the glaze is applied, it will be a thing of beauty.  I can only hope.  🙂
This is our class offerings and we were all pretty happy with what we came up with.  We'll get these all back glazed and fired in about 4 weeks and of course, I'll show you the finished product.
Tena then took us on a tour of the kiln area where all the pottery is stored, waiting to be glazed and fired.  Totally fascinating, it was.  These are all finished pieces and wow, were they beautiful.  I love all the glaze colors. 
There's just nothing like handmade pottery.  So unique.
Ready for glazing and firing, there were so many items.
All stamped with Earthborn.
And here's the really exciting part!  We all got to take home 2 of these.  One to keep and ONE TO GIVE AWAY on our blogs! How much fun is that? See that pretty aqua one to the right there on the table?  Yep,  that's the one I'm keeping.
So, to get in on the giveaway, you'll have to click on over to my giveaway page to see the pretty one I'm giving away.  You can leave a message here too, but to be entered in the giveaway, click over there!
Only those comments w ill be eligible for the giveaway. Click over for a pic of which one I'll be giving away.  It has the cutest little feet.  You'll love this piece!

Tena sells pottery to the public, so anyone can purchase from her.  Wouldn't it be so much fun to have a few place settings of this gorgeous pottery?  She also has classes available, so if you'd like to find out more, just click on her website, Earthborn,  for all the information.  She offers group classes for several people at a time, so this would be the perfect thing to do with your church group or girlfriends.  Go to Cahaba Clayworks for class info.  Classes for 6 start as low as $35 per person for a 2 hour hands-on pottery throwing opportunity. It was a blast!  We all had so much fun doing this.  Thank you so much Tena and Larry, for letting us come in and play in the clay.
Tena tweets @EarthbornStudio, so you may want to follow her since she will be offering some monthly "limited edition" specials on pottery pieces for a thrifty price!  We all love that.
Thanks, Rachel, for hosting and inviting us!
OK, click on over for the GIVEAWAY!
The one on the left is up for grabs to ONE of you!
Don't forget to come back on Thursday too for a FUN promotion with my Open Sky shop.  If you love bunnies like I do, you'll be very excited.  🙂

Don't Miss a Post, join my list!