Iceberg lettuce.  Love or hate it?
I've always had an aversion to iceberg, in favor of romaine, red leaf, spinach and others.  I even go so far as to ask restaurants if their salads are made from iceberg lettuce, cause if they are, I'd pass.  So, now I might have to apologize to my mom, since I harped on her for years about only buying iceberg lettuce for the most part.  She's an iceberg fan all the way and that's about all I saw in her vegetable drawer growing up. I kidded her about it all the time, telling her about the virtues of romaine, that wonderfully leafy and much more rich green lettuce that I found far superior to iceberg.
But now….now, I'm a little smitten with iceberg and it's all because of the wedge salad.
I think I first had a wedge salad maybe 6 or 7 years ago at a nice restaurant and thought it was good, but lately several restaurants I've eaten at have had wedge salads on the menu and I've developed a real love for them.  The flavors are just so good!  Bacon, blue cheese, yum!  So good.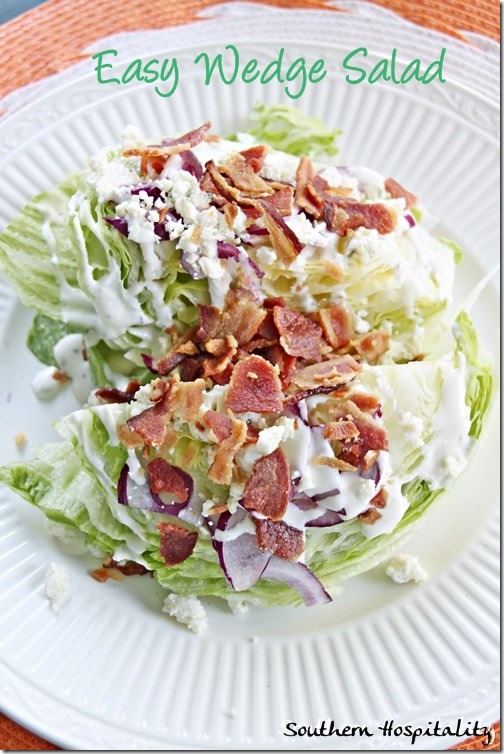 There are so many variations on this salad all over the place, so find one that you are comfortable with.  Mine is easy and simple.
These are the main ingredients:
A head of iceberg lettuce, ranch dressing, red onion (not pictured above), crumbled bacon, and blue cheese crumbles.  The blue cheese really brings out the flavor, but the crowning star on this salad is the bacon.  Oh bacon, how I love you!
Seriously, the flavors in this salad are so tantalizing to the tongue and I can't get enough of them.  I'm glad they are easy to make and duplicate at home.   You can buy whatever kind of dressing you like, but I really love the ranch dressing with added chunks of blue cheese crumbles.  There's also plenty of  blue cheese dressings in the grocery store, but I used ranch since that is what was in the fridge.
Again, so many variations, find one you love and let me know if you try it or if you are smitten with wedge salads too!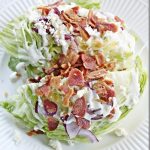 Easy Wedge Salad
Easy wedge salad with 5 ingredients
Ingredients
One head of iceberg lettuce

One red onion

Crumbled Bacon

2 or 3 slices per salad

Crumbled Blue Cheese

Ranch Dressing
Instructions
Cut desired slices of iceberg lettuce in wedges on plate.

Add sliced or diced red onion.

Drizzle on ranch dressing.

Add crumbled blue cheese.

Add crumbled cooked bacon, salt and pepper to taste.

Enjoy!
Don't Miss a Post, join my list!