Happy Friday, my friends!  Glad the weekend is here again and I hope you all have a wonderful weekend and enjoy your friends and family.  I love this time of year and am looking forward to cooler temps and milder weather.  It's still been pretty warm here in Georgia, so I'm more than ready!  Mark's dad is turning 90 this weekend, so we have a family birthday party to go to!  We are blessed to still have both our parents.
Last weekend, Mark and I took a quick trip up to Nashville to visit the Parade of Homes that's going on right now.  Open through October 22nd, if you're in the area, you should go!  Wow, it was inspiring and we loved touring all these houses.  I took so many pictures, so I'll be sharing one house every Friday for the next 5 weeks.  These are huge houses, definitely not normal size to most folks I know.  It's hard to imagine living in a house this big, but it sure is fun to look. They were all professionally designed by some top designers and there were so many ideas to glean from the beauty.  I hope you enjoy this one.
Built by Castle Homes, the English Country home is just stunning. At 7,771 s.f. and priced at $2.25 million, it's a magnificent home. Designed by the in-house design team, led by Joy Huber, in partnership with Roxanne Jackson Interiors, styling with interior decorator Ginny Garrett and interior architect Katy Austin, you'll love seeing this house.
All furnishings, draperies, decor from The Iron Gate in Franklin, TN.
Porch Furnishings:  Summer Classics
Architect:  Kevin Coffey, C. Kevin, Coffey Dwellings and Design
Landscape Architect:  Gavin Duke, Page|Duke Landscape Architects
All photos:  Reed Brown Photography, used by permission from Castle Homes.  We were invited to tour the home during the opening day.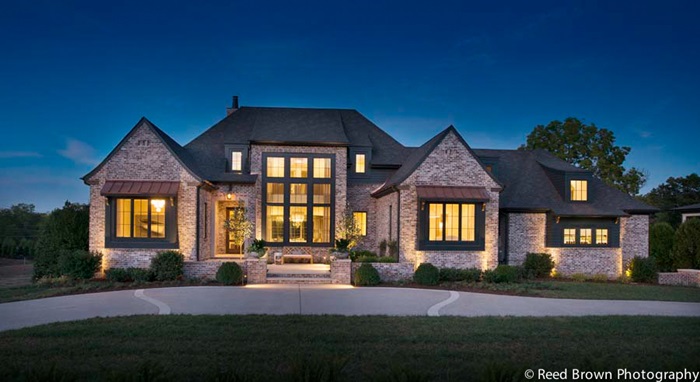 I've got lots of source details, so if you have questions, just leave them in the comments and I'll try to answer them.  I will add the paint colors of each room, as provided by the builder.
Main level paint color:  SW Zurich White
I fell in love with that painting over the fireplace by local artist Charlotte Terrell.  Maybe I can buy a small giclee print of hers to add to our house.  It's just the sort of painting that speaks to me.
Here's a closeup shot of the fireplace that I took of the painting.  I've looked her up online and checked out her website.  This painting isn't listed on there, but there are several with a similar feel.
Those are Rasmussen Fireballs in the fireplace, an alternative to gas logs.  That's pretty neat!
The kitchen was all open and just stunning.
Loved this banquette area by the windows and those builtin cabinets on either side.
There was even a back kitchen/prep area to keep the main kitchen clutter free.
Wouldn't you die for a pantry like this??
And a laundry room this big??
Guest Bedroom
Paint color:  SW Drift of Mist walls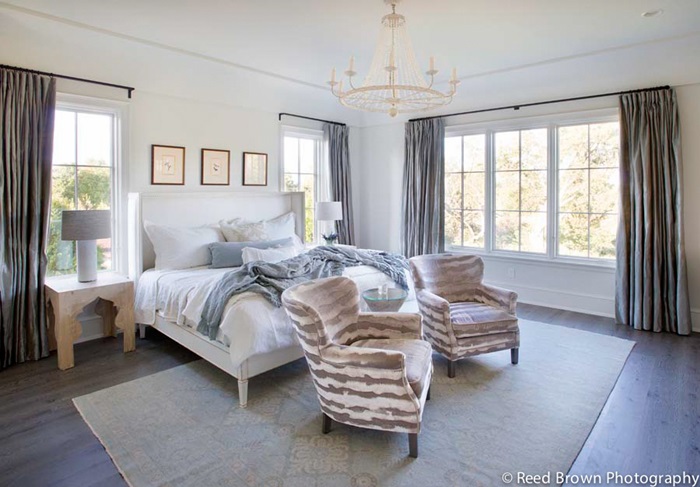 Master Bedroom:  SW Reserved White walls, ceiling, and trim
Master Bath
Study:  SW Silverplate walls, SW Snowbound ceiling and trim.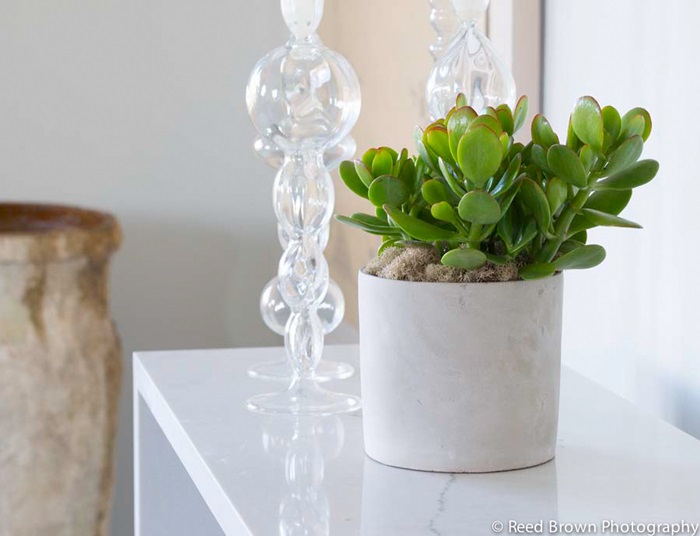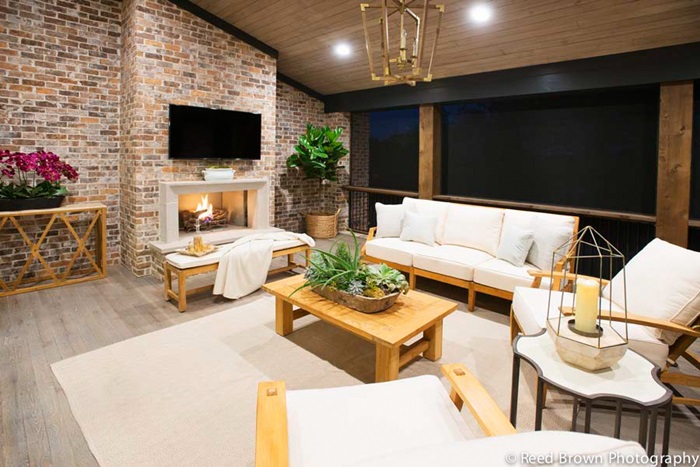 Covered porch
Casual Den:  SW Zurich White walls, ceiling and trim.
Girl's Bedroom:  SW Crushed Ice walls, SW Snowbound ceiling/trim.
Boy's Bedroom:  SW Reserved White walls, SW Snowbound ceiling/trim.
Downstairs family entertainment area.
Well, wasn't that a fun one?  It is always inspiring to go through a beautiful house like this, even though it's out of my realm.  We can always get inspired and glean lots of ideas to take home with us and even incorporate a bit of innovative details in our own homes.  Mark and I love to get ideas from touring houses and we end up with lots of inspiration swirling in our heads and this trip was no exception.
I'll have 5 more houses to share with you all every Friday for a few weeks, so stayed tuned for more.  I love getting invitations to these beautiful Parade of Homes.  Atlanta used to do Street of Dreams every year, but we haven't had one of those in SO long, not sure what happened to that but I haven't heard anything about one for a long, long time.
Hope you enjoyed and got inspired too!  If you are local to Nashville area, you must go and visit by October 22nd!
SaveSave
SaveSave
SaveSave
SaveSave
SaveSave
SaveSave
Don't Miss a Post, join my list!