Built in 1843, Oakmont is a Greek Revival house that features massive octagonal columns, jib doors that open to the porches and a widow's walk on the roof.  A fountain and sweeping lawn grace the front of Oakmont.  Homeowners are Mark Chustz and Janice McDermott.
Come on along with me for the visit, I think you'll love this one too!
Doesn't this look like something out of Gone with the Wind days?
So stately and elegant, the outside just beckons you inside to visit.  You can see the fountain out front too.
How about this for an entryway?
Another sweeping front porch with rocking chairs.
All the rooms are beautifully furnished to show off this home.
Gorgeous furnishings and accessories.
I think those are new corbels which are going up on the fireplace.  Much chunkier.  This fireplace is in the huge foyer.
Loved this vignette.
Ahhh, just beautiful.
Elegant and classic dining room.  Again, those floors just kill me.
The kitchen has been updated for the 21st century.
A bedroom.
Going up the stainglass clad staircase.
At the top of the stairs, this large area awaited. 
I actually like the deerhead and antlers on top of this old piece.
Another bedroom.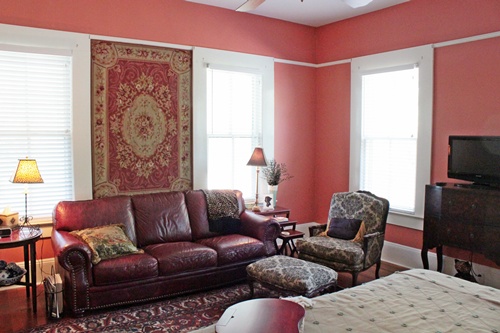 Pretty shades of coral.
A green room is decked out too.
For the Traditional lovers.
Stunning, don't you think?  I thoroughly enjoyed my day in Eutaw and can't wait to go back.  These old homes have such charm and character like nothing new can achieve.
I've got one more home to show you. It was my last stop of the day and it is breathtaking.  Kirkwood is one of the most photographed homes in the South and you'll see why when I share it with you.
Don't Miss a Post, join my list!