It's taken awhile to get to the end of our Eutaw historic tour and I may have saved the best for last. Kirkwood was my last stop of the day and a grand finale it was.  I mentioned in an earlier post that I hoped to see the new owners of Kirkwood, a couple from Atlanta, the Sears, who I knew years ago.   I did get to visit with them and it was fun catching up.
You can read more about the house and how the furnishings were auctioned off last year, after the Sears bought the house.  They brought in their own collection of antiques to fill the house.
SO, grab yourself a big cup of something delish, we're going on another home tour!
Kirkwood is an 8,000-square foot Greek Revival antebellum mansion first built in 1860 by cotton magnate Foster Mark Kirksey, who operated the property as a plantation. Mr. Kirksey's wife, in fact, was a relative of Mary Todd Lincoln, Abe's wife.
Come on along with me, I think you'll really enjoy this one.  Kirkwood has been photographed for many publications over the years and you can see why.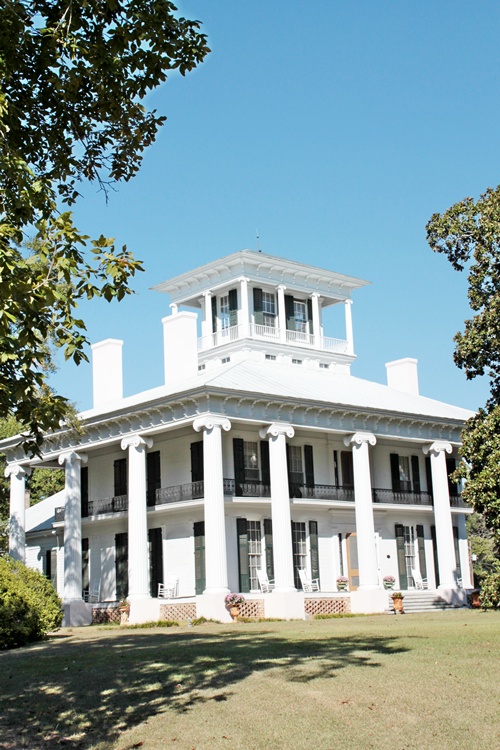 It was a perfect Fall day for touring homes and this one was stunningly beautiful.  You just don't see houses like this every day.  Check out that turret on the top.  Amazing! 
A huge wrap around porch encircles the house, along with those huge Ionic columns. 
Of course, a house of this magnitude wouldn't be complete without a spacious porch with rocking chairs.
Along with tall and welcoming front doors.
It's a stately Southern beauty.
Stained glass just inside the foyer.
And what a foyer it is, this view looks back towards the pretty screened porch, which we will see later.
I'm not going to try to talk about every picture, but will let this house speak for itself.  I think it will suffice to say that it has been decorated according to the  time period, with many gorgeous antiques and collectibles.
This is Rebecca, the homeowner and it was great catching up with her again after all these years.  She had a picture of herself from high school in the kitchen and I said, THIS is how I remember you.
More of the spacious foyer.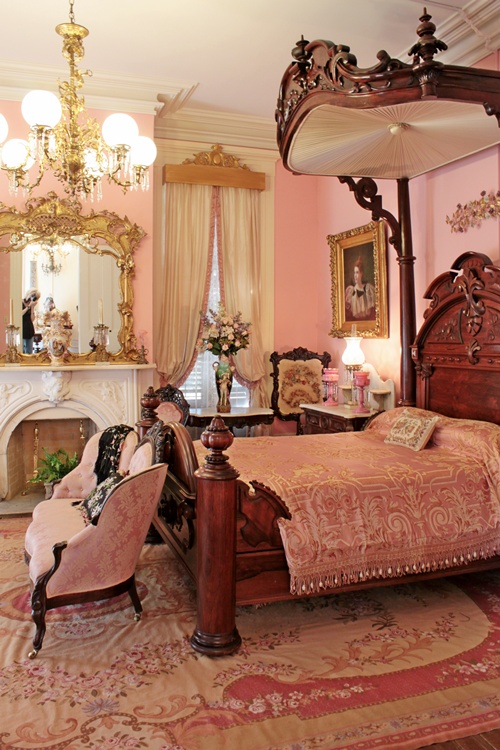 A pink bedroom.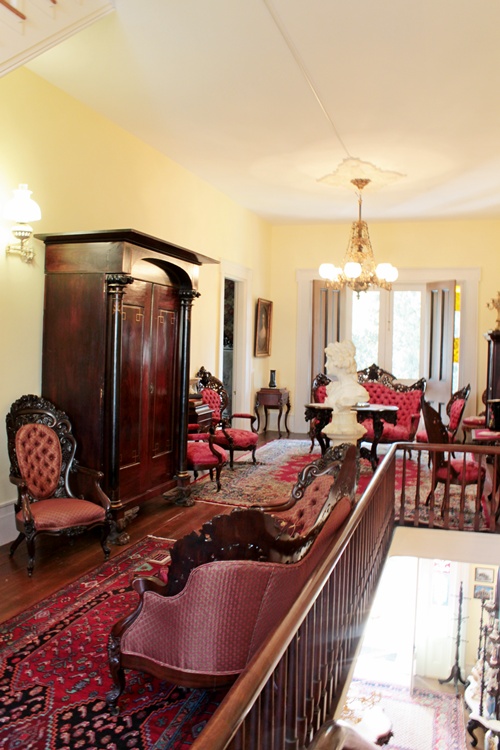 Upstairs.  You can imagine how much furniture is needed to fill up an 8,000 s.f. house.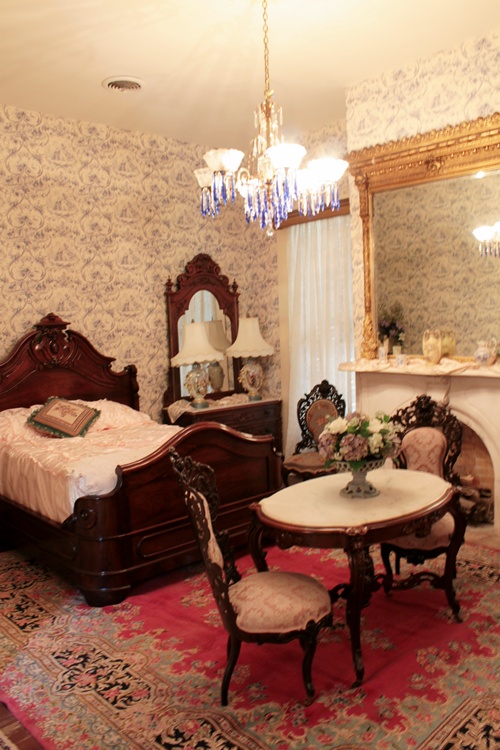 Blue toile wallpaper is elegant.
More of the upstairs open area.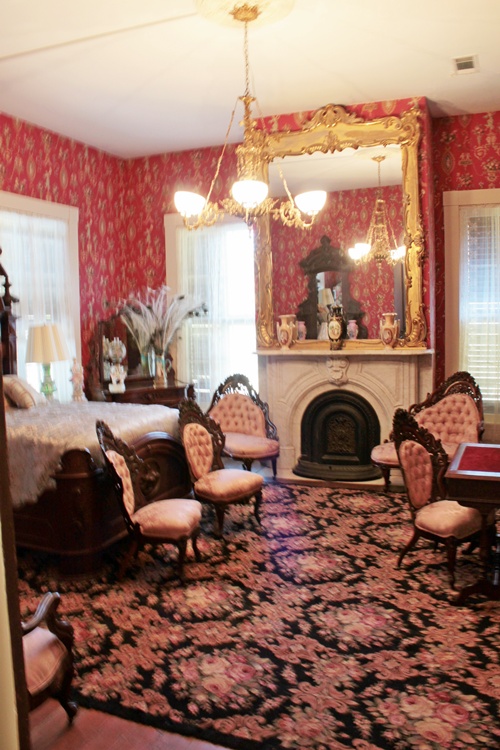 Another bedroom decorated to the max.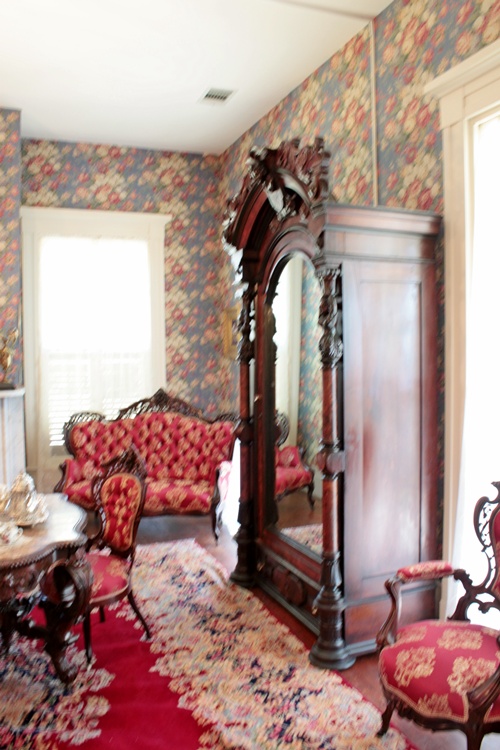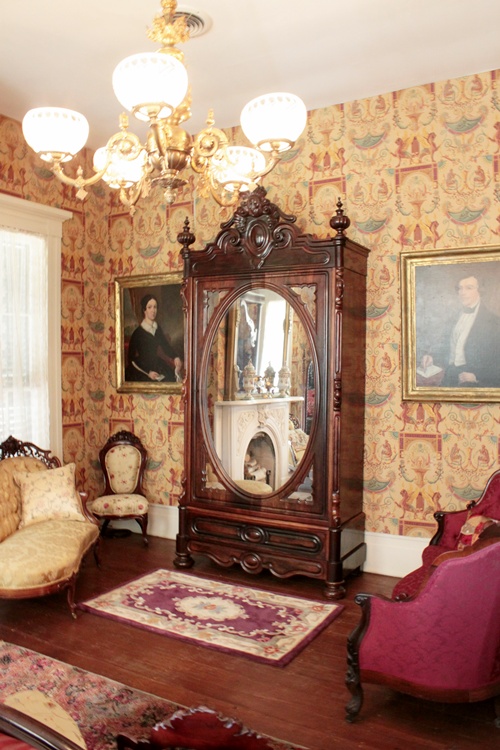 I thought this wallpaper was really pretty.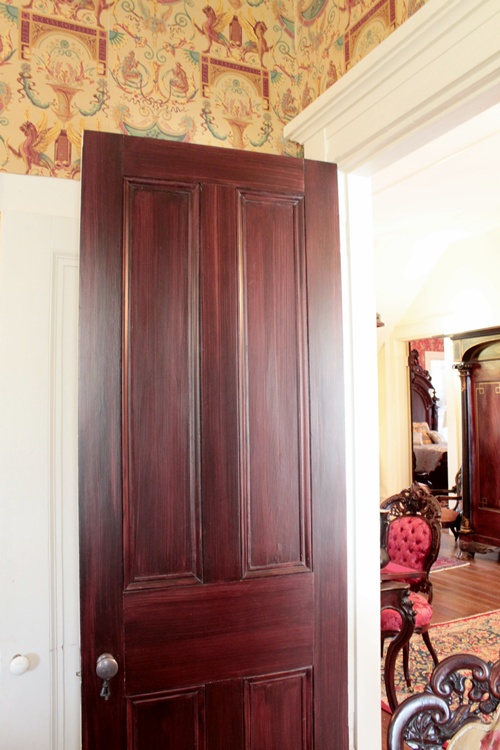 Check out this magnificent door!
Downstairs looking out to the porch.  Wait til you see it.
Dining room is oh, so elegant.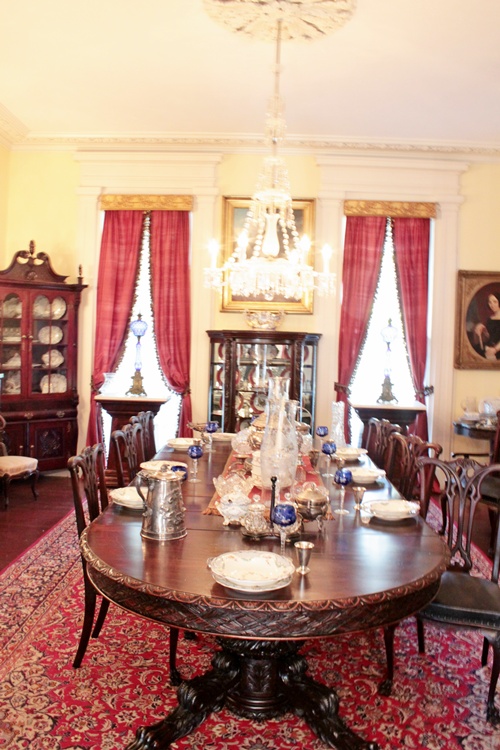 The sunny yellow kitchen was amazing too, so pretty  and cozy.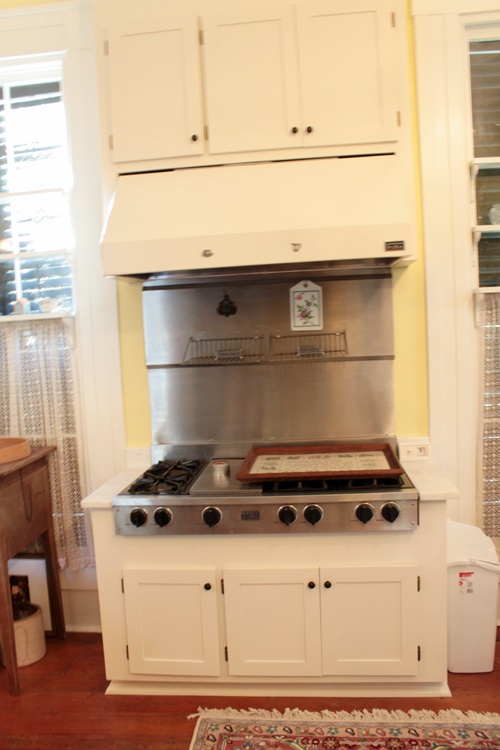 Stove
This toile room was just off the kitchen and held so many framed articles that have been written about Kirkwood over the years.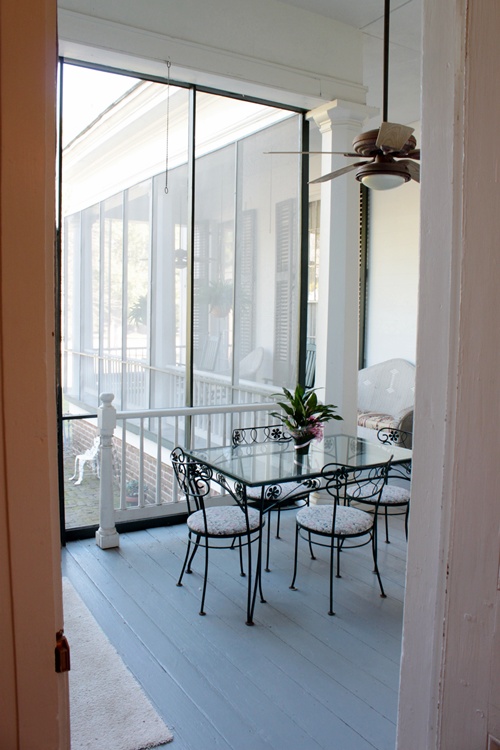 Peeking out to the screened porch.
And what a porch it is.  I would be loving this space.
So peaceful and serene.
I think the plans for Kirkwood are to open it up as a special events type of place.  The homeowners live full time in Atlanta and come back to visit when they can.  But, I did hear talk of opening it up for tours and other events, which is great, a house this magnificent needs to be shown off.
And that is the tour of Kirkwood and finishes up our final stop in Eutaw, AL.  I SO hope you all enjoyed this tour as much as I did.  If you ever get the opportunity to do this historic tour, go for it.  You will be glad you did.  Thanks again to the ladies in Eutaw who invited me.  I'd love to go back next year.
Can you just imagine how pretty these houses are at Christmas?!
Don't Miss a Post, join my list!